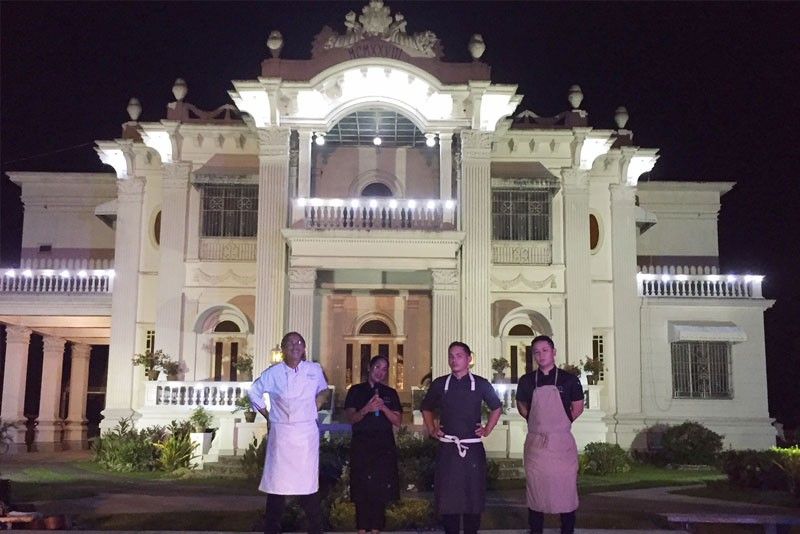 Chefs Tibong Jardeleza, Gaita Fores, Josh Boutwood and George Miguel Mendez at Nelly Garden for the Savores de Visayas gala dinner (above).
Doreen G. Yu
(The Philippine Star) - June 10, 2018 - 12:00am
On one trip to Iloilo some years ago I was with a friend who was determined to sample batchoy at every restaurant that advertised itself as d'best, d'original and other similar claims. And there were many such restaurants – too many, if you ask me. So for three of the four days we were in Iloilo we had batchoy for breakfast, lunch and merienda; thankfully, dinner with friends allowed us to sample the other culinary delights of Iloilo – and fortunately, there are many.
MANILA, Philippines — Happily, this time I visited with a true-blue Ilongga, one who knew half the people in town and was related to a third of them. So it was a most rewarding visit, and certainly a calorific one, but hey, when you're in Iloilo you don't bother with such irritants as calories. From a farm-to-table lunch to a gastronomic dinner, from paella to kielbasa, from pandesal to siopao, from galletas to butterscotch, how much can one eat in two and a half days? A lot, believe me!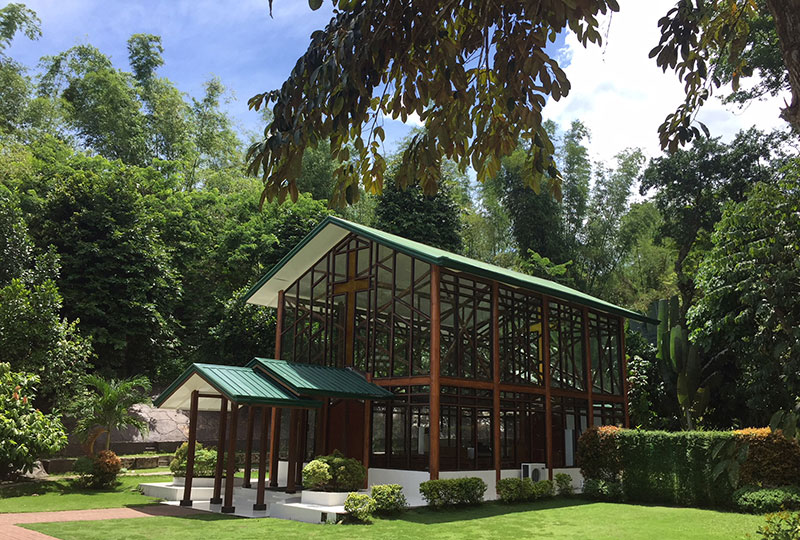 The glass chapel at Ephrathah Farms
Iloilo is leading the charge in culinary tourism and farm tours, with the provincial government undertaking accreditation of such agri-tourism sites. We visited one such farm, Ephrathah in Barangay Sariri in Badiangan, about an hour's drive from Iloilo City. The 7-hectare resort has a model farm that guests can visit; an adjoining 7-hectare property houses the working farm that produces vegetables, fruits and herbs that are served in the resort's restaurants and supplied to clients throughout the province. The working farm also serves as a consolidator of produce from about 120 smaller farms in the area. Primary produce include lettuce (up to 600 kilos a month), papaya (up to 2.5 tons a month) and dragon fruit (fruit season is from may to October).
Walking around the hilly terrain of the resort is good exercise, but more energetic folks can bike, wall climb, do rappelling and go on the zipline. You can also go fishing for tilapia and pangasius, and perhaps have the resort's restaurant cook it up for you.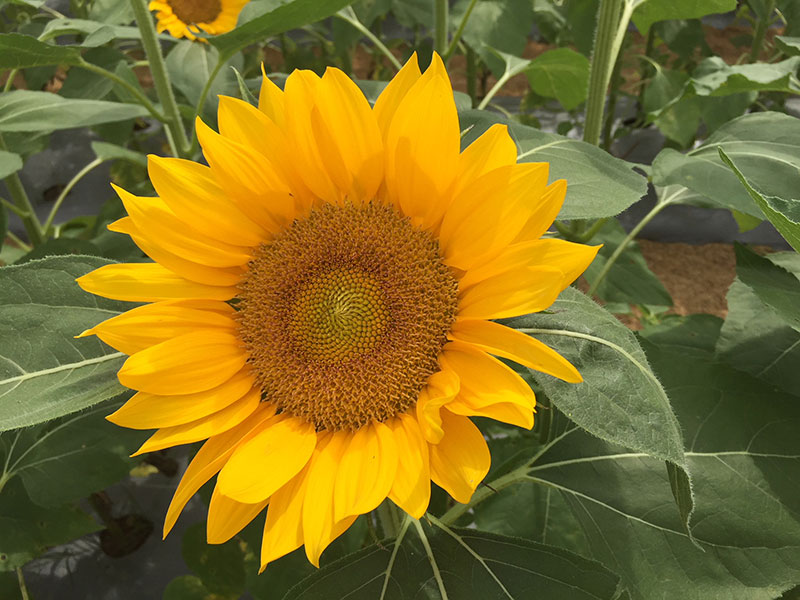 Visitors can pick and pay at the sunflower garden at Ephrathah.
Since Ephrathah is an accredited farm school where short courses on agriculture are offered, visitors can actually get a tutorial on organic farming. You're sure to learn a thing or two even just on a casual visit, such as the difference between female and male papaya trees (the latter don't bear fruit, the former produce roundish fruit; hermaphrodites produce longish papayas), as the staff are more than happy to share information.
Lunch with Ed Cañuto, general manager of Ephrathah Farms, was a true farm-to-table treat. A Blue Cooler tinted with ternate flowers was not only refreshing but is also supposed to be a memory enhancer. Their version of pinangat – pork (from their own native black pigs) wrapped in gabi leaves (from the farm of course) sautéd in bagoong (shrimp paste) – and the salad of puso ng saging (banana heart) in coconut vinegar were standouts.
General manager Ed Cañuto at the fishpond.
A little store at the reception area has a good selection of produce, organic teas, rice, juices and other goodies to take home.
A sudden early evening downpour prevented us from having dinner al fresco at Muelle, a lovely place by the debris-free (it took them five years to clean it up) Iloilo River. Inside, we let our noses do the ordering, attracted by the tantalizing aromas from the next table. Thus the sausage plate it was, with onion chow-chow and potato wedges. This place does not serve Ilonggo food; in keeping with the muelle (dock or port) theme the food refers to the origins – mostly European – of the goods that were unloaded at the port of Iloilo. The sausages were superb; fortunately before the German sausage maker passed away a few months ago (he weighed 400+ lbs) he gave the secrets of the recipes to owners Minieng and Valerie Maravilla. I extracted a promise of prosciutto on my next visit (they ran out that night), and got a bonus of an invite to stay at the cozy aerie hidden away on the third floor, overlooking the river.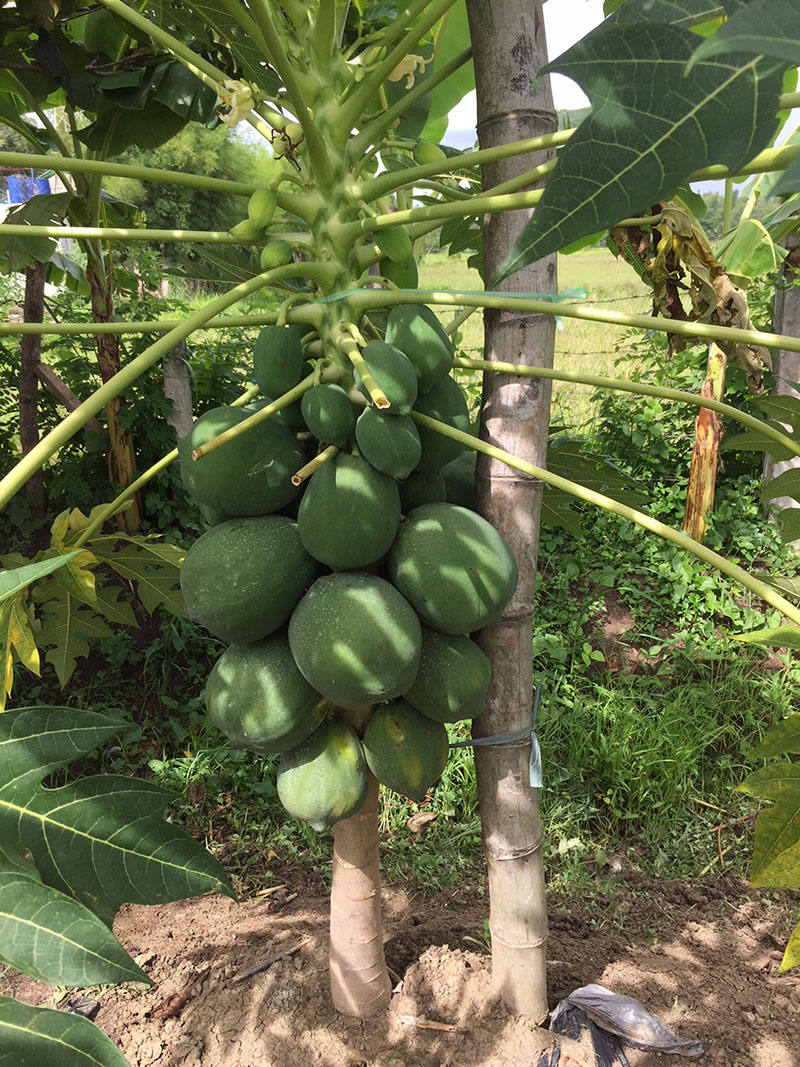 A bountiful harvest of papayas
The highlight of my trip was the gala dinner of Savores de Visayas held on the sprawling front lawn of Nelly Garden, the beautiful mansion built in 1928 by Vicente Lopez and his wife Elena Hofileña. As the afternoon sun faded and the lights on the mansion's façade came on, the setting was magical.
The only thing that could top that setting was the buffet laid out in the middle of the garden. The aromas were enticing; it was so tempting to peek under the foil covers of the chafing dishes but attentive wait staff – although they were all smiles and charming – made us keep our distance. But the lamb roasting over smoldering coals under the watchful eye of young chef Josh Boutwood surely heralded a scrumptious meal.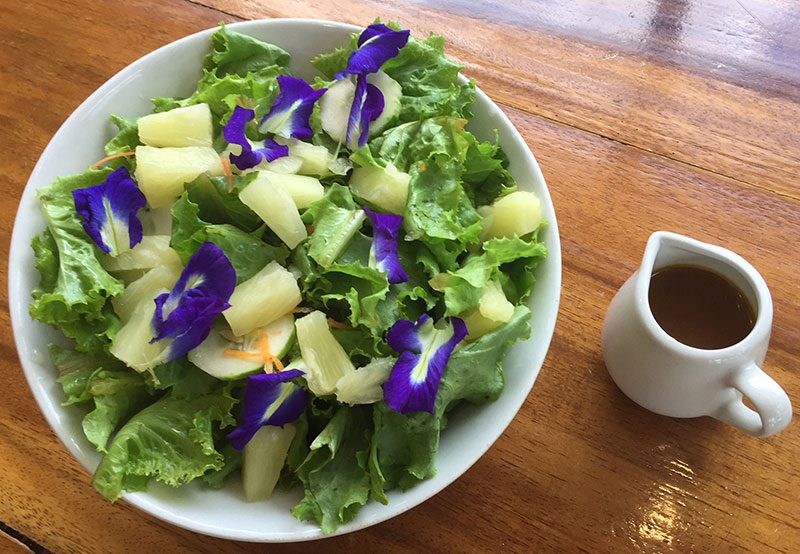 A hearty green salad with ternate flowers
I won't enumerate the dishes laid out on the buffet table; I don't want our readers drooling with envy. Suffice to say that the spread was so extensive we didn't get to try everything. The dishes represented the best of what Iloilo has to offer, prepared by Iloilo's premier chef Tibong Jardeleza and Asia's Best Chef Gaita Fores. There were many other collaborators, from pastry chefs, ice cream artisans (the guava ice cream had a smooth subtle flavor, but I could have done without the pink color), baristas and more.
Savores de Visayas – this was its third year – is part of the Department of Tourism Region 6's "Experience Western Visayas First" campaign. It was truly a delightful experience – the same could be said for my short visit – that demands a repeat, since there is so much more to see, do and experience in Iloilo.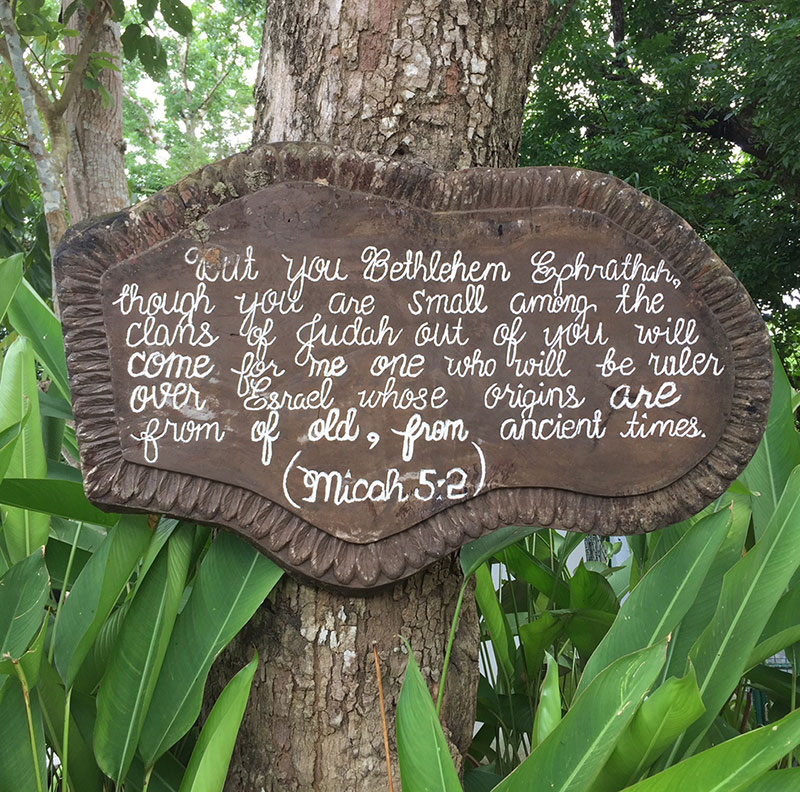 A plaque explains the name of the farm
And I didn't eat batchoy even once.