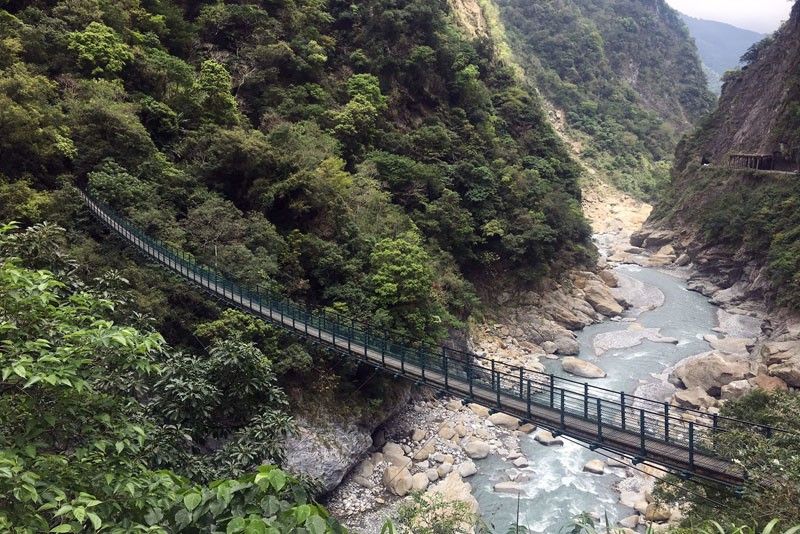 A long hanging bridge above a river is reminiscent of our Cordillera landscape features.
Trekking above Taroko Gorge
The viewpoint offers a panorama of verdant mountain peaks rising above a valley and a wide river that flows out to sea.
Decidedly the highlight of the Bright Leaf awardees' Taiwan tour on March 21-25 was the day-long trip to Taroko National Park, a three-hour drive to the southeast coast from Taipei.
This was on the third day of the five-day jaunt, after we had already toured around the capital the first two days. Despite the long drive punctuated by pee stops at a 7-Eleven and a hot spice center, getting a taste of the countryside was most welcome for our 17-person group composed of eight 2017 Bright Leaf Agriculture Journalism winners (some of whom were photographers and TV show producers), two of the judges, media representatives and PMFTC Inc. officials.
Travel on a tour bus through the Suhua Highway also impressed us with the enviable state of infrastructure that made for smooth portage. Whenever our bus ascended mountain roads, we noted how cliffsides had protective features guarding against landslides. We also passed through numerous tunnels carved out of mountainsides, the longest of which ran all of 12 kilometers.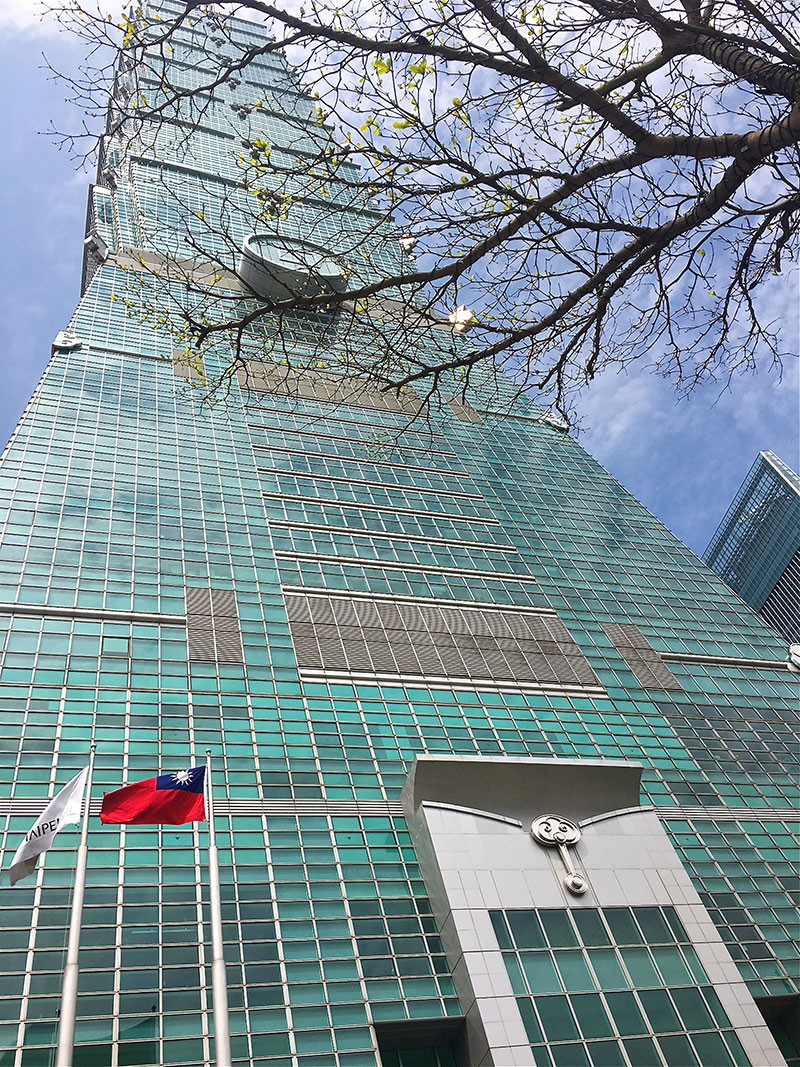 The iconic Taipei 101 building, briefly the tallest in the world, still sports the world's fastest elevator.
The topography reminded us of our Cordilleras, with deep ravines plunging down to rivers and streams. Elegant hanging bridges spanned several gorges, although there appeared to be no habitation on either side. Our guide Helena pointed out the river rocks below as mostly marble.
By the Taroko Gateway where a marble boulder served as a calligraphy-emblazoned marker, and before which we had one of our obligatory group shots, the viewpoint offered a panorama of verdant mountain peaks rising above a valley, with a highway span running above a wide river that flowed out to sea.
From this point, our bus ferried us a short distance to enter the national park, where we started on foot — not before being provided with safety helmets — on a hikers' trail that followed the contours of Taroko Gorge. Below us meandered the rock-strewn river, parts of which had whitewater features.
Past what was billed as Swallow Grotto, we entered a long tunnel that occasionally offered natural windows to the riveting scenery below. It was a rewarding long walk to our bus that had parked ahead for our eventual pick-up past a tourists' stop with souvenir stalls, refreshment counters and deck tables alongside guard rails for a stretch of viewpoints.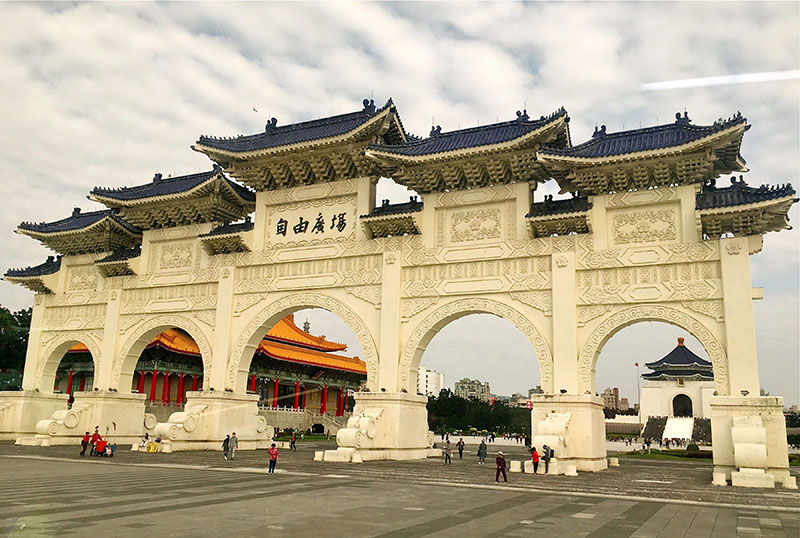 The imposing entrance to the Chiang Kai-Shek Memorial Hall
For lunch, we stopped at a classy resort hotel nestled in the mountains, where the Silk Palace menu privileged us with what I thought was the best of the exemplary meals we had in Taiwan. The lauriat featured Mei-Yuan appetizers; braised sunfish XO sauce; steamed prawn with Chinese herbs; steamed sea bass; Kung-Pao chicken; baking vegetable with cheese; braised gingko with yam; bamboo shoot with spareribs soup; dessert and fresh fruits.
Allowed to loiter around the resort for a post-prandial hour, we discovered a top deck by a pool where lounging sofas lined a rectangular terrace that had a large brazier with wooden logs in the middle — obviously for cold nights. But for the nonce, a mild afternoon sun was perfect balm in spring weather, with green mountains all around us.
I got to reflect on our trip thus far: not only was it proving most enjoyable, given the pleasant Taiwanese disposition and array of good food and delicacies; it seems, because of this, we Pinoys have of late made the island part of an easy bucket list. Only a couple hours' flight away, it quickly comforts visitors with attractions that come without the usual bane of traffic or teeming crowds.
And where there were long queues that marked the popularity of an eatery, our efficient guide relied on protocols that favored a tour group and guaranteed special entry.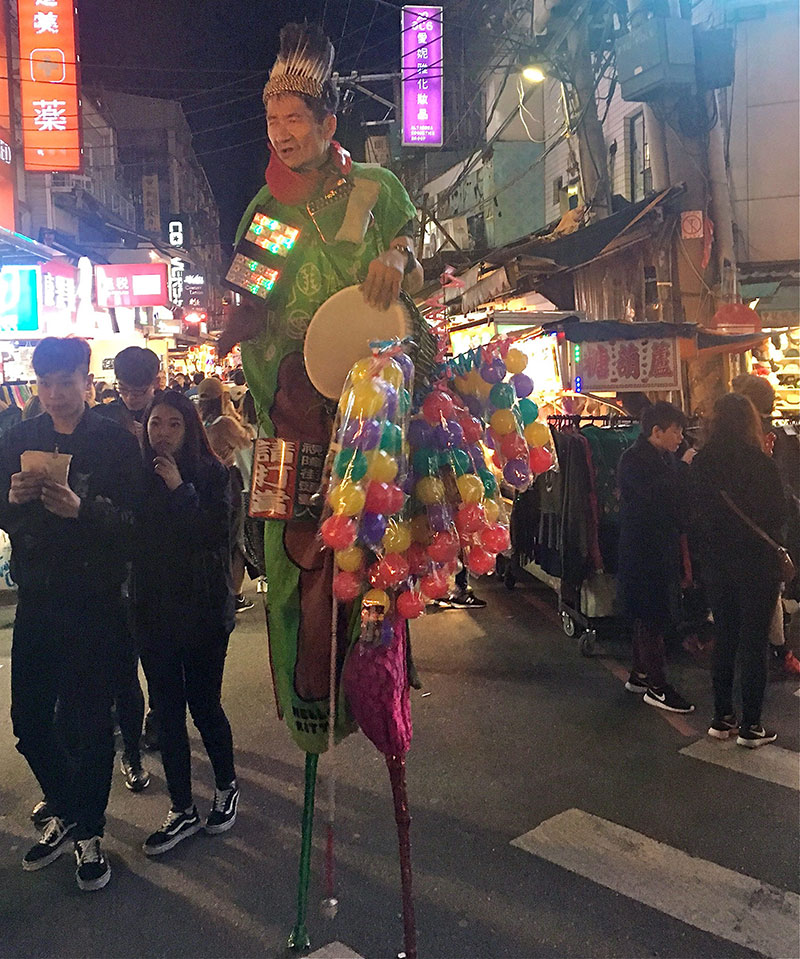 A human attraction at the bustling Shilin Night Market
Having flown in at mid-morning on Day 1, it was too early to claim our rooms at the Grand Sheraton Taipei. So we were taken straight from Taoyuan airport to our first stop: early lunch at the Xinyi branch of Din Tai Fung for its fabled bao xiao long: dumplings with delicate soup inside the 18-fold encasements. We delighted over the full range that included the special one with truffles — bookended as they were by appetizers, soup and fried rice.
The line outside was even longer by the time we stepped out. And it was easy enough to ask a lady traffic cop where smoking was allowed. She pointed to a nearby corner across an alley.
Next stop was at Ikea for an hour's shopping or idling among the sofas, followed by a quick stop at a branch of Sugar and Spice to pick up cookies and pastry boxes. Finally checking in close to 4 p.m., we reassembled shortly for dinner at the 53-year-old Umeko for traditional Taiwanese cuisine, the highlight of which was the culminating lobster dish with its bodacious presentation. A shopping trek through the bustling Shilin Night Market capped that first day.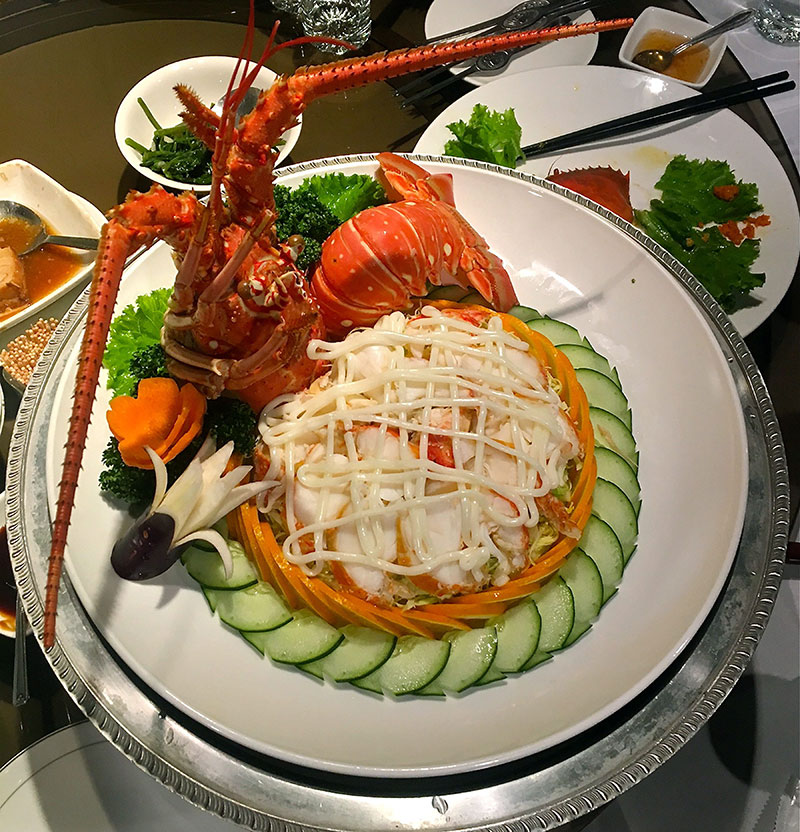 Bodacious presentation for a lobster dish
Day 2 was entirely taken up by a city tour, with stops at the Palace Museum and Martyrs' Shrine before lunch. At the iconic Taipei 101 building (briefly the tallest in the world before Dubai's Burj Khalifa topped it), we rode up what is still the world's fastest elevator, making it to the 89th floor's indoor observation deck in 37 seconds.
Followed stops at Chiang Kai-Shek Memorial Hall and Longshan Temple before another sumptuous repast, this time at Mala Hot Pot, where the splendid shabu-shabu segued to unlimited bowls of Haagen-Dazs and Movenpick ice cream. Some in our party still found the energy to explore the Ximendeng Youth Shopping District nearby.
On our third night, traveling back from Taroko, dinner was at the roadside eatery Wong Yao Chi for kiln-baked-then-fried chicken at Jiaoxi, still an hour before Taipei. A second try at Ximendeng gave me a chance to purchase boots and cosmetics for daughter and granddaughter, plus mochi balls of all persuasions, chili quails' eggs and the must-buy pineapple cakes.
Day 4 was free day, allowing some of us to revisit Ikea and try out yet another shopping area around Yongkang Park. Basking in diminishing sunshine while seated on a park bench, I observed families at play. The pleasantness was very much in evidence, the same quality that characterized the service wherever we dined, as well as the safe taxicab rides, and which extended to outright amiability on the part of hotel staffers and street vendors alike.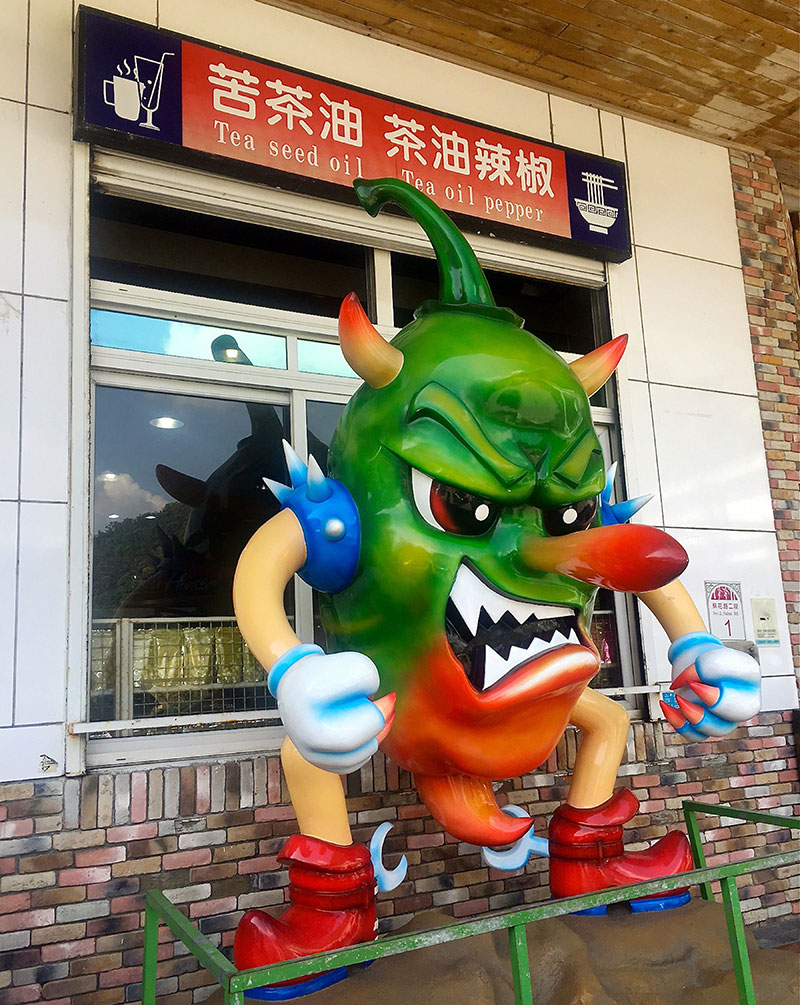 Anime mascots serve as welcoming features at eateries and souvenir centers.
I harked back to that mid-morning stop at Wuta town in Yilan county an hour before we reached Taroko park, where the depot-like structure billed as Chili Hunter offered an eye-popping display of hot sauce bottles from all over the world. They came with labels such as Red Bandit, White Zombie, Little Nukey, Burn Monster, Beyond Death Sauce, Fatal Fire, Burn in Hell, Osama!, Ass Kickin' Moonshine Pepper Mash, and Jump Up and Kiss Me.
By the entrance, a red-nosed mascot looking like a fiery anime character served as an attraction, alongside a row of quaint wooden tables for visitors. Inside, that chili warehouse may have seemed too hot to handle, certainly not for the faint of heart. But reveling in the spring sunshine outdoors was just about as pleasant an experience as the island could offer.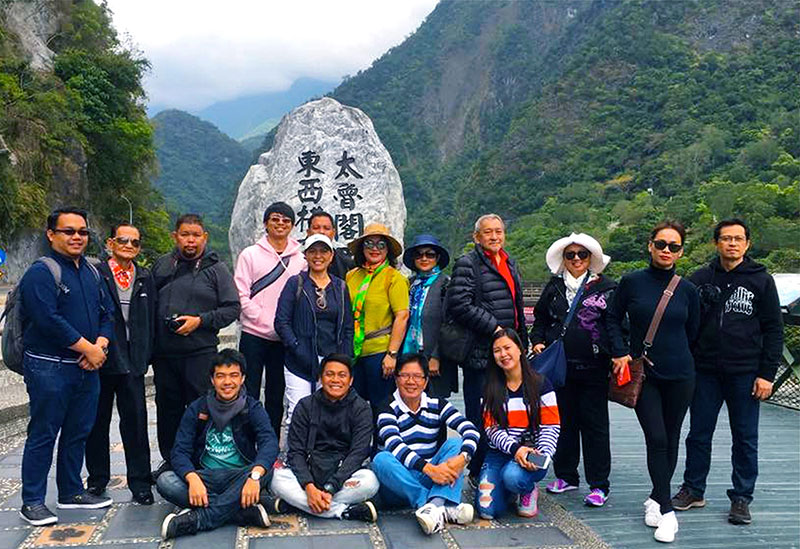 The Bright Leaf party at the gateway to Taroko National Park in Hualien, Taiwan: from left (standing), PMFTC communications executive Gelo Eugenio, Anselmo Roque of Punto Central Luzon, Erwin Mascariñas of Sun.Star CDO, Jasper Arcalas of Business Mirror, PMFTC communications manager Didet Santiago, Ian Ocampo Flora of Sun.Star Pampanga, PMFTC external affairs director Bayen Elero Tinga, Bright Leaf chairman of the board of judges Krip Yuson, Bright Leaf judge and PDI columnist Rina Jimenez-David, food stylist and Graphic magazine food writer Ditas Antenor, Julito Rada of Manila Times, and (seated from left) John Glenn Sarol of PhilRice, Ruben Gonzaga of ABS-CBN Davao, Feliciano Espiritu, Jr. of DWRW 95.1 FM Pampanga, and Laila Austria of Business Mirror.