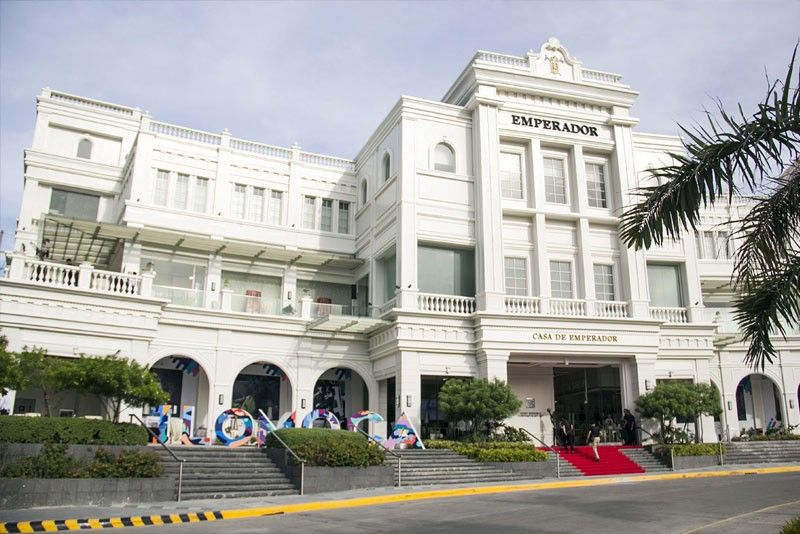 For art's sake: Casa Emperador is home to Iloilo's first museum of modern, contemporary art.
Photos by Walter Bollozos
The past and the future are always present in Iloilo
This must be my fourth time to Iloilo and always there's something new (or old) to love about it. Or something that makes me fall in love with Iloilo again and again.
A morning flight from Manila via Philippine Airlines takes us to this City of Love in the Western Visayas on a scorching Thursday in barely an hour — enough to literally catch 40 winks. The Iloilo airport is bustling with local and foreign tourists catching the tail end of summer. As for me, I can only dream of catching the freshest, sweetest mangoes of Guimaras, a hop, skip and a jump away from Iloilo City. Oh, are those our names on the white cardboard held up by an aproned guy from Richmonde Hotel? Yes, of course!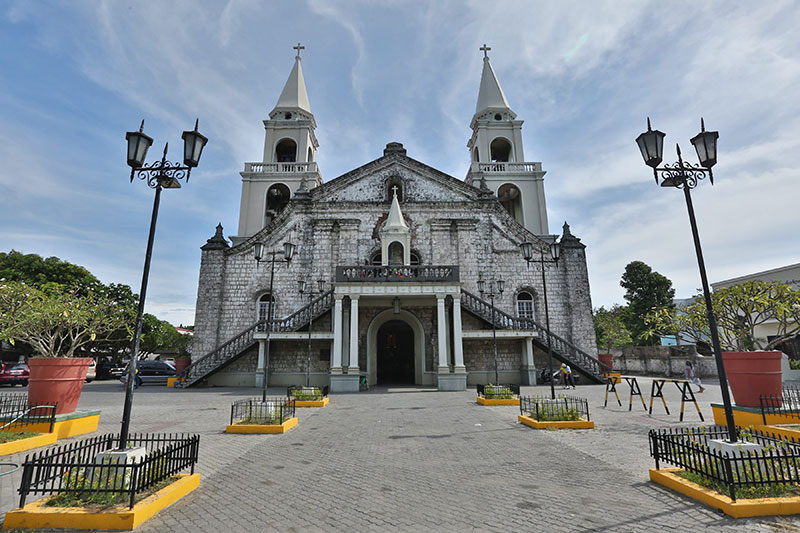 Food for the soul: The Jaro Cathedral is home to the miraculous Our Lady of the Candles.
As soon as we're seated in our van, he hands us bottles of ice-cold water and a platter of diced fresh fruits on sticks. What a refreshing, cool welcome on a sizzling hot day! On my third stick of fresh fruits, we arrive at Richmonde Hotel Iloilo on Megaworld Boulevard corner Enterprise Road, Iloilo Business Park, Mandurriao, Iloilo City. We learn later that this site, part of the 72-hectare Iloilo Business Park, a world-class, mixed-use township development by Megaworld Corporation, used to be the old Mandurriao Airport. Megaworld is developing a lot of innovative homegrown hotel brands, one of which is Richmonde.
I immediately spot a familiar lovely, friendly face — it's Natalie Lim, resident manager of Richmonde Hotel Iloilo. "You're back," she chirps. But of course! I can't imagine staying anywhere else but Richmonde when in Iloilo.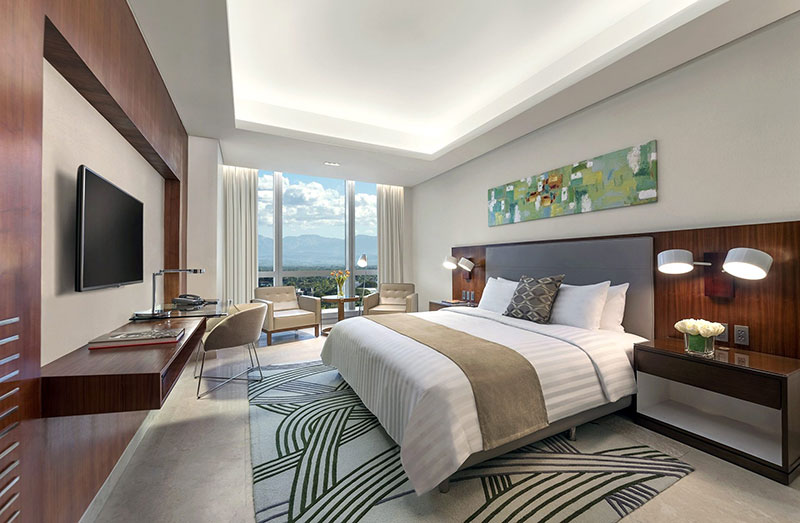 The suite, rich life at Richmonde Iloilo: The hotel features some of the biggest rooms in Iloilo, like this deluxe king room.
Can you guess what our first meal at Richmonde consists of? Why it's Kap Ising's molo soup kicking off our Ilonggo food adventure! Kap Ising's pancit molo started cooking in the 1920s from a garage in South San Jose in Molo, Iloilo. People flock to the place for an authentic taste of the iconic Molo soup or to bring home some Molo balls in freshly sealed packs at P30 per 10 balls. We're each served a ginormous bowl of molo loaded with pork dumplings swimming in a heartwarming aromatic broth. I just couldn't get enough of it so I order another heaping bowl of soup (unlit Molo soup, anyone?).
That's a wrap: Kevin's sisig
Fact is, Richmonde loves to pamper its guests, so brace yourself for the Ilonggo Indulgence. With Kap Ising's molo soup having awakened my taste buds, I'm ready for the next assault: an appetizer of fresh spring roll on herb crepe/sisig wrap, which we hear is the absolute favorite of young Megaworld scion Kevin Tan. We all agree with a burp: Why not call it Kevin's Wrap? For the entree, sous chef Jeffrey Ticao, who worked in Dubai, where he honed his skill in Middle Eastern cuisine, indulges our palates with pan-fried fish topped with a fried banana in lemon butter sauce and marinated boneless chicken cooked inasal style. And to cap our truly indulgent lunch is a hearty fried ibus (suman) with mangoes, perfectly paired with Cabatuan Tsokolate Dip. But this is just a preview of the rich, indulgent life that Richmonde Iloilo offers.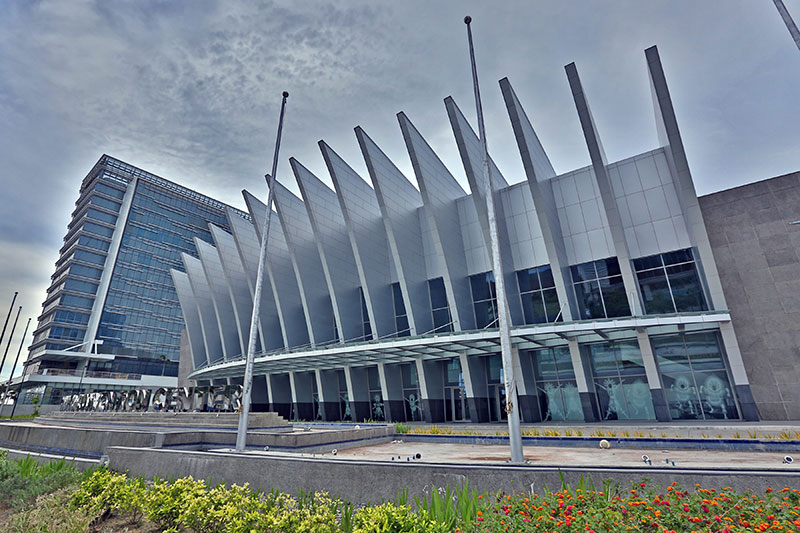 Smooth sailing: The 2,500-seat Iloilo Convention Center is patterned after a paraw (a native sail boat).
Of course, you've heard about Richmonde's ensaymada, which has become popular by word of mouth (contented mouths for sure). So, what's the secret ingredient that makes this biggest, creamiest, cheesiest ensaymada in Iloilo much in demand?
"Our ensaymada is made with love," Natalie tells us with a twinkle in her eyes. "It's made fresh every day with the most generous butter cream and cheese. People come here to have it for breakfast, for snack or merienda or for dessert, or to bring home as pasalubong. We almost always run out of stock every day."
Nat points out, "It's the same ensaymada that we have at Richmonde Ortigas and Richmonde Eastwood. When we first opened in Iloilo, the pastry chef from Richmonde Eastwood came to Iloilo to train our staff how to make it."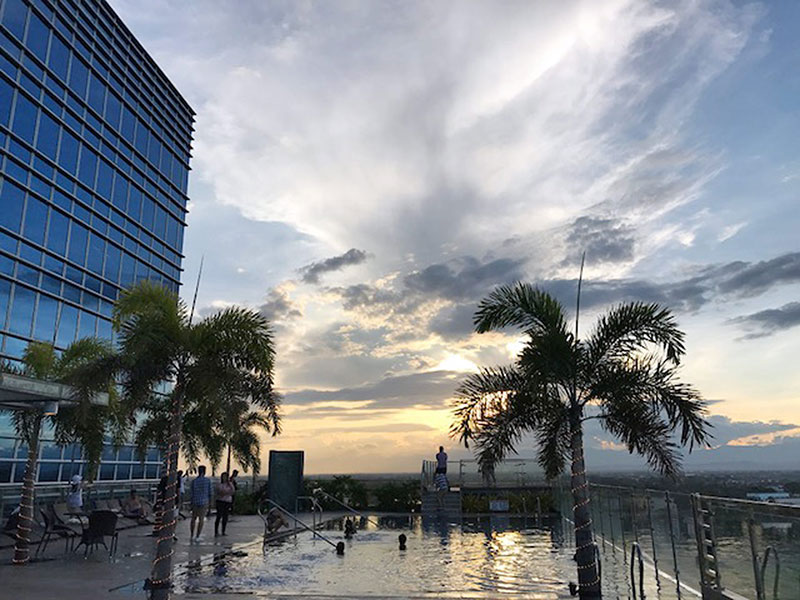 Hotel with a view: The 149-room Richmonde Iloilo, a pioneering first-class hotel in Iloilo City, boasts a breathtaking sunset view from the pool deck.
Pool with a sunset view
The ensaymada is surely one delicious reason to come to Richmonde. But let me briefly name more reasons why Richmonde Iloilo should be your next travel destination.
1. It has the most spacious rooms in the Western Visayas (picture 36 sq.m.).
2. It was highly commended at the 2015 Philippine Property Awards for Best Hotel Interior Design (it opened in 2015, with design done by Getty's, an international design company which does five-star hospitality brands, showcasing global interior design and incorporating Ilonggo culture, history, and lifestyle).
3. It's got the best hotel pool with the most amazing sunset view.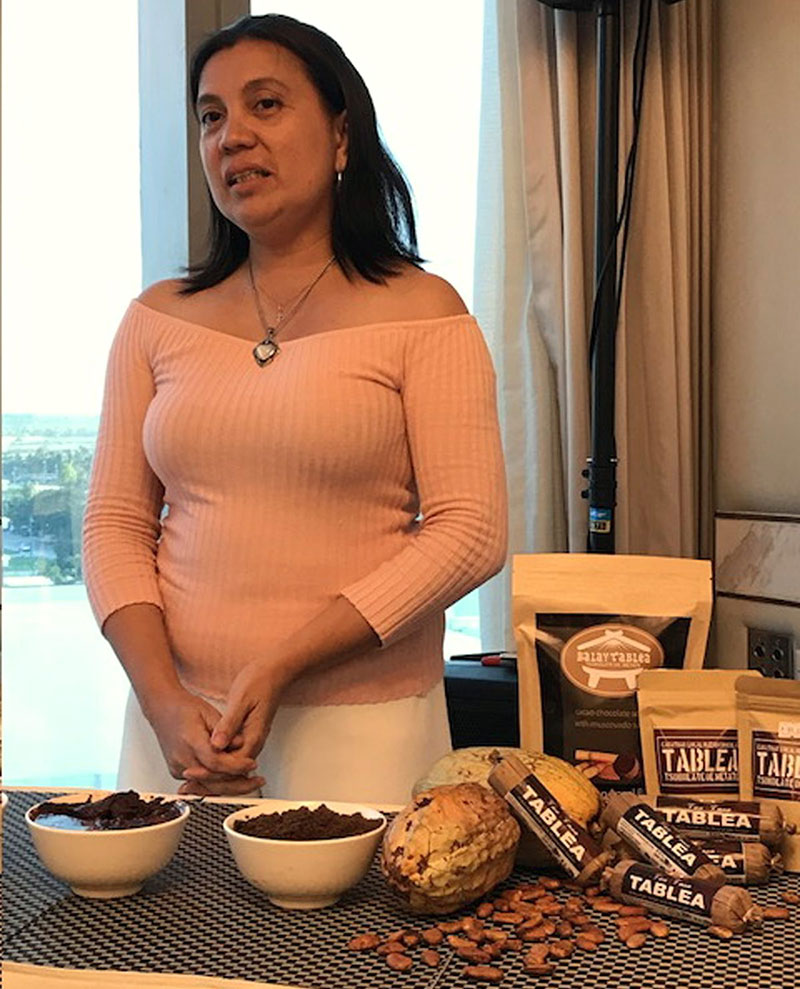 Loco over choco: Catherine Villalobos Taleon of Balay Tablea in Cabatuan spills the beans on the perfect tsokolate de metate.
4. And yes, like Megaworld taipan Andrew Tan, you'll love the BizBar for unwinding with fine wine and good music from the Harmony band.
5. Its luxe beds have plush beddings with 300 thread-count sheets and duck feather pillows for utmost comfort. No wonder not even a screaming alarm clock could rouse me in the morning from my bedded bliss.
6. It supports the locals with seafood and vegetable produce harvested from nearby towns.
7. It features the best of Ilonggo hospitality. "When we opened, the Ilonggos were curious and excited to welcome us because there was no big hotel that boasts international standards before Richmonde," Nat shares. "I love working with the Ilonggos — they're very honest, decent, hardworking, peace-loving. The other businesses are very accepting and helpful, there's no cutthroat competition."
Say cheesiest!: Richmonde's iconic giant ensaymada
If we may add, Iloilo has nearly zero crime rate. For the health-conscious (who isn't?), the whole city is also smoke-free.
"What I love about Iloilo is the warmth of the people — and how they have preserved their rich history and heritage," gushes Harold Geronimo, Megaworld SAVP and head of PR and media affairs. "From the centuries-old churches, rows of shophouses on Calle Real and the downtown area to the marvelous mansions, Iloilo is a huge piece of art."
8. It offers quality service literally at your fingertips. On day one of my stay, I try the 24-hour Richmonde Express, a one-stop shop that takes care of guests' every request, whatever information or help they may need. I just press a button on the phone in my room that has the logo of a hand pressing a traditional desk bell found in old hotels to symbolize fast and efficient service. In a jiffy, somebody is knocking on my door.
9. It's centrally located at the most exciting township in Western Visayas — the Iloilo Business Park.
A walk in the park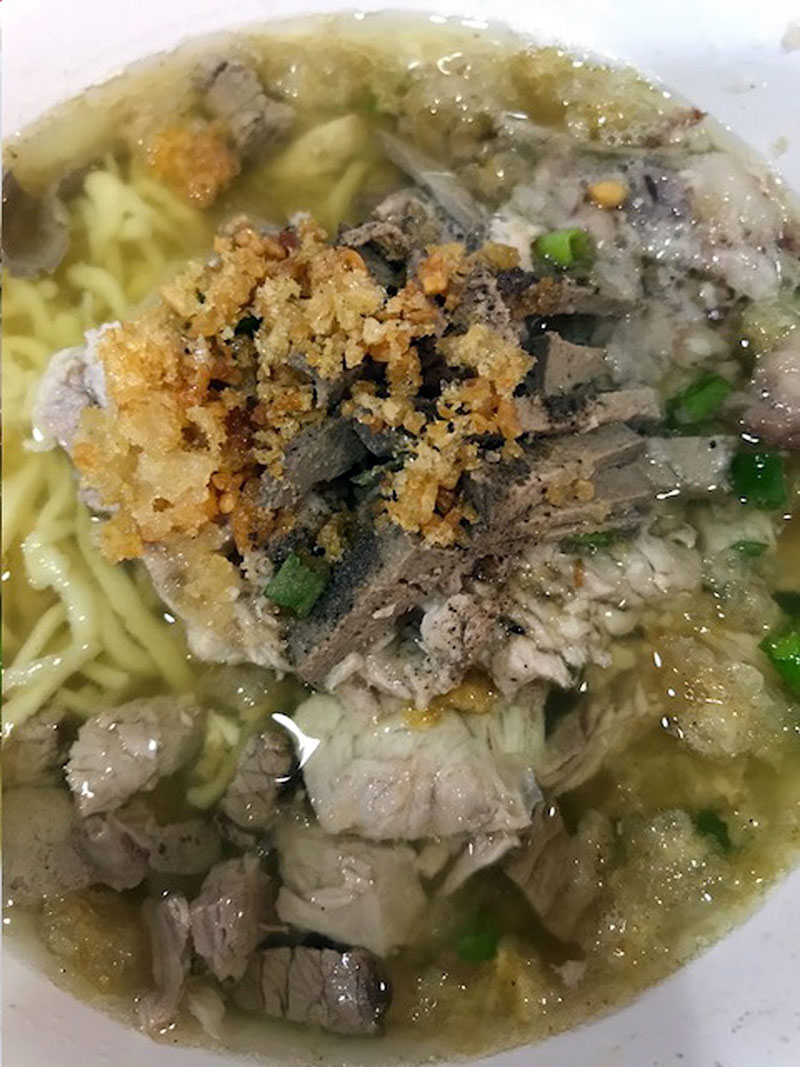 Meating place: Nothing but the best batchoy at Netong's in La Paz, Iloilo.
Getting around the pulsating, happening Iloilo Business Park is literally a walk in the park. Just a strolling distance from Richmonde Hotel is the Iloilo Convention Center, which was the reason why Richmonde was built. With a capacity of 2,500 seats, where can you possibly house all these convention guests?
Bound to be the biggest business and tourism hub in Western Visayas, this township development features the Festive Walk Iloilo, an integrated lifestyle mall complex that consists of the Festive Walk Mall, the 1.1-kilometer Festive Walk Parade, and Festive Walk Annex.
Did we say Festive Walk? If you're not used to all that walking, you can rent one of those nice, eco-friendly bambikes (they're made of bamboo) parked at the Festive Walk.
Smack in the heart of it all is the all-white, regal Casa Emperador, home to the Iloilo Museum of Contemporary Art, the first museum in the Visayas region dedicated to modern and contemporary art. There are three floors of exhibition space, with The Adoracion Valencia Gallery on the third floor, featuring the awesome collection of Edwin Valencia — Ilonggo/Negrense artists and Manila's art celebrities Nunelucio Alvarado, Antipas Delotavo, Brenda Fajardo, Michael Cacnio, Alfonso Ossorio, Romeo Tabuena, Arturo Luz, Ang Kiukok, Norma Belleza, Ofelia Gelvezon-Tequi, Jose Tence Ruiz, Pablo "Adi" Baens Santos, Roy Veneracion, among many others.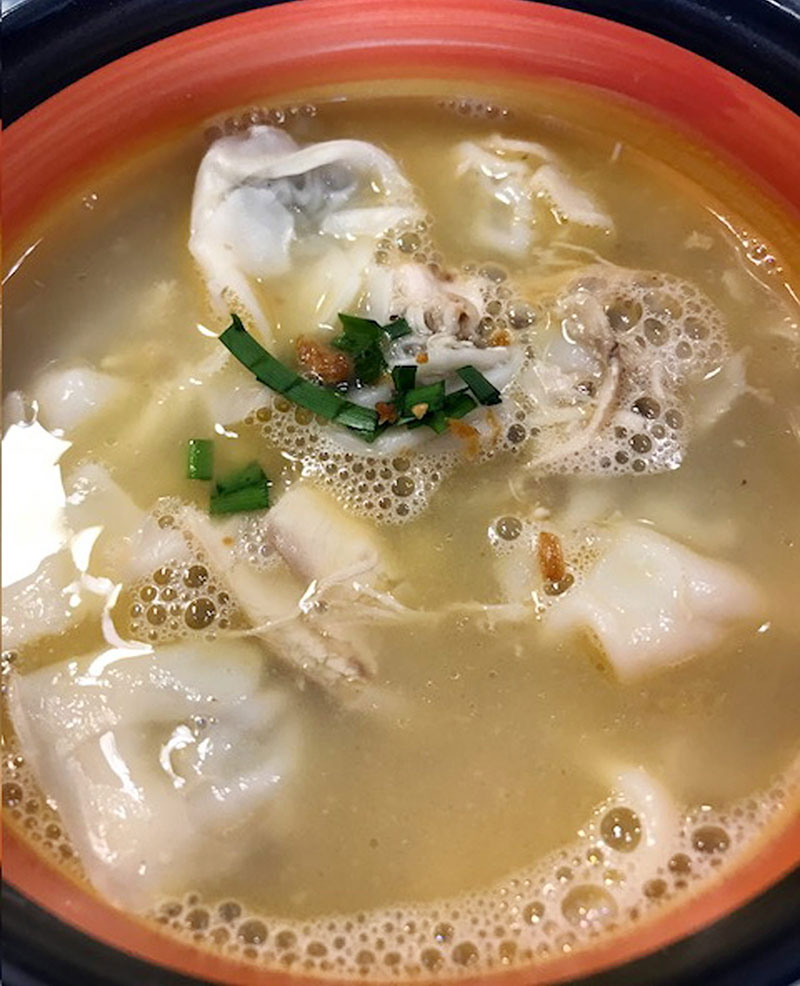 Soup-er duper good: Kap (barangay captain) Ising's Molo Soup at Richmonde Iloilo's The Granary
Then there's the residential area of the Park as well as the offices. According to Jennifer Palmares-Fong, VP for sales and marketing of Iloilo Business Park, as of May this year, five condos have been launched: the three-tower, 10-story One Madison Place; the one-tower, 10-story Lafayette Square; the two-wing, 22-story The Palladium; the one-tower, 10-story Saint Honore; and the one-tower, 10-story Saint Dominique.
Then, too, there's the cyberpark with approximately 100,000 square meters of office space that will generate some 40,000 jobs in the IT-BPO sector in Western Visayas.
The township commercial district will be home to the regional headquarters of Metrobank and Union Bank, and financial institutions. There are now five office towers offering 45,000 sqm. of office space.
Also to rise in this fastest-growing urban community are two more office towers: Two Techno Place and Festive Walk Office Tower.
A date with history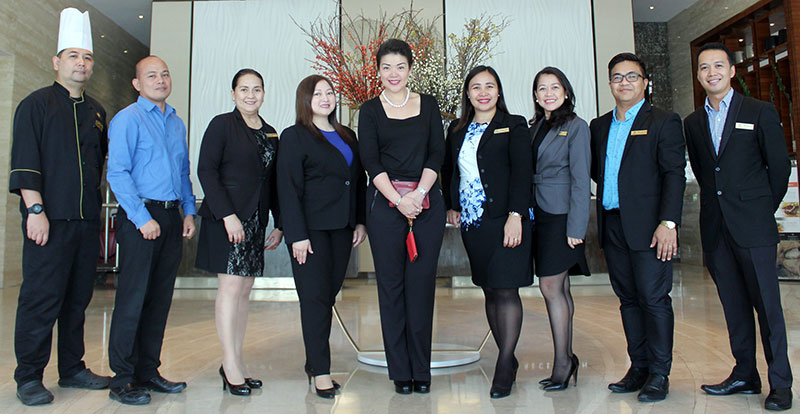 Quality service with a smile: Richmonde Iloilo's sous chef Jeffrey Ticao, engineering manager Arvin Mamuric, executive housekeeper Virginia Nazareno, director of sales Czarina Galano, resident manager Natalie U. Lim, Human Resources manager Liza Jean Balderas, sales manager Josette Palma, finance manager Elvy Razonales, assistant front office manager Mark Anthony Mesa
Amid all these mind-blowing developments, Iloilo has graciously kept its date with history. I always look forward to visiting some of the centuries-old churches of Iloilo that have survived the ravages of time. Like the Jaro Metropolitan Cathedral and National Shrine of Our Lady of the Candles built in 1864 and is the seat of the Roman Catholic Archdiocese of Jaro. There reigns Our Lady of the Candles whose miraculous image is said to have grown over the years. Vis-a-vis Jaro's all-male saints, there are Molo Church's (St. Anne Parish) all-female saints whose statues surround the walls of the church. Praise feminism!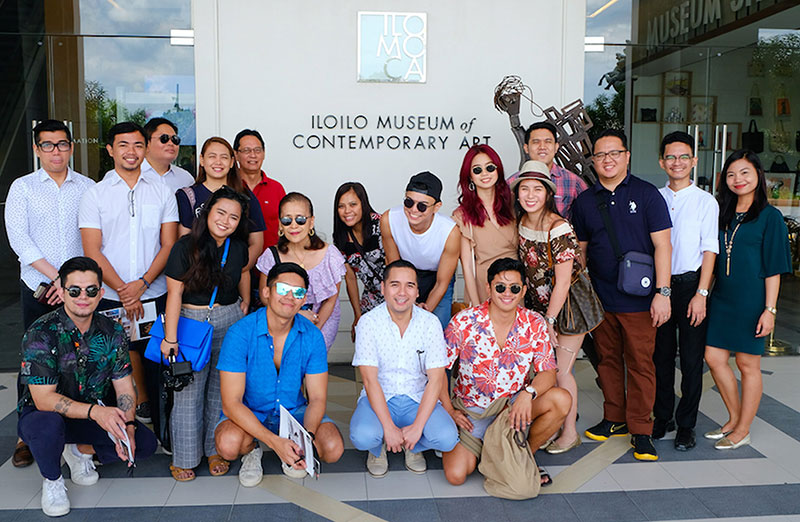 Loving Iloilo: Megaworld Corporation's Harold Geronimo with staff Nate Dacua, Alden Cedo, Erickson Beco, and MJ de Leon; media guests Ching Alano, Raoul Chee Kee, Regina Posadas, Lito Cinco, Iza Iglesias, JT Nisay, Barry Viloria, Isabel Vitangcol, and Trisha Ayao; influencers David Guizon, Vina Guerrero, Mikyle Quizon, and Paul Chuapoco with the staff of Iloilo Museum of Contemporary Art
Probably as much an institution as Iloilo's places of worship is Netong's house of batchoy located at La Paz Public Market. Its legion of devotees has steadily grown over the years. Care for a mega or super bowl of batchoy with unli chicharon and broth?
Surely, there's a lot to love about Iloilo, where the past and the future are always present.