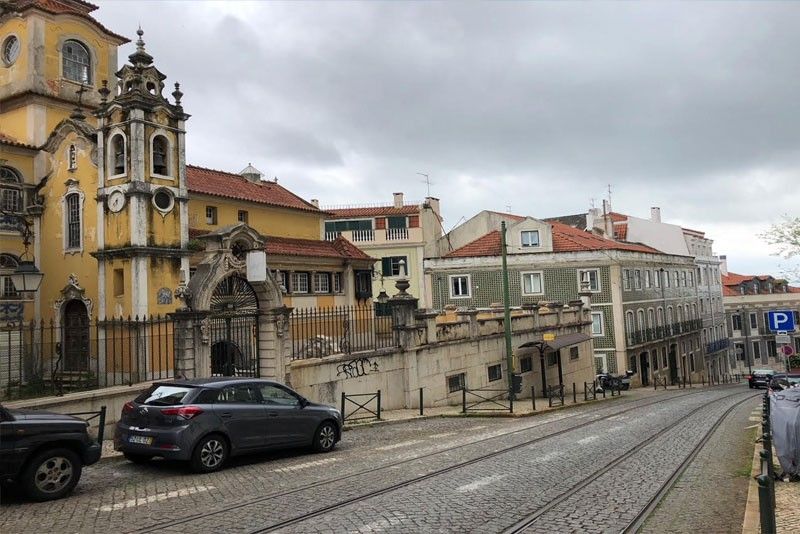 Take the tram 28 route and explore the city sights.
Say it right and enjoy the city like a local. Bem-venido!
Many tourists just stop over for a night and head to the famous destination in Portugal which is Fatima. But if you have the time and chance to walk around Lisbon, you may discover a new favorite city.
Prepare your legs for the walk – up and down the city's Seven Hills, from the seaside to high up in the Chiado area.
There is a lot to do besides just walking the city's narrow streets. There are places to eat and imbibe the culture. There are churches to visit – three of them on one street: the Cathedral of Mary Major, San Antonio (of Lisbon as he was born here and died in Padua), the favorite patron saint for missing things, and a Filipino church just a few hundred steps away.
To sample a little of everything Portuguese food-wise it's good to visit Time Out's Mercado de Ribeira. There are five – yes, five – rated or starred chefs here and you'll have a feast trying their specialties but at a good price. Entrees which would go for more than 30 euros at their eponymous restaurants could be had for 12-15 euros only at the Mercado.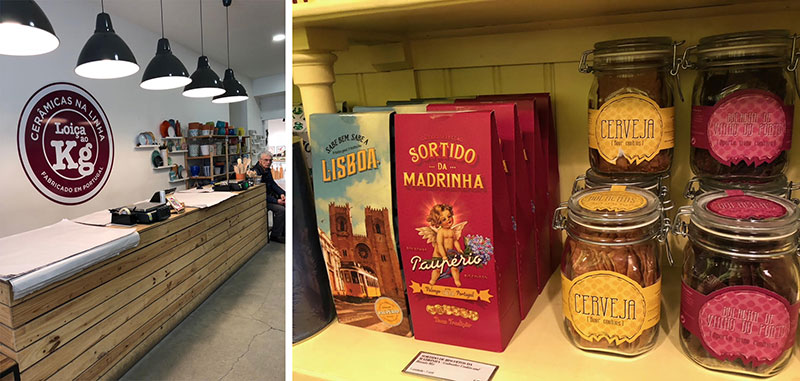 A unique shop of ceramic ware sold by the kilo(left). Shop everything Portuguese at A Vida Portuguesa.
It's a food court with an attitude. Lots of wines, beers and sangrias in the center kiosks (quiosque), including a good Delta brand coffee which I think comes from Angola, another good coffee origin in West Africa and which used to be a Portuguese colony.
For the main courses of the famous chefs de cuisine you must start queueing at around 11:30 a.m. and make a meal plan before you reach each counter.
Here is a plan:
Alexandre Silva – Try the bacalau with roast potatoes and some sautéd spinach. It's fresh cod that's lightly salted and baked in butter.
Don't forget to pair it with white wine from Douro or a rosé from Algarve. Also try the typical Portuguese anjos (angel's double chin) which is a pastry soaked in light syrup and served on apple puree. Chase it with Americano coffee from the Quiesque do cafe.
Marlene Vieira – Try the five kinds of appetizers: pulpo, garbanzos and mussels all cutely served in sardine cans, a pair of shrimp fry sitting on a dollop of mustard sauce and a hamburger slider.
Henrique Sa Pessoa – The Ovo 64 is soft-cooked egg crowned with a ring of prosciutto sitting on a bed of truffled mashed potato and topped with four asparagus spears.
This chef loves to cook slowly. My friend had a slow-cooked pork belly confit which she enjoyed with just some sautéd greens.
On the side of the 24 de Julio entrance to the market you will find Chef Kiko of Ceviche fame. I ordered the ceviche and you can't go wrong having it as a starter. He uses wakame greens and a secret "Leche de tigre" dressing topped with a sweet potato or squash mousse and further garnished with crunchy popcorn, sweet potato chips and a leaf or stem of coriander. It's a party in the mouth!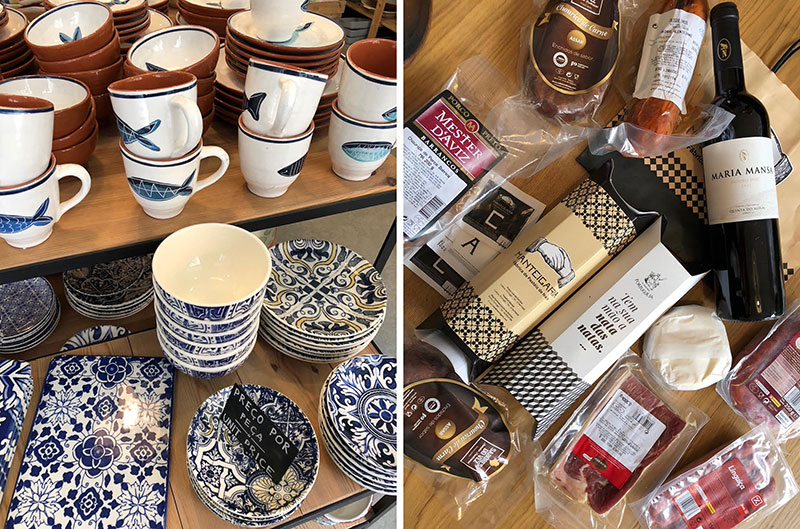 Lovely ceramic pieces(left). Portuguese specialties: chorizo, cheese and wine.
If you have more time or a bigger appetite, try some pasteis (famous egg custard tarts) from Manteigaira or an ice cream from Santinis.
Burn some calories and do some exploring. Walk up to the Chiado area and head to Rua da Ancheta where you will find A Vida Portuguesa, a veritable museum and shop of everything Portuguese. Get some souvenirs like chocolates, colognes and sardines. If you're looking for home stuff take a look at their foot rugs and throws. All made from local cotton.
Turn the corner and you will find a unique shop for ceramic ware but sold by the kilo! Some are even sold at half off due to a scratch or maybe a small chip. Some perfect ones are sold at full price.
The Chiado has many stores to discover and spend a lot of time in just looking, like Vista Alegre. This high-end store has top of the line ceramics and porcelain by famous designers like Christian Lacroix or Vera Wang. But it also has affordable gifts like a series of different sardine ceramic ware one can continue to collect with every trip to Lisbon.
Desserts and pastries? Oh my gosh! Start with Alcoa where every recipe was collected from religious convents. Try the Jesuita or a few variations of the same ingredients – egg yolk and sugar or what we know as yema. They come in many shapes and are combined with almonds, pine nuts and wafers.
All around the city you will find pastelarias or pastry shops selling pasteis, the national snack with a flaky crust and filled with a rich custard mixture. It's what we know as Lord Stow from Macau. In Lisbon the most famous one is Pasteis de Bellem where people queue up to get a piece or a box of six, hot and fresh from the ovens. There are other brands like Manteigeira, a Padaria Portuguesa and Cafe Nacional, where you can also try the sponge cake or Pao de Alo. You have to try as many pastries in order to compare the crust and filling; they vary but are invariably all good.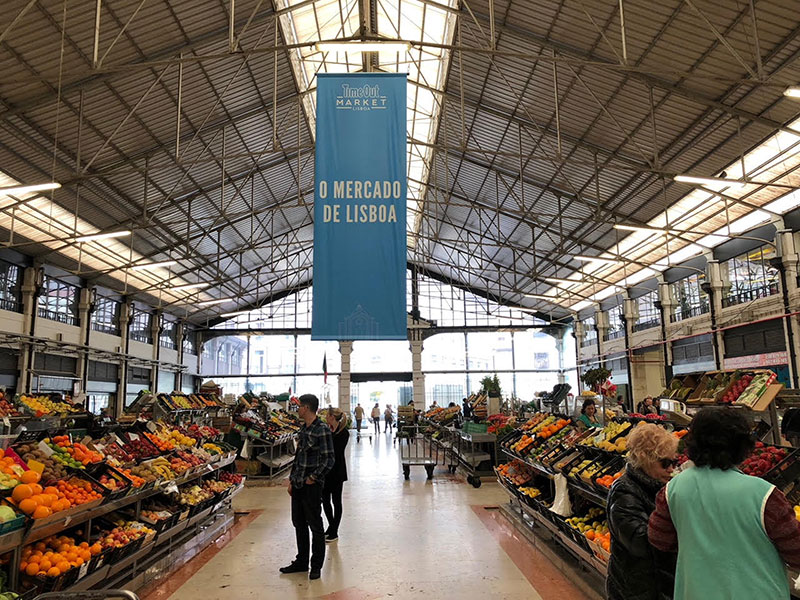 Eat well at reasonable prices at Mercado de Ribeira.
Another thing to do is to head to Rua San Justa and queue to ride the elevator to the top for a panoramic view of Lisbon. Have lunch at the Bairro de Avelliz – the elevator entrance is just around the corner – a series of restaurant concepts in one place by renowned chef Jose Avelliz. There is a charcuteria for jamon bellota and a Peruvian concept for those wanting a different type of experience. The hams of Portugal taste like the famous hams of Spain as the two countries share a border along the famous Estremadura or where those black pigs are aplenty. Pigs know no borders so they can be Spanish or Portuguese and taste equally delicious.
Tired of walking? Call an Uber. Surprisingly, Uber rides are cheaper than local taxis with meters.
If you want to see more of the tourist spots like Torre de Bellem, the monuments and other "far to walk" places, hire a tuktuk – an electric version of Thailand's famous ride – for 50 euro for an hour. That's a lot of time to take photos and check where you could spend more time the next few days.
There also are free walking tours – just look for the blue umbrellas in the Chiado area usually operated by young students wanting to earn a few bucks in tips from thankful tourists.
Whether you have just 24 or 48 hours or a whole week, there is much to do in Lisbon. And when you have had your fill, then take a day trip to Fatima or Sintra.