WATCH: Kelly Misa shares Hong Kong family trip itinerary
(philstar.com) - May 7, 2018 - 4:37pm
MANILA, Philippines — For those looking for a family getaway on Mother's Day, model and TV host Kelly Misa-Fernandez shares her itinerary during a recent family trip to Hong Kong.
In this video exclusively released by Hong Kong Tourism Board to Philstar.com, Kelly and her family can be seen enjoying the city like locals.
Day 1
0755 - 1055

MNL to HKG

1200 - 1300

Lunch at Lin Heung Tea House

One of the oldest tea houses in Hong Kong, serving the most traditional dim sum in town. The dim sum carts pushed by staff let you feel like you are in Olden Hong Kong. You can not only taste the most traditional dim sum dish but also experience the history of Hong Kong.

1400

Check-in at Hotel

1500 - 1800

Old Town Central Tour by Walk-in HK

Explore "Old Town Central," one of the oldest yet trendiest district in Hong Kong, where to discover the East meets West culture/history, art & design and hidden gems.

Pottinger Street

In 1858, the government named this street as such in memory of Hong Kong's first governor. It is also known as 'Stone Slab Street' and is paved with uneven slabs of cobblestone to facilitate walking up the steep hill. A lot of costume shops featuring a wide selection of costumes, face masks, accessories, jewellery and wigs for theme parties.

PMQ

The former Police Married Quarters has been transformed into a creative industries hub that is home to over a hundred shops, most of which showcase designer goods by local brands. Check out their website for details of exhibitions and special events.

Hollywood Road

The historic neighbourhood of Hollywood Road, with its old buildings and interesting boutiques, is an ideal area for a relaxing stroll. Keep an eye out for tucked away street art and graffiti in some of the streets and alleys that intersect the road.

PoHo

PoHo is a laid-back neighbourhood comprising Tai Ping Shan Street, Po Hing Fong, Square Street and Pound Lane, with galleries, boutiques, specialty shops and cafés lining the streets and graffiti adorning hidden corners of alleys — an ideal place to spend a quiet afternoon.

Mid-Levels Escalator

Mid-Levels Escalator system is the world's longest outdoor covered escalator system which stretches for over 800-metres and rising 135-metres through the streets of a steep hillside linking these districts of Hong Kong Island.

Staunton Street

Together with the upper section of Elgin Street, it is the heart of the Soho entertainment area, featuring a number of restaurants, bars and shops.

Upper Lascar Row

The highlight of Upper Lascar Row is the seemingly endless row of antique stores, offering an eclectic collection of Chinese calligraphy, arts and vintage furniture. This runs parallel to stalls that sell an array of bric-à-brac collectibles, such as Mao Zedong alarm clocks and Bruce Lee posters.

1830-2000

Dinner at Chan Kan Kee Chiu Chou Restaurant

Hong Kong is also famous for Chiu Chou food, and Chan Kan Kee Chiu Chou Restaurant is one of the oldest Chiu Chow restaurants in Hong Kong, they started in Sheung Wan more than 50 years. Chiu Chow people have their own distinctive cooking methods, which make the food in the special way of tasting. You cannot miss their Lou Shui dishes, such as Lou Shui goose, tofu, flower cold crab and oyster pancake. If you like spicy, the salted/ cured pickled greens pepper pork stomach soup is not be missed!

2030

Return to hotel
Day 2
0800

Meet MFF at hotel lobby

0830 - 0930

Breakfast at Lan Fong Yuen

Founded since 1952, this Hong Kong institution is the place to go for milk tea, pork buns and French toast. People come here for the authentic Hong Kong cha chaan teng experience.

1000 - 1130

Ride The Peak Tram

The Peak Tram can be enjoyed by everyone as the steepest funicular railway in the world. The journey takes only seven minutes and is a visual experience to remember, as skyscrapers glide past at what appear to be impossible angles while the tram makes its ascent.

Sightseeing at The Peak

The Peak is the highest point on Hong Kong Island and a must-see place for all visitors of the city.

1200 - 1330

Lunch at Dim Sum Icon

The restaurant always cooperates with different cartoon characters (e.g.Spongebob Squarepants) with the concept of traditional Hong Kong Dim Sum. It features the unique presentations of food and the decorations of the restaurant.

1400 -1440

Leisure at Ani-Com Park@Harbour"FUN"

Located near the Golden Bauhinia Square, Ani-Com Park@Harbour"FUN" features statues of 30 classic local ani-com characters, including Old Master Q, Cloud, Wong Xiao Hu, On On & Guy Guy and Ding Ding Penguin.

1500 -1540

Shopping at Tai Yuen Street

Located in Wan Chai, Tai Yuen Street, otherwise known as "Toy Street," is where kids and "kidults" alike could find anything and everything here—from limited edition collectibles to popular low-priced toys.

1550-1630

Stroll along Lee Tung Avenue

The former 'Wedding Card Street' has been transformed into a European-style street. The red Chinese lanterns are a nod to the street's history as a centre for the wedding invitation card business (red being an auspicious colour associated with festive occasions). Today, it is home to fusion restaurants, open-air cafés and specialty shops.

1700 - 1800

Photoshoot at Sai Wan Swimming Shed

In the 1960s and 70s, locals who came to swim in the harbour used this facility for changing clothes and storing belongings. Nowadays, it has become a popular spot for shutterbugs and photographers alike. Many come to capture the long wooden bridge, panoramic sea views and stunning twilight.

1830-2000

Dinner along Davis Street/walk along Sai Ying Pun

At this shop-lined 230-metre stretch, you can find bars and restaurants as well as Hong Kong-style eateries and cafés. This happening street is perfect for foodies, day and night.

Dinner at Cross Café

This café is a merge of Hong Kong olds style café and modern stylish design, from the eye-catching neon light logo, retro red brick walls, and the vintage windows, you can feel the 50's to 60's of Hong Kong. Cross café serves the traditional HK style café and a variety of innovative dishes made of the traditional food supplier, Trappist Dairy Products. Not only the travelers love to visit this café, but the younger generation of HK people love to go this restaurant. You definitely cannot miss the chance to have photo taking time with your friends and family in Cross Café.

2030

Return to hotel
Day 3
Breakfast at hotel

0830

Meet MFF at lobby

0900

Take Southern Island line to Ocean Park

0930 - 1530

Leisure and amusement at Ocean Park

Stroll through Hong Kong of the 1950s, 1960s, and the 1970s and visit Aqua City, The Grand Aquarium, The Lagoon, The Rainforest, Pacific Pier, Sea Jelly Spectacular, and Ocean Theatre.

Lunch at Ocean Park

1600 - 1710

Discover Hong Kong's Living History with The TramOramic Tour

Hop aboard a 1920s-style open top tram and embark on a fascinating sightseeing tour through genuine Hong Kong. During your amazing journey you'll encounter bustling streets, ultra-modern cityscapes and attractions. The tramway is a living, evolving connection between Hong Kong's colourful history and modern culture. The TramOramic Tour is one of the top things to do in Hong Kong for anyone who'd love to get closer to the city.

1720 - 1830

Shopping at Jardine's Crescent

Just a stone's throw away from major shopping malls, Jardine's Crescent delivers a completely different shopping experience. Nestled in a narrow alley, this roadside market is lined with tiny stalls that offer clothing, accessories, household items and handicrafts.

Shopping at Hysan Place

Hysan Place is an oasis of natural light, lush greenery, high ceilings and open storefronts in the heart of hectic Causeway Bay.

1900 - 2030

Dinner at Jamie's Italian

Jamie's Italian is an authentic Italian restaurant by famous chef Jamie Oliver. The restaurant provides children playgroup and it aims to bring fresh and traditional Italian foods to Hong Kong. Some of their signature dishes include the Tagliatelle Bolognese and Italian-Spiced Chicken Wings.

2100

Return to hotel
Day 4
Breakfast at hotel

0830

Meet MFF at lobby

0930 - 1030

Ride the Star Ferry

Head to Hong Kong Disneyland on Lantau Island from Tsim Sha Tsui on the World Star ferry. Enjoy the breeze on the sun deck or relax in the air-conditioned compartments as you take in views of the harbour. Many visitors take the ride for an up-close look at one of the world's most photographed harbours, while locals have kept their affection for it because, even after a century, it's still a highly reliable and efficient form of transport. National Geographic rates the Star Ferry crossing as one of 50 'places of a lifetime'.

1100-1800

Leisure, amusement, and dinner at Hong Kong Disneyland

Embark on a magical journey through seven lands based on stories of mystery, WildWest, Toy Story, fantasy, adventure, space, and Americana.
Comfortable but stylish shoes, according to Kelly, are her ultimate travel and Mother's Day must-haves.
Thus, together with Patty Laurel, Jackie Go, Tricia Centenera and Bianca Roque-Bradner, Kelly recently graced the launch of the new brand direction and new collection of footwear label Naturalizer. Apart from the quotable lines and funny anecdotes, these modern women attest to the comfort and style the brand promises.
During the event, the brand officially turned over 800 pairs of pre-loved shoes gathered during its "Trade, Give, and Save" campaign to its partner charity, the Revelation City Community Foundation. — Deni Rose M. Afinidad-Bernardo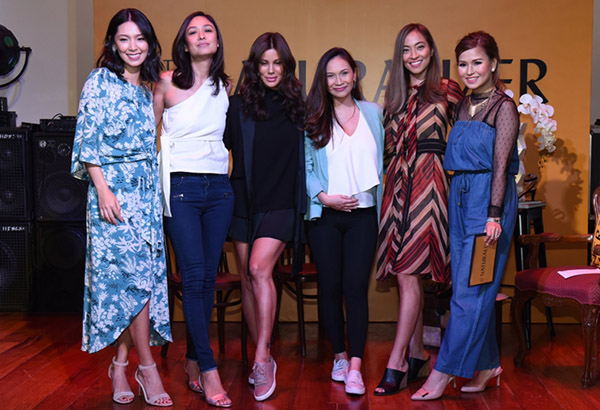 From left: Bianca Roque-Bradner, Kelly Misa, Tricia Centenera, Patty Laurel, and Jackie Go and Say Alonzo at the Naturalizer brand direction and new collection launch. Photo release