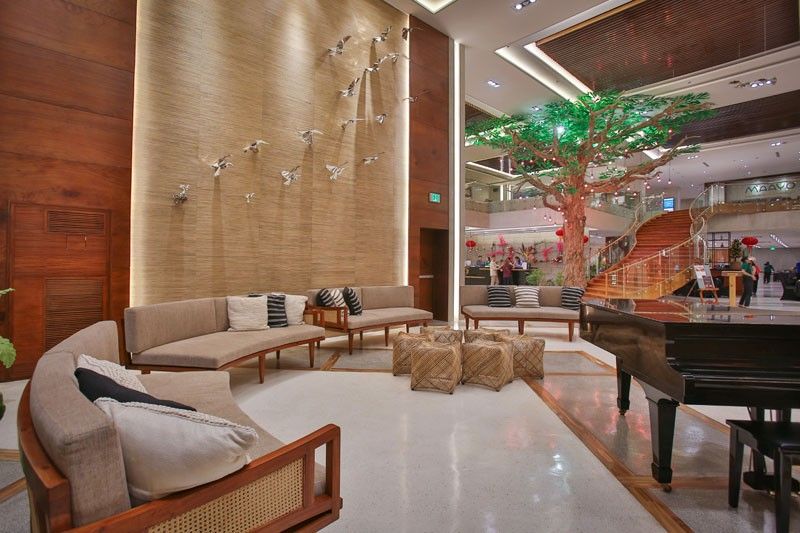 All's well at Maayo in Cebu
In Cebuano, "maayo" means "good" or "well." It's the ideal name for a new hotel and wellness complex in Cebu that offers four-star accommodations and service — not only in the Maayo Hotel, but also in Maayo Well, the medical facility it's connected to, which offers wellness and aesthetic services performed by locally and internationally trained doctors and nurses.
After landing at Cebu airport we took a van to Maayo Hotel, only a 15-minute ride away, situated on a main road that leads directly to the city center (the nearest shopping mall is only 10 minutes away).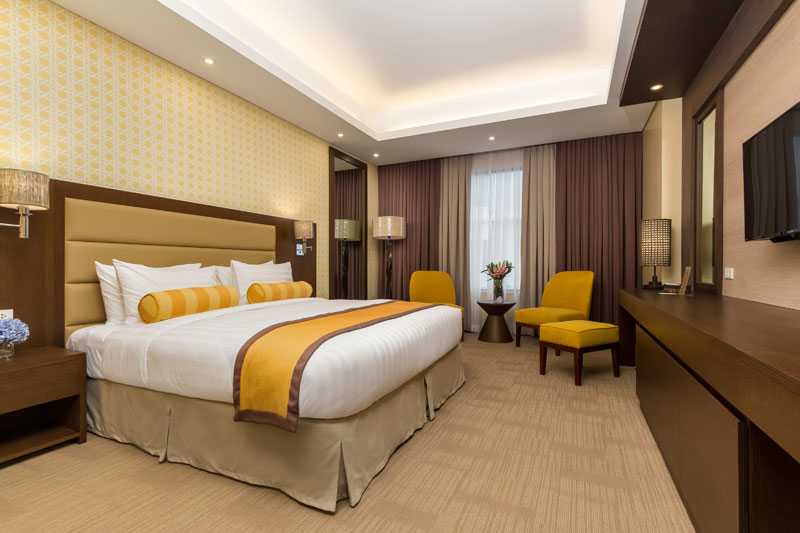 Comfy crib: The Deluxe Room with its high-thread-count sheets, flatscreen TV and free WiFi
At the lobby on the seventh floor, everything looks clean, spacious and modern with design details reflecting Filipino culture. Lavender and vanilla scent the air to soothe and calm visitors; banig mats evoking the comforts of home are the main accent throughout the hotel, with furniture pieces by Cebu artisans bolstering its reputation as the design capital of the Philippines.
Maayo owner William "Wally" Liu is the CEO of the Primary Group of Builders, a 60-year-old company that specializes in engineering, construction, housing and real estate throughout the Visayas and Mindanao. He and his wife Paulette had been thinking of going into the hotel industry for many years; whenever they would travel abroad they observed how tourist destinations would always be manned by OFWs, so they thought, why not do it here, do it better, and match their salaries to stop the brain drain?
"Our goal is to be able to retain talent here," Liu says.
Thus, Primary has built hotels not just in Cebu but also Dumaguete, Bohol, Siquijor and Palawan. Maayo Hotel and Maayo Well opened late last year, and they've opened a new resort, Maayo Stay, in Argao a few hours south of Cebu. "We'd like to think this is our contribution to Philippine tourism," Liu says.
"The advocacy is really bringing back Filipinos," adds Paulette. "We want guests to feel the Filipino culture, heritage and hospitality."
Cebuano Feels And Flavors
You definitely feel all three at Maayo. My Deluxe Room was so comfortable with its high-thread-count sheets and rain shower that I didn't want to leave it, though I did to eat at the two restaurants, Uma and Ani.
Pool with a view: The infinity pool on the top floor of Maayo Hotel overlooks scenic Mactan.
Uma on the lobby floor features a generous breakfast buffet with Asian and Western favorites (like an omelet station) that also highlights Cebuano specialties like sikwate, the rich, dark hot chocolate from Argao, and healthy treats like steamed kamote and sweetened banana.
Ani is on the top floor, with its infinity pool and spectacular wraparound view. Featuring a continental menu that Liu says is sustainably sourced from local farmers and fishermen and up to 90 percent organic, I loved seafood dishes like the King Prawns Provencal and Herb-Crusted Scallops, though carnivores have their day as well with crispy pork ribs and rib-eye steak. Leave room for desserts like leche flan and apple pudding with caramel sauce.
Journey Into Wellness
Another special thing about Maayo Hotel: you can actually order a Wellness Kit from reception, which contains a yoga mat, fitness ball, medicine ball and dumbbells. Not only is this conducive to in-room workouts, it's also a great intro to the philosophy behind Maayo Well next door.
"Wally and I were a bit frustrated with the practice in the medical industry," admits Paulette. "His parents passed away a few years ago, and he was not happy with the way they were handled in the hospital, so he said, 'Let's correct that and do something.'"
Consequently, Primary also built Maayo Well, which can be accessed from the hotel on the lobby floor. Officially known as Maayo Medical, there you're not called a patient but a guest, and are treated like one. You're met by a "migo" or "miga," a registered nurse who acts as your guide throughout your wellness journey. (My personal "guardian angel" was Ken, who was so kind and helpful I had sepanx when we parted.)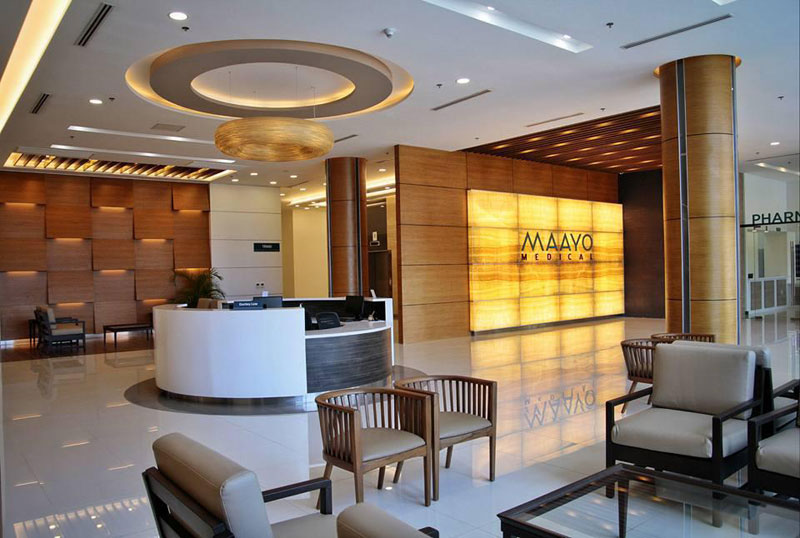 Healthcare with a hotel ambience: Maayo Medical, which offers wellness and aesthetic services, is directly connected to Maayo Hotel.
"Our emphasis really is preventive care," says Maayo Medical CEO Dr. Ted Gonzales. "Our goal is to make you stay well."
He noted that liver conditions are the primary ailments of many Filipinos, so there is a whole section dedicated to liver wellness. Other services include education on proper nutrition, diabetes care, an oncology unit, hemodialysis, endoscopy, bronchoscopy, ophthalmology, orthotics and prosthetics, and physical rehabilitation. The eight-floor facility is equipped with a pool for such therapy where we took an aqua yoga class one morning, and it was an excellent low-impact workout for both body and mind.
They also offer Movement Wellness, a one-on-one session with a physical therapist who assesses your body alignment, breathing and movement control to determine possible imbalances that might lead to injury. My PT Johann spotted weaknesses in my core that led me to strain the muscles on my left side, and led me through a series of exercises to strengthen it. He even emailed me exercises I could do at home, which really says something about the kind of service you get at Maayo Medical. Not only is it "service with a smile," the staff are all extremely knowledgeable about their fields and go beyond the call of duty to help you.
I felt it when I had my eyes, ears, nose and throat checked, and also during the more aesthetic services. Pico is offered for skin perfecting, Exilis for body contouring and Zoom for tooth whitening, and the clinic is so discreet that it's ideal for celebrities getting plastic surgery.
After consulting with dermatologist Dr. Johanna Flordelis, I opted for a rejuvenating Oxygeneo facial, which combined anti-aging Tripollar therapy with infusing hyaluronic acid to plump the skin.
Maayo is an ideal location for having an executive checkup, because you have the unique arrangement of having a four-star hotel and medical facility in one building.
As Dr. Gonzales notes, "We have a hotel ambience in a healthcare facility."
* * *
Maayo Hotel and Maayo Medical are located on Plaridel St., Mandaue City, Cebu. For summer, Maayo is offering special packages until June. The Summer Chill Package includes a 3D/2N stay at Maayo Hotel with breakfast for two and a choice of facial, teeth cleaning, or ENT checkup with free earplugs and free sunglasses and eye consultation for two at Maayo Medical for P11,025.
The Maayo Summer Twin Package includes a 2D/1N stay at Maayo Hotel plus a 3D/2N stay at Maayo Argao with breakfast for two and a choice of facial, teeth cleaning, or ENT checkup with free earplugs and free sunglasses and eye consultation for two at Maayo Medical for P12,128. To book, call (032) 517-0200 or email reservations@maayohotels.com.