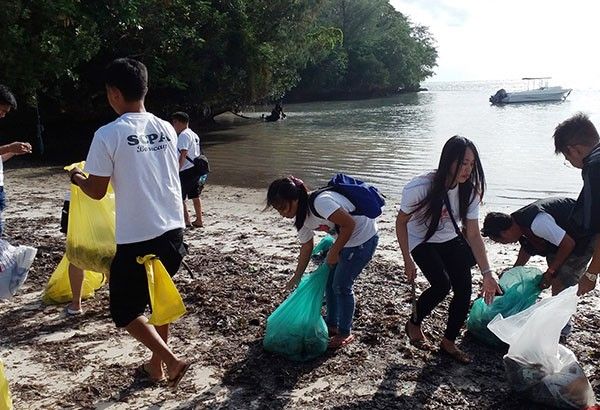 Youth volunteers picking up trash as part of the clean-up drive.
Photo release
Volunteers start Boracay clean-up
(philstar.com) - April 25, 2018 - 6:22pm
MANILA, Philippines — Boracay boasts of one of the most beautiful beaches in the world, so much so that it was dubbed as "Best Island in the World" for two years in a row (2016 and 2017) by travel magazine Conde Nast Traveler.
Nonetheless, because of the pressing issues it is facing today, conducting cleanup drives has now become fundamental for the island to fully maintain its environmental sustainability. This is why the government has teamed up with local groups, and came up with "Save Boracay!," a campaign targeted to save, protect, and preserve the natural assets of the island.
On its fourth anniversary of the operation on the island, Sanitary Care Products Asia, Inc. Boracay has taken an initiative to join the campaign by conducting its own beach clean-up drive. A dozen volunteers, including nine personnel, a merchandiser, an on-call housekeeping and an intern, joined the project.
In collaboration with Agape Boracay Academy Inc. and Church on the Rock, both headed by Teresa Atienza, the first clean-up drive bagan in Bolabog Back Beach last March 24, from 6 a.m. to 9 a.m. Alongside this, there was also a feeding program that aided children and families with nutritious meals.
The clean-up drive aims to ensure proper solid waste management for the safeguarding of both the environment and public health in Boracay. It also targets to increase cooperation and public support in improving the island's surroundings in terms of cleanliness and sanitation.