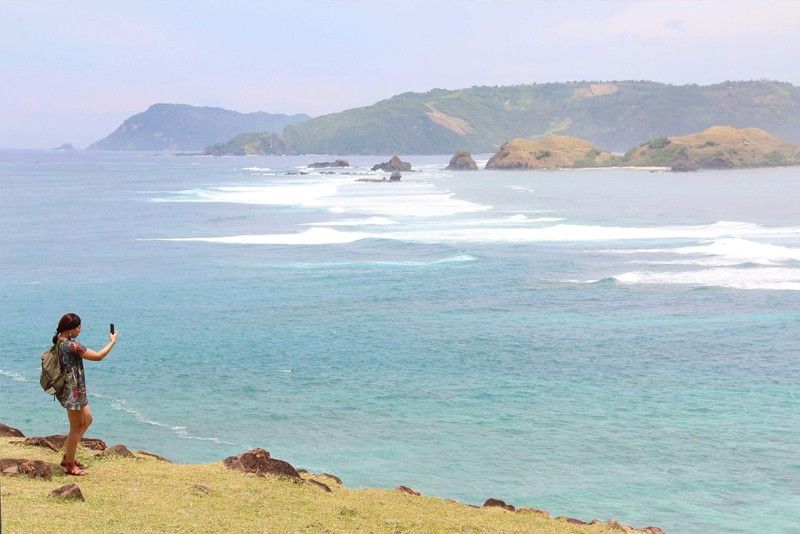 Bukit Merese Hill is a famous sunrise and sunset viewpoint overlooking Tangung Aan beach in Kuta, Lombok.
Photo by Kara Santos
Lombok: Bali's brother is ready for his close-up
Lombok is for people who like long drives, quiet walks on the beach and mountaintop views.
LOMBOK, Indonesia — If you've ever been to Bali and thought, "Cool. Is there another island like it?", you are in luck, because there is, and it is thoughtful and mysterious and rough around the edges. Known as the "brother of Bali," Lombok, one of the major islands of the Indonesian archipelago, has landed on the radar of more and more tourists for its off-the-beaten-path energy. The island is gearing up to be the next big thing in Indonesian tourism as a Halal-friendly destination willing to embrance people from other cultures. It captures a market not many countries can claim to cater to, as well as intrepid travelers who like to explore beyond Bali, which is undoubtedly the most popular destination in Indonesia. It's a secret escape among seasoned visitors, someone told me. And I don't doubt that, especially since getting there is quite the journey.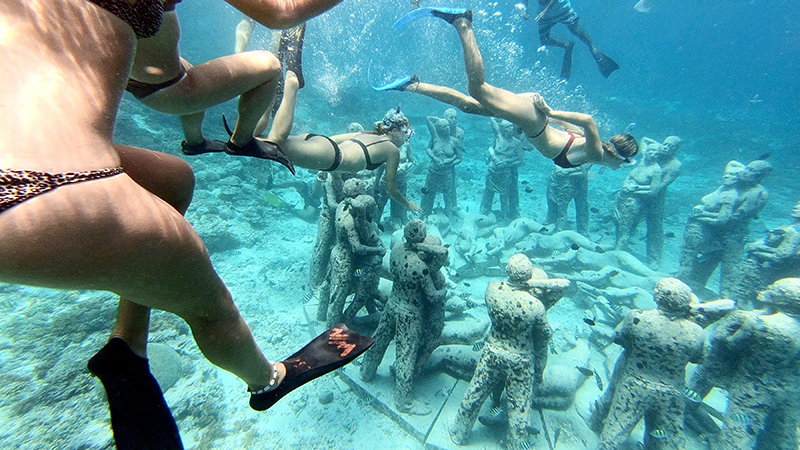 "Nest" by Jason
deCaires

Taylor is an underwater sculpture-slash-future home for soft corals found near

Gili

Trawangan

, Lombok's unofficial party island, just a boat ride from Lombok or Bali. (Photo by

Dickie

Neri

)
The Embassy of the Republic of Indonesia in Manila, the Tourism Association of Halal Travel Agency, and the Indonesian Islamic Tourism Association of West Nusa Tenggara gave me my first experience of Lombok. I first learned of Lombok's beauty around four years ago from a friend, who travels from Singapore to Indonesia frequently to hike and camp at Mt. Rinjani, an active volcano in North Lombok. Prior to that, I only knew Bali — an island that, despite its proximity to Lombok, has a very different vibe. Indonesia is a predominantly Muslim country; Bali, largely Hindu, is the exception. Lombok, known as the "island of a thousand mosques," observes Muslim traditions and practices, and this differentiates it from its party central, brother-island.
Air Asia flew us in from Manila to Jakarta, a three-hour flight best taken in the morning, because there is another one-and-a-half hour flight to catch from Jakarta to Praya, Lombok, which we did via local carrier Batik Air. There are currently no direct flights available, and for many, that's plenty reason to visit a place — for the social media-driven "I saw it first" element that seems to be a compelling motivation these days. From Lombok International Airport, a green structure with a mix of traditional and modern architecture, we drove for about 45 minutes to Core Hotel in Senggigi, the main beach and tourist destination in Lombok. Listen closely to your guide: is he saying "four to five minutes" or "45 minutes"? I've misheard these estimates so many times.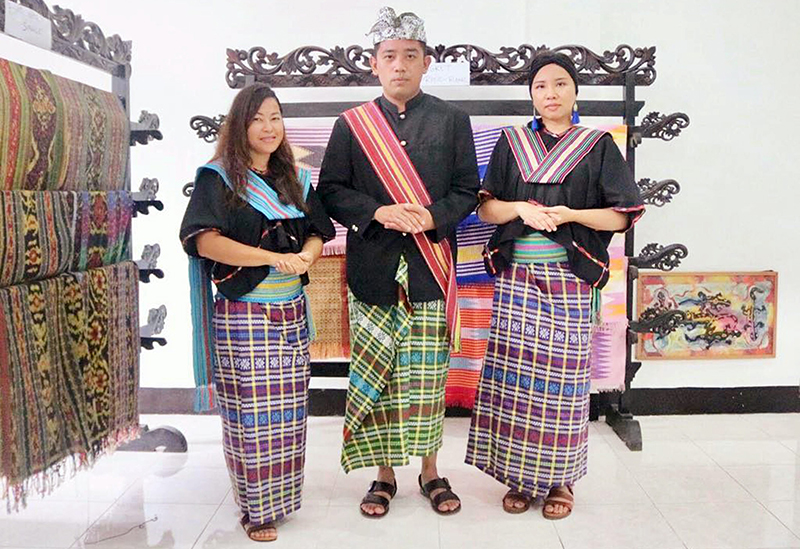 Travel Up's Kara Santos, Air Asia's John Martirez and the author Chonx Tibajia wearing traditional Sasak garb
Lombok has a lot to offer to nature and adventure seekers. If I were to compare it to the Philippines, it's like having El Nido, Puerto Galera, Batanes and Batangas in one island. What the main island lacks in cute coffee shops and hipster bars, it makes up for with a diverse topography of beaches, hills, mountains and flatlands that are all roughly 45 minutes (not four to five) from its capital, Mataram, and tourist areas like Senggigi.
Gili Islands (3 Gili or just Gili) a popular trio of islands a short speedboat ride away from Lombok, is also accessible via speedboat from Bali. Gili Trawangan, the Beyoncé of the three, is its designated party island, where you'll find all the cute coffee shops and hipster bars. Our tour guide says so. March is low season, so it was pretty quiet when we were there, but even in the mornings, it has this "everyone's hungover in their hotel rooms" vibe that quickly dissipates come noon, when all the tourists begin to come out to play. What to do for play, you ask? The island is surrounded by coral reefs and marine life that make it ideal for snorkeling. "We have a lot of Nemos," our guide, Tarik, told us. If you're lucky, you might come across gangs of little turtles, too.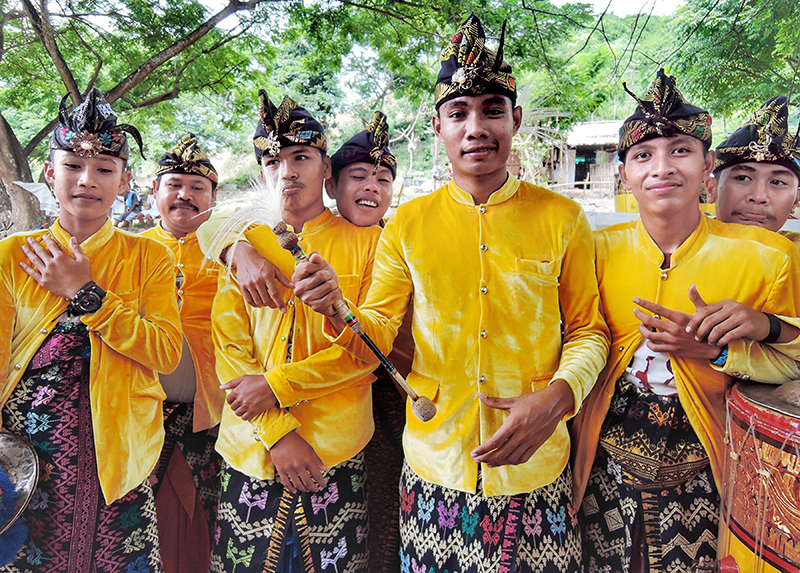 Lombok's native Sasak tribe greets us with a traditional dance at the foot of Bukit Merese Hill.
Across Gili Meno, one of the 3 Gili islands, there is an underwater sculpture that looks straight out mythology, called "Nest," an artwork slash man-made reef created by sculptor Jason deCaires Taylor, whose works are also found in the Carribean, Canary Islands and Thames. It's made of pH neutral, environmental grade concrete and created to become a home for corals over time. The sculpture was commissioned by Bask, an exclusive residential property in Gili Meno where, reportedly, David Hasselhoff owns a $1-million three-bedroom beachfront villa. Baywatch for life, huh?
Bukit Merese Hills is another popular destination, located in Kuta, Lombok's surf central. Even from atop the hills you can see tall surfer waves crashing against each other. Trek difficulty level, on a scale of 1 to 10, falls on 3, only because the sun will beat on you mercilessly and there's no shade to run to anywhere. Other than that, climbing the Merese Hills is easy and will take anywhere from five to 20 minutes, depending on how far you decide to go. The view from the top is well worth the sun damage (just kidding, please don't forget your sunscreen). You'll get an unobstructed view of Tanjung Aan Beach, but it's picture-perfect from any angle.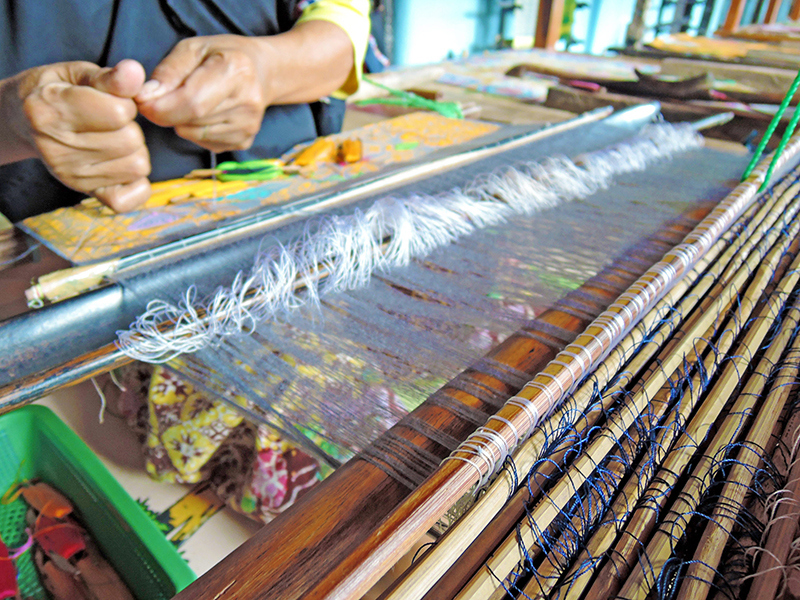 Ikat weaving is a popular craft in Lombok. Ikat fabrics can be found at Dharma Setya and Sasaku, both in Senggigi, Lombok.
Food, like in Bali, is generally spicy, so make sure to specify that you want your dish "non-spicy" if you are intolerant. My favorite meal of the trip was at Kila Resort Lombok, a 4-star resort (for as low as $82 a night) that catered for the Table Top event on our last night. But also, shout out to Core Hotel Senggigi for opening their breakfast buffet at 4 a.m. to feed us ever-hungry tourists before we left for Jakarta.
Shopping in Lombok is fun. It's always fun to shop when you're a millionaire. One Indonesian rupiah amounts to P.0038, which means the standard $100 most tourists allot for food and miscellany during trips (that's 1,374,700 rupiah) will get you very far. For perspective, here's a rough list of what I bought, apart from proper meals and transportation: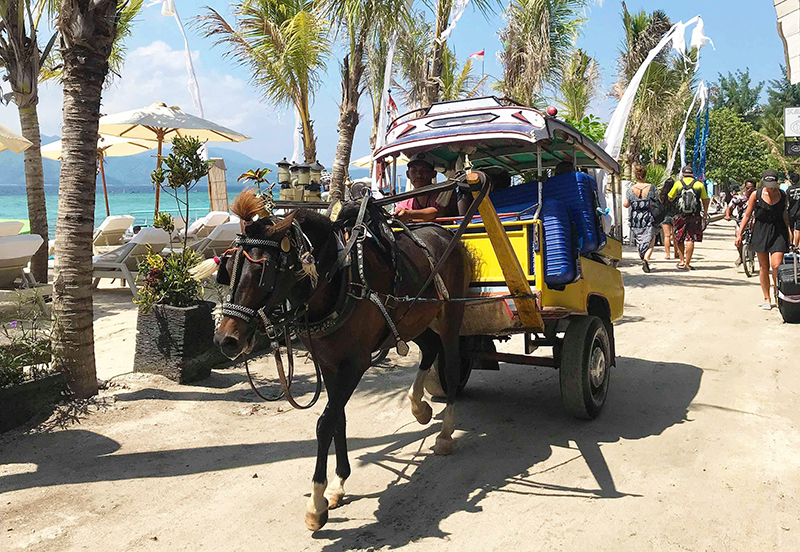 Travel aroud Gili Trawangan on a chimodo, Lombok's version of a kalesa.
• Glass-bottom boat ride in Gili Trawangan - 145,000 (P529)
• Salted caramel ice cream Gili Trawangan - 45,000 (P164)
• Men's shirt at Lombok Sasaku, a souvenir store and restaurant in Senggigi - 90,000 (P341)
• Dress at Sasaku - 120,000 (P455)
• Headband at Sasaku - 70,000 (P266)
• Straw hat at Teluk Nara Port - 45,000 (P164)
• Halal hotdog at Lombok International Airport - 40,000 (P152)
• Chocolate avocado drink from a convenience store - 9,000 (P32)
• Melon yogurt drink from a convenience store - 7,000 (P25)
Note that many of these were bought at so-called tourist areas, so the prices, I imagine, are inflated. If you're looking for pasalubong, their hallmark tourist item is the ikat fabric, which ranges from 100,000 to 300,000, depending on the size and make.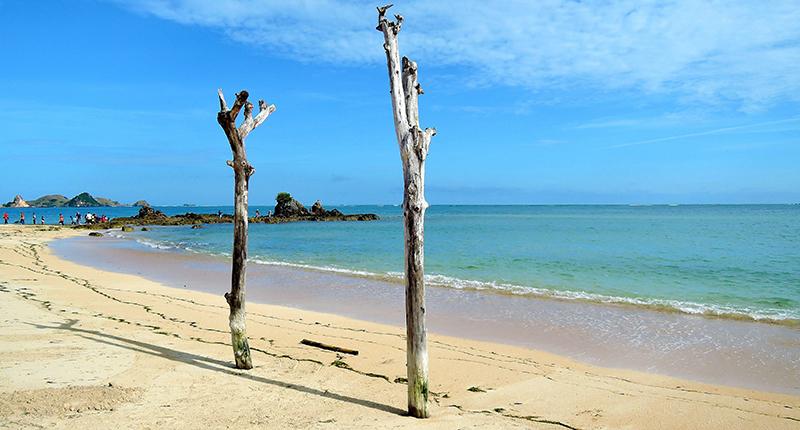 Kuta Mandalika beach is a 10-minute drive from Bukit Merese Hill.
Another important thing to note that I know would be a plus to Filipinos: there is a bidet in every toilet in Lombok (save for the squatting ones). During the welcome dinner on our first night, our hosts from TAHTA shared how Lombok prides itself in Islamic values and applies these to its service industries: Halal hotels, prayer mats, Halal kitchens and utensils, tours with stopovers devoted for prayer time. The advantage of their Halal-centric tourism not only benefits Muslim tourists, however. I asked my Indonesian friend Alverta about it and, apparently, bidets are Halal, because they cleanse the body of impurities. All their bathrooms are clean, even the ones on the beach. Hooray for that. Knowing how Pinoys can be sticklers for freshness, this should be good news. It's these little conveniences that allow travelers to enjoy their trip, after all.
While I was in Lombok, a friend sent me an Instagram message, asking me, "Is Lombok a place you'll go back to as a tourist?" To be honest, before this trip, I've never considered going. I always thought Bali was enough, even though I don't surf or party. Little did I know that Lombok, Bali's chill, no-fuss, mysterious older brother, is the place for people like me, who like long drives, quiet walks on the beach, mountaintop views and bidets on their toilets. It feels like I've discovered a secret island. The next time, Mt. Rinjani will be on the itinerary.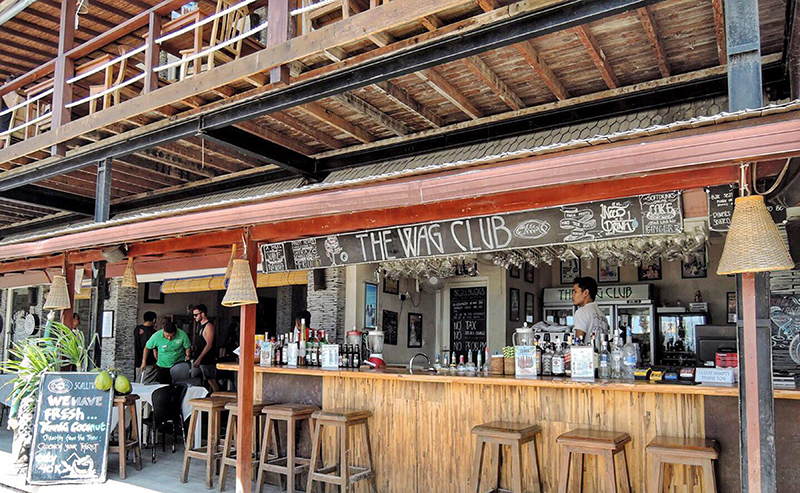 Gili Trawangan is a vibrant island with bars, coffee shops, and dive clubs ready to serve tourists.
* * *
Special thanks to the Embassy of the Republic of Indonesia in Manila, the Tourism Association of Halal Travel Agency, the Indonesian Islamic Tourism Association of West Nusa Tenggara and Air Asia.
Follow the author @pineapplechonx on Instagram.