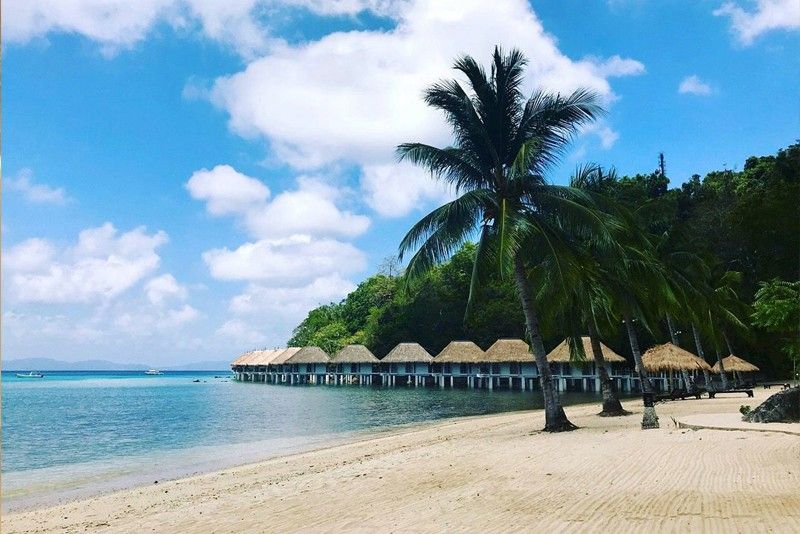 Palawan paradise: Apulit Island Resort is the fourth in Ayala Land's glittering roster of El Nido Resorts.
Apulit offers romance & eco-adventure to travelers
Unforgettable moments in Apulit, the fourth in El Nido Resorts' glittering roster of properties in Palawan.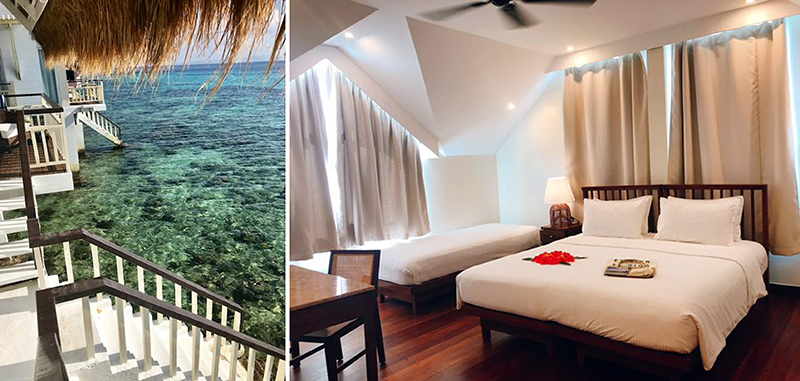 For families: The two-level loft water cottage features extra beds and stairs leading directly to the ocean.
What separates a great vacation from a merely run-of-the mill one? It's unique moments you know you'll never get anywhere else — moments that are, for lack of a better word — unforgettable.?I had three such epiphanies in Apulit, the fourth in El Nido Resorts' glittering roster of properties in .?The first was eating dinner on a raft in the middle of the ocean — the only lighting provided by a canopy of stars above and candlelight at our table.?The second was swimming beside a triangular batfish lazily wending its way over blue branching coral whose tips glowed neon purple in the sunshine.?The third was just sitting on the balcony of my water cottage, listening to the waves lapping, birds chirping, and looking at an ocean vista I knew I technically shared with 49 other rooms, but feeling like it was my very own slice of paradise.?It's that sense of exclusivity, privacy and romance that makes Apulit so special, and probably what draws honeymooners to the resort in droves, mainly from Europe and Asia, according to resort manager Heidi Hocson, though a few locals have gotten married there and one man even popped the question while rappelling with his girlfriend.
Swift and on time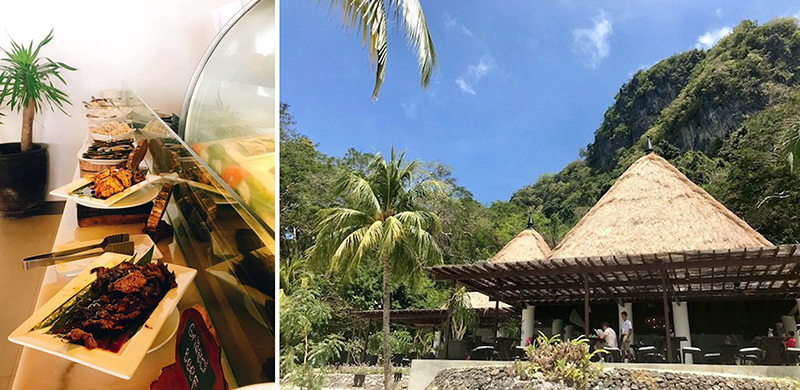 Apulit's clubhouse features a grill station offering a variety of seafood and meat.
The best way to get to Apulit is via AirSwift, owned by the Ayala Group and dedicated to ferrying passengers between El Nido, Manila, Cebu and Caticlan nine times a day.
At the airport you'll already feel the difference: while the domestic NAIA Terminal 4 is terminally overcrowded with passengers, our media group was comfortably ensconced in a VIP lounge with drinks, food and WiFi.
It's a 55-minute flight to Lio, and AirSwift lives up to its name by providing not just on time but early service on its new turboprop ATR-600 planes.
Lio Airport is part of the 325-hectare Lio Tourism Estate, developed by Ayala Land's Ten Knots Development Corporation (TKDC), which operates four El Nido island resorts, three boutique hotels, the soon-to-open Seda Lio on the mainland, the Shops@Lio, and Kalye Artisano.
From the airport it's a one-and-a-half-hour van ride to Taytay, Palawan, where we refresh with arroz caldo and iced tea at a cabana before the 40-minute speedboat ride to Apulit.
According to a local guide, Taytay is the first and oldest capital of Palawan, established during Spanish times so there is a fort nearby: Fort Santa Isabel.
Taytay itself got its name from "talaytayan," or "bridge" in local dialect. (Also nearby is Malampaya Sound, where dampasot or Bottlenose dolphins live.) But, with little time to waste, we headed straight for Apulit via speedboat.
Made for Honeymooners & Eco-adventurers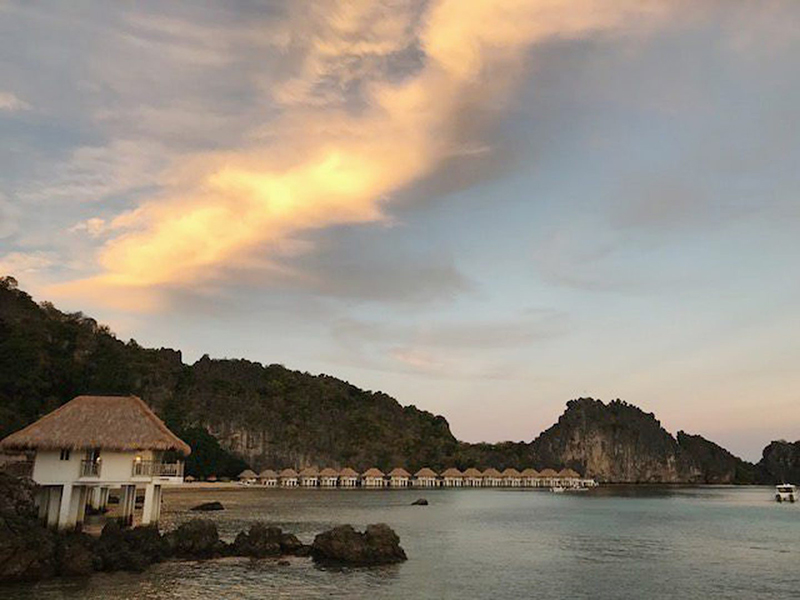 Apulit boasts beautiful, painterly sunsets.
Apulit features 50 water cottages that Hocson says are the main draw for honeymooners craving romance and privacy.
"We once had honeymooners staying in 35 of the 50 water cottages," she recalls. We laugh and joke that "if the resort's rocking, don't come knocking."
Apulit is the new and improved version of the former Club Noah Isabelle. Ayala Land bought that resort in 2010 but only started a six-month renovation last July, bringing in designer Conrad Onglao to give the cottages, clubhouse and bar a "fresher, brighter" makeover, according to Hocson.
Consequently, the cottages are predominantly painted white, with a "tropical plantation" theme: fans rotating lazily overhead, wooden furniture featuring abaca worked into the solihiya weave, and pitched roofs fashioned from two layers of weatherproofed cogon grass.
While the water cottages are more suited to couples, the loft water cottages (of which there are 20) are designed for families of four or five, with two levels and stairs leading right down into the ocean.
The welcome gift clues you in to El Nido Resorts' sustainable philosophy: buri bags and slippers woven by the women of El Nido (thereby supporting 20 of their families), an "eco-friendly" cloth pouch, and sacks of recycled material to store your wet things in, instead of plastic. Plastic is verboten at all the El Nido Resorts, where other conservancy laws are strictly followed like building structures not higher than the tree line, a setback of 40 meters from the shore at high tide, and recycling water.
Among the four El Nido Resorts, Apulit is considered the eco-adventure destination, with activities like rappelling, cliff jumping, caving, and water sports like diving, snorkeling, kayaking, paddle boarding — even coracle boats that require two people to row and a sunset cruise.
While guests usually stay two or three nights, Hocson recommends four nights to be able to see and do all of the resort's attractions.?Apulit is also the most affordable El Nido Resort, and thus has started to attract a more millennial crowd (for instance, there was a group of five young Chinese women traveling with us — obviously friends holidaying together).
We took all our meals at the clubhouse, where the buffets are fresh, plentiful and good. There's a grill area where you can get grilled seafood and meats, and soup, salad and dessert stations with daily surprises like make-your-own tacos or mais con hielo. (The kitchen makes its own calamansi and mango jams, and features local specialties like Palawan honey and lamayo from the catch of the day.) They also make a mean jackfish sinigang.?Around 50 percent of the fruits and vegetables they serve at El Nido Resorts come from organic farms in Lio, and these purchases augment the livelihood of over 10 farmers and their families.
The bar is open from 8 a.m. to 10 p.m., with happy hour from 5 to 7 p.m. There's also a game room with billiards, ping-pong and foosball tables in case you're not the type to play volleyball on the beach.
Three islands, three reefs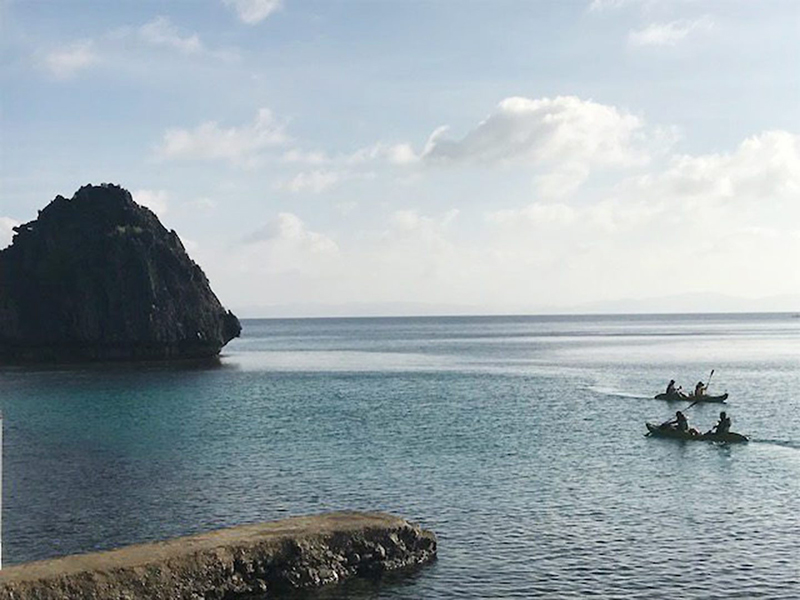 Kayakers by Noah's Rock, so named because Apulit was formerly known as Club Noah Isabelle, acquired and renovated by Ayala Land.
Snorkeling on the house reef is impressive enough, with its giant clam garden and diversity of coral. Look down from your balcony or walkway and you're likely to see baby Blacktip sharks swimming in the shallows (don't worry, their moms are nowhere near and Blacktips are harmless anyway).
On our second day we took a boat to nearby Isla Bianca, where guests can have lunch, laze on the beach or snorkel. The coral is even more beautiful here, with blue branching coral whose tips glow lilac underwater. I also saw blue and yellow Christmas worms dotting the coral, and checked them off the "Discovering Diversity" checklist they gave with the welcome package.?Also 20 minutes away by boat is Nabat Island, which is a serious snorkeling and diving destination circled by an amazing reef: tons of Dayglo blue branching coral; table, lettuce and cabbage coral; golden squirts, barrel sponges, and larger fish like wrasses, batfish, parrotfish, Sergeant Majors, clownfish (we found Nemo!), and zebrafish. ?During her daily swims, Hocson has seen everything from pawikan turtles to pods of dolphins, which are harbingers of bad weather ("They like to cove to shelter from incoming storms," she says).
Hocson and her staff of 116 spare no effort to make guests' stays memorable. For one Valentine's they constructed a big red heart with a bench inside that became so popular with visitors they haven't taken it down since. Last Christmas Santa rappelled down the limestone cliff with a cross on top, to the delight of guests.?When it comes to setting up weddings, Hocson and staff can satisfy even the most demanding bridezilla. Turning the beach into a tented wonderland with wooden planks so guests can walk in heels? She's done it and more.
This self-described "wedding guru" had a surprise for us and what a treat it turned out to be: a candlelight dinner on a raft, which Apulit started offering two months ago. It's very romantic, and Hocson says she eventually wants to set the raft up for weddings of couples who've eloped, of which the resort gets quite a few.
We had ceviche, cream of mushroom soup, shrimp, and a flourless chocolate cake under a ceiling of stars so clear you could see the shape of the Milky Way galaxy. It was an unforgettable (there's that word again), humbling experience, so much so that a foreign couple gushed that their stay at Apulit was some of the best days of their lives. But how can you expect anything less when you're in paradise??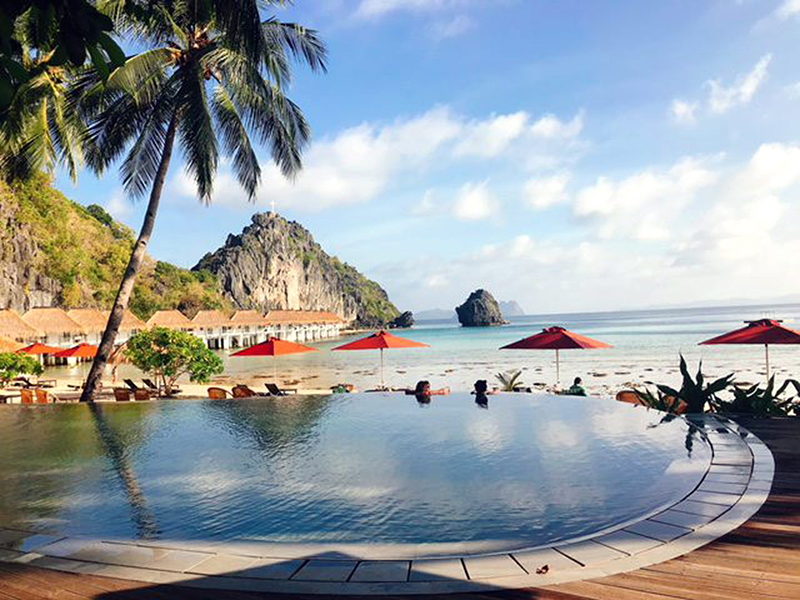 The infinity pool is the perfect location to spend happy hour with cocktail in hand.
* * *
For more information and to book a room, visit http://www.elnidoresorts.com/apulit-island/.
* * *?
Follow me on Instagram @theresejamoragarceau, Facebook (Therese Jamora-Garceau), and Twitter @tjgarceau.