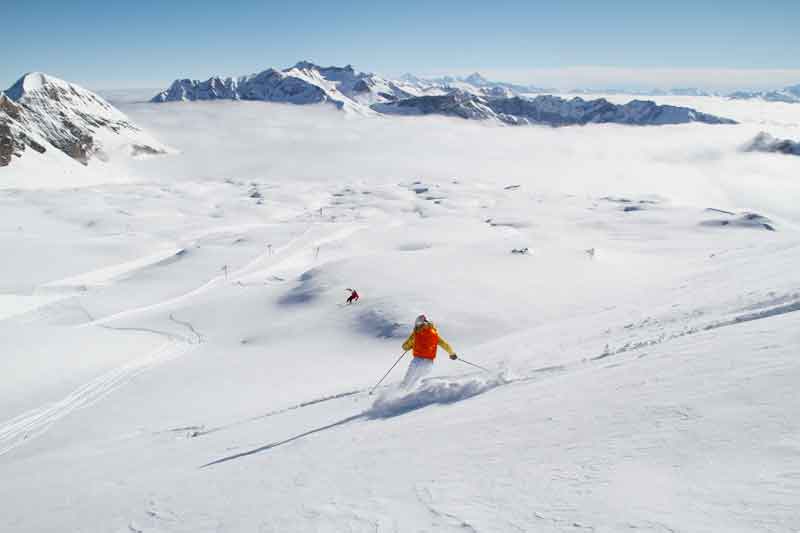 Skiing is risky, but there's no better place to try it than the Swiss Alps.
Part one
MANILA, Philippines — There are the occasional African despots retiring to their well-earned rewards. Also, fugitives from justice elsewhere who can wangle political asylum from the tolerant Swiss. Finally there are paying tourists who promise to leave after two weeks of looking at lakes and mountains.
Do you belong to any of the above categories? With my usual sense of selfless service to dictators, seditionists and the traveling public, I have collected arcane facts about Switzerland not found anywhere except on Wikipedia, and even a few which you can only learn by going there. Thus, you might be able to drop some facts into casual conversation and fool people into thinking you actually went. ("That reminds me of the time I needed an early-morning taxi to get from Les Armures to the Gare Cornavin. . .")
In no particular order, here is all you need to know about this famous country. (And more than what you want to know, but I'm telling you anyway.)
Notable Industries. Recycling stale bread and year-old cheese they forgot to refrigerate, and selling it to tourists. Designing pen-knives with 27 attachments, of which 26 are useless, and selling them to tourists. Bottling Coke with almost no fizz, and selling it to tourists. Taking money from rich people and charging them for the service.
Greatest Modern Day Achievement: Convincing the world that Lindt is better candy than Reese's Buttercups.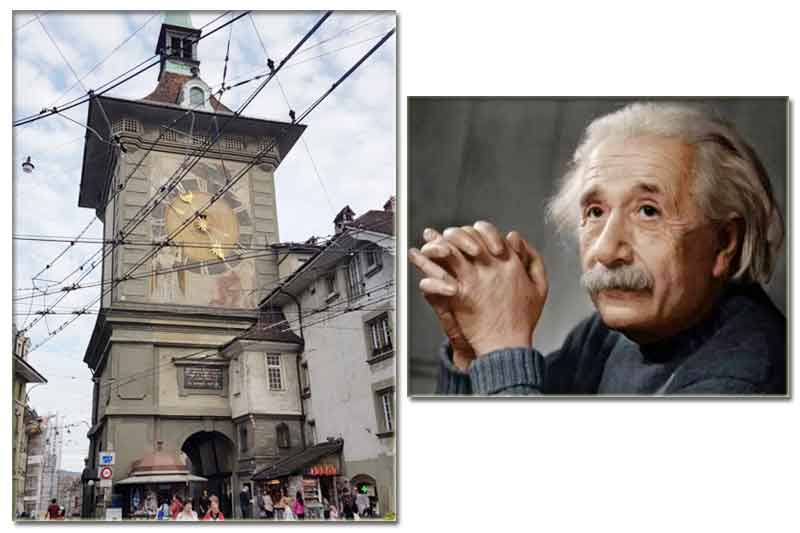 This clock tower in Switzerland gave Einstein the inspiration for the Theory of Relativity.
Most Famous Swiss Person Ever. Albert Einstein, if you overlook the fact that he was really German. A naturalized Swiss, when his assets were frozen by the Nazis he asked for help from the Swiss government. But that was in 1933 and Hitler was on the rise. Discretion being the better part of valor, the Swiss refused to stand up to the Nazis, and called Bertie, in so many words, "a German at heart." Just in time before war broke out, Einstein moved to the US, helped convince Roosevelt to build the atom bomb and enjoyed a peaceful life at Princeton University.
Next Most Famous Swiss: William Tell, if you overlook the fact that he was really imaginary.
The Lowdown on Geneva. For some reason, people like to meet up in Geneva and sign treaties. It is almost as popular as Paris for treaty-signing. Paris' appeal is easy to understand – it has wine, women and other good things to get you into a treaty-signing mood.
Geneva, on the other hand, has a water jet and a particle accelerator (CERN, the Conseil Europeen pour la Recherche Nucleaire) that could rupture the space-time continuum at any moment now, as we learned in Angels and Demons. There is a disconnect between ruptured space-time continua and treaty-signing, though it is true the city looks good in autumn.
Anyway, the most famous treaty ever signed by anyone, anywhere, was the Geneva Convention of 1929, which was actually the Third Geneva Convention prohibiting the torture of prisoners of war and which probably every single signatory has violated at one time or another.
The UN got started here and still has lots of offices around town. There's also the Red Cross and the aforementioned particle accelerator, the World Trade Organization, plus the occasional overthrown dictator and entourage, so there are a lot of foreigners in Geneva.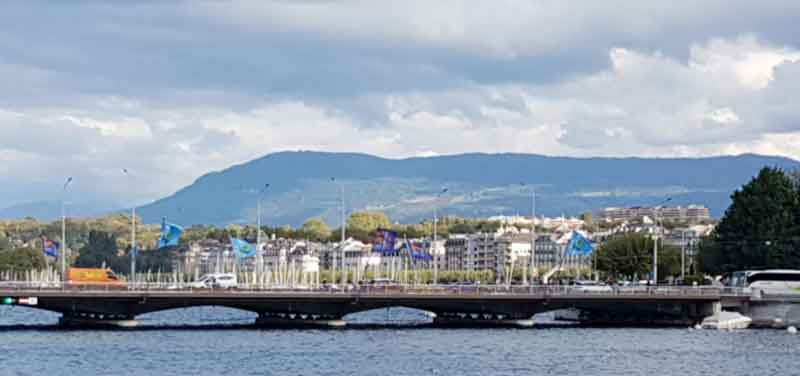 Geneva's placid lake inspires visitors to sign peace treaties.
All of them eat at Brasserie Lipp, and you should, too. It is right downtown but hidden inside a shopping center called Confederation Centre, thus assuring that very few tourists find it, keeping prices modest by Swiss standards.
Snow, Skiing and Ski-Villages. Unless you go in summer, any ski resort in Switzerland will cost you an arm and a leg, especially if it has a name like Gstaad ("staht") or Zermatt ("tser-maht"). (Trust me on the pronunciation, not YouTube.)
Skiing is risky. You can break a leg or get killed in avalanches, which happen regularly in the Alps. If you just want to look at snow, take the Glacier Express. Contrary to its name, this train runs verrrry slowly, because the track is steep and frequently just a few feet from a 2000-foot cliff. It takes 8 hours to run, with only a few stops, from St. Moritz ("sahn mo-rits") to Zermatt, and every minute is a thrill, particularly if you're scared of heights. Pack a big picnic lunch. Keep a spare plastic bag.
Have Crossbow, Will Travel. This is a true story. For most of the past 2,000 years the Swiss and their antecedent Celts and Teutonic peoples have been quite warrior-like, because everyone was so poor. There was hardly any agriculture, just a bit of pasturing and cheese-making, and a lot of subsistence hunter-gathering. This was before they invented tourism, money-laundering and their most profitable industry ever, Neutrality.
To make ends meet, Swiss men went abroad to become mercenaries in richer places in Europe. They were a big status symbol. Luminaries like the Pope and the King of France lobbied to get them as personal bodyguards (this would not always turn out well, as you will learn in the next instalment).
The frugal Swiss soldiers saved their salaries and sent the money back home to their families. . .
You can see where I'm heading with this. I know this is a crushing disappointment for many Filipinos, but we did not invent the OFW. The Swiss beat us to it by at least 500 years.
* * *
The author is resident shareholder at Plantation Bay Resort & Spa in Cebu.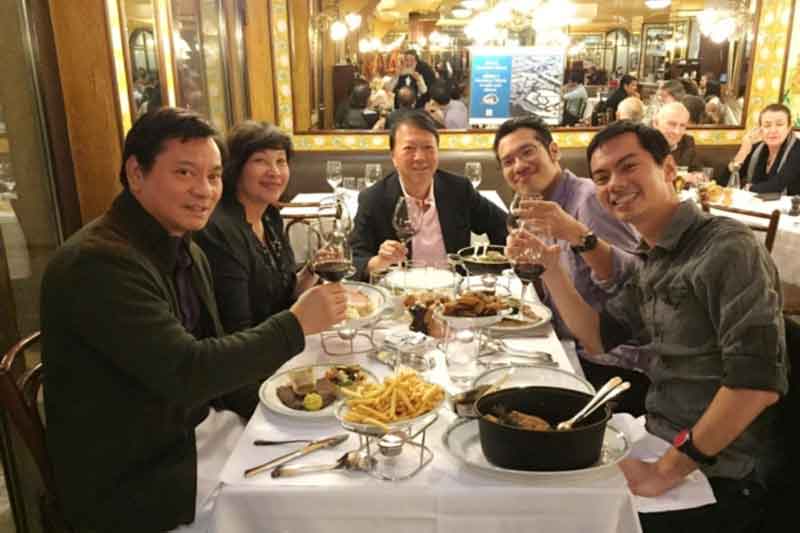 Brasserie Lipp is the go-to restaurant for thrifty diners in Genava, those who can find their way to Confederation Centre.