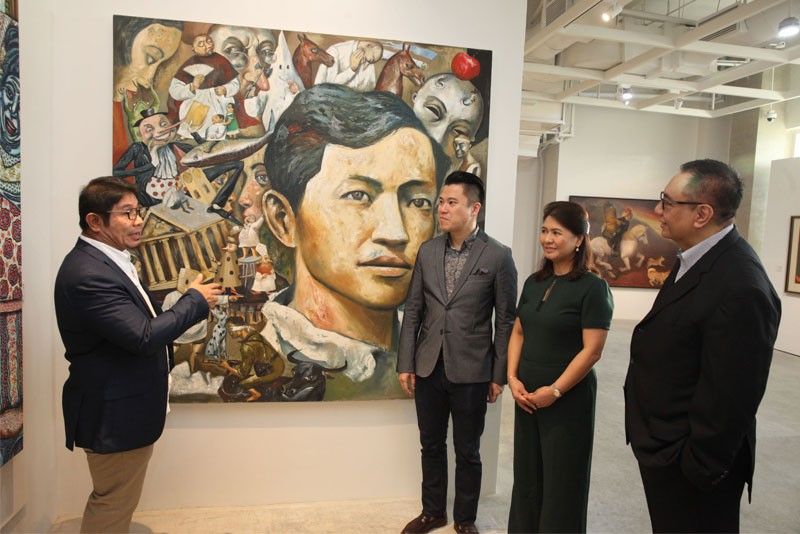 Megaworld SVP Kevin L. Tan (center) is flanked by (from left) exhibit curator Martin Genodepa, Megaworld COO Lourdes Gutierrez-Alfonso and art patron Edwin Valencia at the opening of Iloilo Museum of Contemporary Art in Megaworld's Iloilo Business Park. Photos by Joey Viduya
Megaworld's Iloilo Business Park Adds Art to the Township Mix
ILOILO CITY, Philippines — It was Megaworld that pioneered the "township" concept of urban planning in the Philippines, creating a "work-life-play" synergy within its colorful development projects.
Now, you can add "art" to that mix.
Megaworld Commercial SVP Kevin Tan was on hand last Saturday night to launch the Iloilo Museum of Contemporary Art (ILOMOCA) inside Megaworld's 72-hectare Business Park in Iloilo City.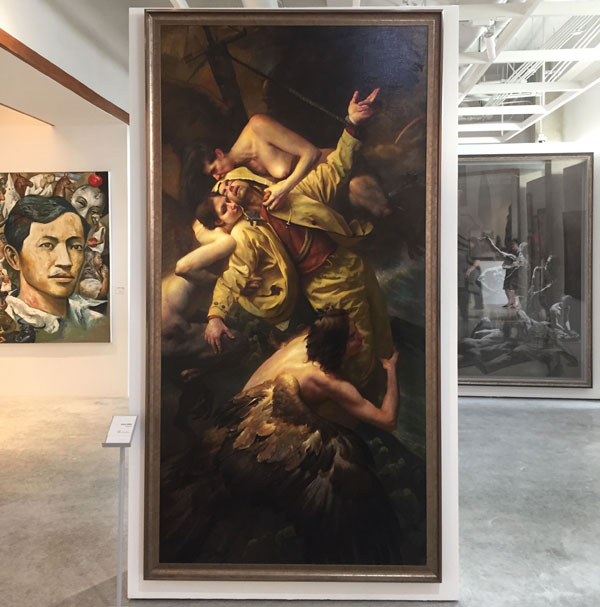 Adam Miller, "Odysseus"
It's not only the first museum venture for Megaworld; the P110 million building is the first contemporary art museum in the Visayas-Mindanao region devoted mostly to Filipino and Ilonggo artists.
"It's a very important milestone for Megaworld," Tan noted during opening remarks in the lobby of the modern, three-story, 3,000-sqm museum housed inside the Casa De Emperador complex. "It's the company's first museum, and there's no better place to have it than Iloilo Business Park."
Why Iloilo, some might ask? Initially, when Tan discovered Iloilo's thriving art scene, he learned that quite a lot of Filipino artists who are now residing abroad come from Iloilo. "We said we've got make this place a center of culture and arts. Of course, it's a business district as well — you know, you have your offices here, your shopping mall. But the city has to have its soul. We put the Marriot Hotel and Richmonde Hotel, but the museum has to be the centerpiece of the development."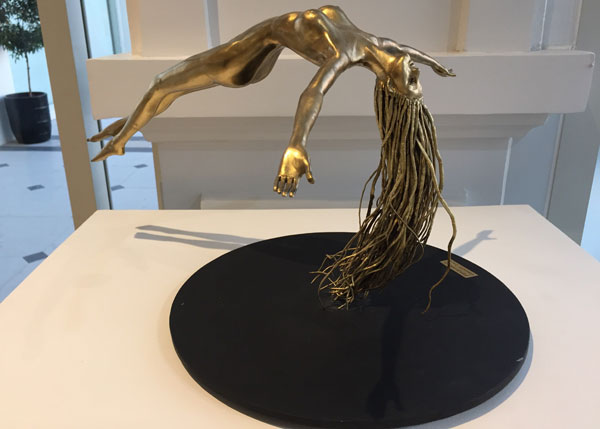 Ferdinand Cacnio, "Timeless"
Much of the initial collection was loaned by local artist Edwin Valencia, including about 125 works, many of them by established Ilonggo artists such as Rock Drilon, Ed Defensor and Jose Tence ("Bogie") Ruiz, but also including works by Salvador Dali, Joan Miro and Marc Chagall, and many up-and-coming local artists, such as Clairelyn Uy, Toti Cerda and Moreen Austria, a young Metrobank Artist awardee whose mixed-metal sculpture graces the museum entrance.
Tan reveals that ILOMOCA is just step one in Megaworld's new commitment to art spaces. Also planned in the next two years are a Chinese heritage museum in Binondo (Lucky Chinatown Museum) honoring the Chinese community in the Philippines over the past 400 years; a museum in Mactan exploring Magellan and Lapu-Lapu that will "pay homage to our heroes"; and possibly a Pampanga museum honoring the sugar industry and its impact on the Philippines.
"It just adds to the historical value," Tan says of Megaworld's new focus on museums. "When we go into a development, going into a place, we always feel that we have to add value to the place. We felt that creating jobs is one thing, but putting in the culture and history, that really then transforms the place. And it's something that transcends generations: the youth of tomorrow, you're kind of reminding them of their history."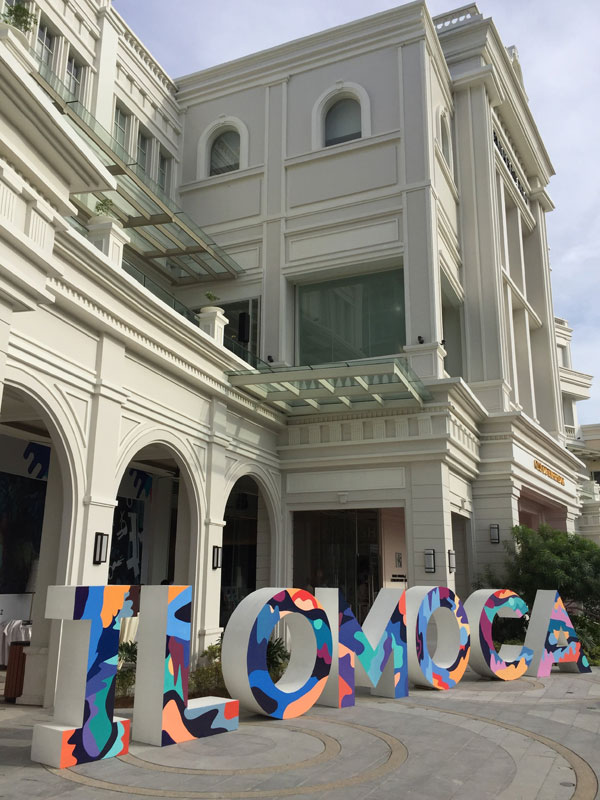 The Iloilo Museum of Contemporary Art
ILOMOCA also offers a gift shop, a "Hulot" space at the lobby that's free to the public, and a theater space at the second level called The Box available for live performances and screenings.
The museum is open Tuesdays to Saturdays, 10 a.m. to 7 p.m., with tickets at P100 for regular admission and P50 for students.
Visit www.facebook.com/ILOMOCA for more information.