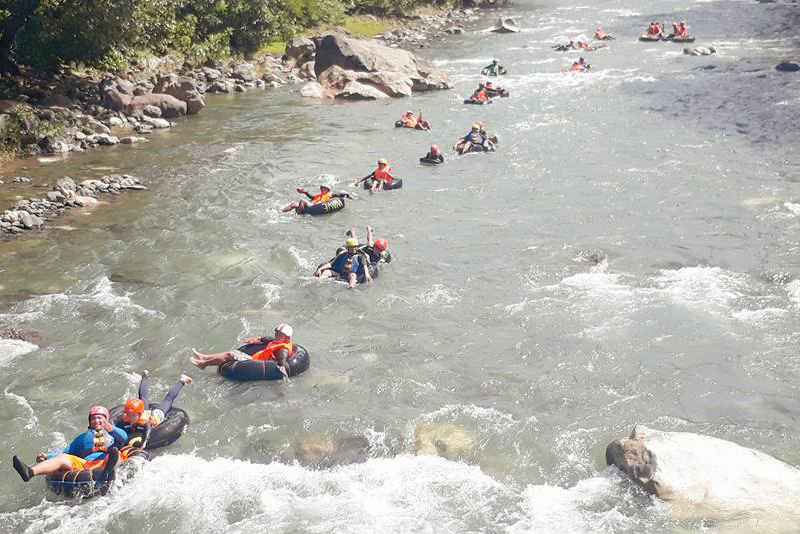 Participants ride inner tubes down the Tibiao River during the first National Extreme River Tubing Race.
Tibiao, Antique: River tubing & kawa baths
The municipality of Tibiao, Antique is eyeing to attract adventure enthusiasts as it establishes a festival to promote one of its rivers.
MANILA, Philippines — Last weekend, the municipality of Tibiao held the first Tibiao River festival, which coincided with the first National Extreme River Tubing Race. River tubing is a recreational activity where individuals ride on a inner tube to navigate a river.
Tibiao water festival director Flord Calawag told reporters they only discovered the potential of the Tibiao River when Australian organizers of a previous kayaking event made them aware of it. Tibiao is classified as grade 4 river in terms of adventure, which means it's ideal for white water and extreme sports.
The festival aims to promote the Tibiao River's potential for water sports.
Calawag added that the number of ecotourists visiting the Tibiao River has been growing.
"As a matter of fact, almost everyday we're getting ecotours, Russians, Americans, Australians that come here," he said. "A lot of foreigners now want to experience Filipino hospitality through these activities. So it's like an immersion of nature, adventure and culture."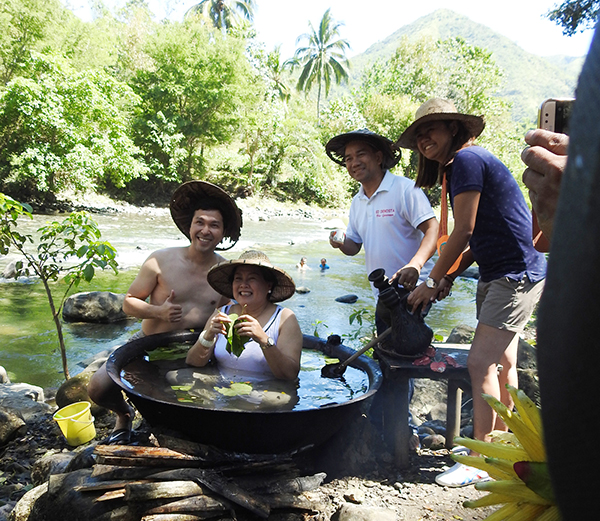 Antique's unique kawa bath is a relaxing experience.
Around 100 to 150 participants took part in the sports activities of the festival. Each participant paid an environmental fee, which will be used to maintain the tourism sites in the municipality.
"All of the resort owners and our partners and sponsors are environmentalists. So we're very keen on solid waste management," the festival director said.
In addition, the members of the community will be given livelihood with the celebration of the festival, such as the drivers of vans and tricycles that will transport participants and visitors to the venue.
The national extreme river tubing race will henceforth be held twice a year, in February because it's the municipal fiesta, and October because of the rainy season, which is ideal for the sport.
Antique is also known for its kawa bath, wherein a kawa, a huge kettle previously used in sugar mills, is filled with water, herbs and flowers and heated by a wood fire to the desired temperature. Guests enjoy a nice warm soak, usually for 30 minutes, but many opt to extend the relaxing bath.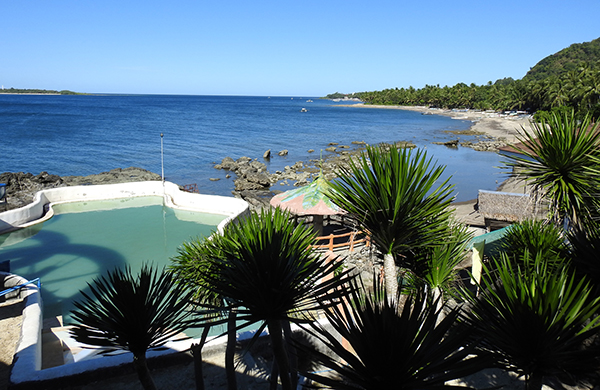 Expansive views of Anini-y and the Sulu Sea from one of several resorts in Antique.
Apart from its mountains and rivers, Antique is also home to a number of island destinations such as the Maraison and Nogas, among others.
Last year, Antique visitor arrivals numbered 162,925. Antique is eyeing to grow its tourist arrivals by 20 percent this year as it banks on it sports and eco-tourism offerings.