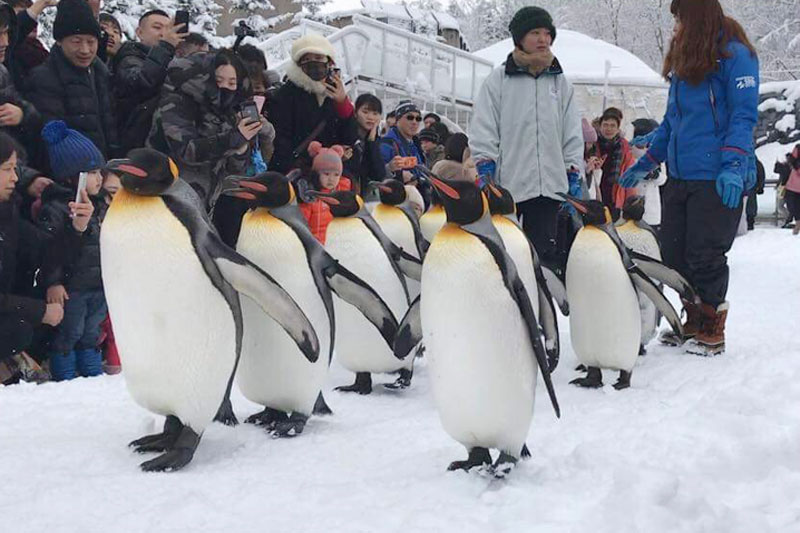 Visitors await the parade of the penguins, one of the premier attractions at the Asahiyama Zoo. It has has surpassed Ueno Zoo as Japan's most visited zoo in recent years.
Hokkaido: Winter wonderful
MANILA, Philippines — Hokkaido is the northernmost part of the three main islands of Japan that sits near the Siberian tip of Russia. The northern island has long been a favorite winter destination of the locals, but it's also popular during summer months because of its Sakura and amazing blooms.
The Japan National Tourism Organisation (JNTO) brought us to the island and took us on a tour of its most famous destinations: Sapporo, Asahikawa, Furano, Otaru and the Kiroro Mountain Ski Resort in Akaigawa.
We flew from Manila to Narita and then to the New Chitose Airport via Jetstar Japan, which has flights to Narita and Osaka four times a week. Jetstar's Tokyo and Osaka's 90-minute flights to Sapporo are daily, meaning you can plan your trip to Hokkaido on any given day from the main island.
From the airport, it was raining with snow when we arrived in Sapporo, Hokkaido's capital and largest city. We were in the middle of Japan's coldest winter weather in years, and the sub-zero temperatures that I had been anticipating grips you the instant you step outside.
However, if properly clothed, the Hokkaido weather won't give you unbearable chills. You can bundle yourself up to ward off the cold, stay outside and enjoy the snow, as long as it doesn't rain or the wind doesn't blast you.
We were taken to the Sapporo Central Market as our first stop, where we saw a wide variety of seafood produce, fresh from the boats. Hokkaido is one of the major sources of Japan's seafood, so you can imagine the sumptuous meals we enjoyed during the trip.
Sapporo is the prime city of Hokkaido, a bustling place that once hosted the 1972 Olympic Games. Settling in at the Sapporo Beer Museum, a red-bricked structure surrounded by tall lighted pine trees, gives you a feeling of extended Christmas warmth, complete with music box chimes blaring from its speakers. With snowflakes falling at nightfall, it indeed becomes a magical holiday experience — even after Christmas is over.
We walked around Sapporo Central where the iconic Sapporo Clock Tower sits in the middle. Down in Odori Park, the annual Sapporo Snow Festival is held every February; you can see lots of LED snow sculptures lighting up the park grounds.
We traveled to Asahikawa, which is Hokkaido's second largest city, and encountered heaps of snow piled over three feet high. One of its main attractions is the Asahiyama Zoo, a welcome treat for tropical visitors like us, since I got to see the "march of the penguins," swimming polar bears and real reindeer!
While in Asihikawa, make sure you visit the Snow Art Museum, which boasts an auditorium and ballroom that hosts fairytale-like weddings.
We went up to the Mild Seven Hill Famous Tree in Biei where you can fully appreciate the beauty of Hokkaido winter as the picturesque view of plains and hills —covered in lavender flowers during the summertime — is now replaced by a white expanse of snow.
Hokkaido snow is unlike many other parts of the world, with a more powdery feel than the usual crushed ice. The encroaching Siberian winds allow this powdery effect; in fact, Hokkaido has recorded the most variety of snowflakes in the world.
The coldest area we traveled during the trip was The Blue Pond and Shirahige Waterfalls in Furano, where one can appreciate Hokkaido's natural beauty, even as you withstand the below-freezing temperatures. Furano is also a popular skiing destination that has hosted numerous World Cup Skiing events.
We were greeted with nonstop snowfall when we reached Hokkaido's premiere seaport, Otaru, which is considered a bedroom community to nearby Sapporo.
The snowfall dampened my excitement because I was looking forward to seeing the Otaru Canal, as depicted in the indie sleeper hit, Kita Kita. It's a popular canal that serves as the perfect romantic setting as you cruise around the city.
Nevertheless, we were consoled by an awesome glassmaking experience, something Otaru is famous for. I even got to make my own coffee mug to bring home. The best showcase for Otaru's glassmaking craftsmanship is the Stained Glass Museum. Touring the museum makes you feel like you're inside our Catholic churches in Manila, with its beautiful stained-glass designs.
Our final tour day was all about fun in the snow: we visited the Kiroro Ski Resort in the mountainous Akaigawa area. Aside from enjoying our stay at this popular ski resort, we enjoyed snow-tubing, sleigh-riding and snowboarding. Better yet, the powdery feel of the snow offered a perfect opportunity to fulfill a lifelong desire to dive back and make "angel wings" in the snow!
If you're thinking about booking a wonderful winter experience with family and friends, think Hokkaido as your top destination: it offers unforgettable and unique winter experiences — and most importantly, it's the perfect taste of cold weather that even Filipinos will enjoy.
* * *
Contact the Japan National Tourism Organization to learn more about the Hokkaido tour and its partner travel agencies, or visit https://www.facebook.com/visitjapan.ph.
Jetstar flies from Tokyo and Osaka to Sapporo daily. From Manila, Jetstar fly four times weekly to Tokyo (Narita), on Mondays, Tuesdays, Thursdays and Saturdays. To Osaka, they fly seven times weekly, on Mondays, Wednesdays, Fridays (two flights), Saturdays and Sundays (two flights). Starting March 27, Jetstar will fly three times weekly from Clark to Osaka. You can book your flights through www.jetstar.com.