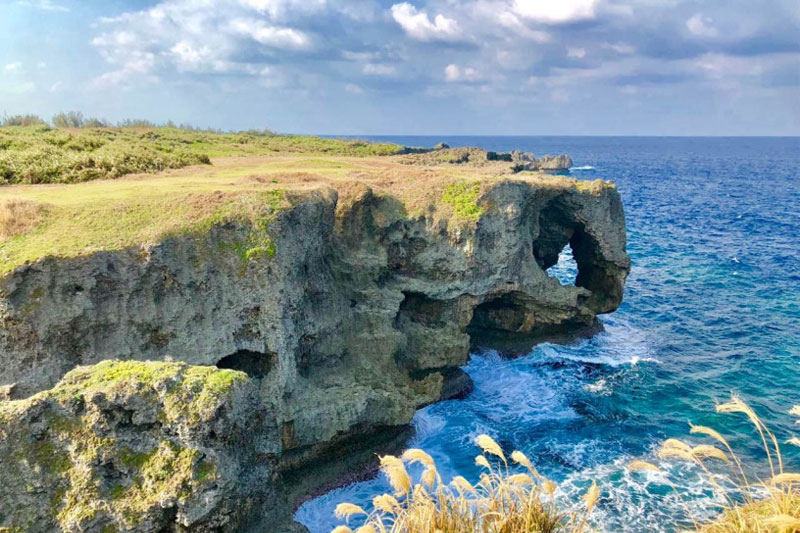 Scenic rock formations that afford glorious views of the sunset such as this one at Cape Manzamo are a beautiful but common sight in Okinawa.
Off to Okinawa on an $888 adventure
Tammy Mendoza
(The Philippine Star) - February 10, 2018 - 12:00am
MANILA, Philippines — I have always been fascinated by Japan. If I had a favorite place in Asia, hands-down it would be the land of ramen and tempura, anime, Uniqlo and Miniso, more heritage sites than you can count, low crime rates, smart toilets, and trains that actually work.
Japan is admittedly all over our timeline these days, but who's complaining? There's been a raging tourism boom going on in that part of the world, which was visited by 20 million more tourists last year than in 2011!
Last December, I set out on a four-day adventure to Okinawa, an island in Japan that is famous for beaches, karate, American bases, and… long life! Have you heard? Men in Okinawa live to be 84, while the women outlive the men to reach 90 years old. Also, many of the world's centenarians come from the island. While some say the secret lies in their staple of mostly organic food from the bounty of nature, some say it's the laidback island lifestyle, while still others say it's the close-knit nature of Okinawan families who are known to love and laugh much just like we Filipinos do. (We probably just need to eat a little less fastfood and we're all set.)
Curiously, while Japan has some of the world's busiest and most complex railways, touring Okinawa is a trainless but traffic-less adventure. You just take your time, far from the tyranny of rushing crowds and jampacked coaches. A quick check on Google Maps shows that it only takes two hours to tour the island from end to end by car.
A place with more tourists than people, Okinawa is front and center of Japan's meteoric rise as a tourist destination, accounting for roughly a fourth of the country's tourism in spite of being miniscule in size. In 2017, it was poised to overtake Hawaii as a favorite island destination (Move over Hawaii, here comes Okinawa, Nov. 20, 2017 – Bloomberg) as Asians from bordering countries only one to two hours away come in droves to experience this side of Japan.
Because Filipinos have had longer love affairs with the likes of Tokyo and Osaka (thanks to Universal Studios there) or even Hokkaido where it snows and Kyoto which hosts magnificent shrines, and also because we have our own share of beautiful beaches, we don't really know Okinawa all that well.
So let the tour begin.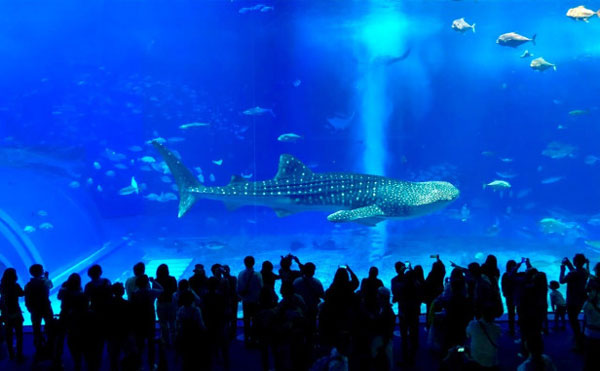 Cameras click away as whale sharks cast their imposing figures inside the giant Kuroshio Sea tank.
First off, you can actually get to Okinawa in only two hours, have you heard? That is, if you take chartered flights included in tours offered by Rakso Travel.
Last December, our group flew to Okinawa via Philippine Airlines under this unique arrangement. It was the second such tour arranged by Rakso Travel starting 2017, taking five busloads of people to a highly-interesting 4D/3N cultural experience of Okinawa and a tour of some of its best spots for only $888 per person (on promotion at the Travel Tour Expo). The all-in fee already covers airfare, triple-sharing hotel accommodations, tours and admission fees, transfers, most meals, and an English-speaking guide. Good deal!
Otherwise, commercial flights take five hours via Taipei, and when it's not promo season, the tour is priced above $900.
The Japanese love Okinawa to bits. It is their tropical paradise (the equivalent of our Boracay or Palawan); a place locals and foreign tourists visit regularly when they want to escape from the stresses of city life. It is also popular for some of the best Instagram-worthy dive spots and turquoise waters Japan has to offer.
Not surprisingly, the world-class Okinawa Churaumi Aquarium (Churaumi means "beautiful ocean") is easily one of its top tourist draws. The aquarium, which is home to whale sharks measuring as long as 8.7 meters and a host of other large fish species, is among the largest in the world. Lest environmentalists raise up arms, the facility takes on the challenge of breeding these whale sharks and manta rays in captivity. It has succeeded with alfred mantas and is seeking to do the same with the whale sharks if only to propagate the species.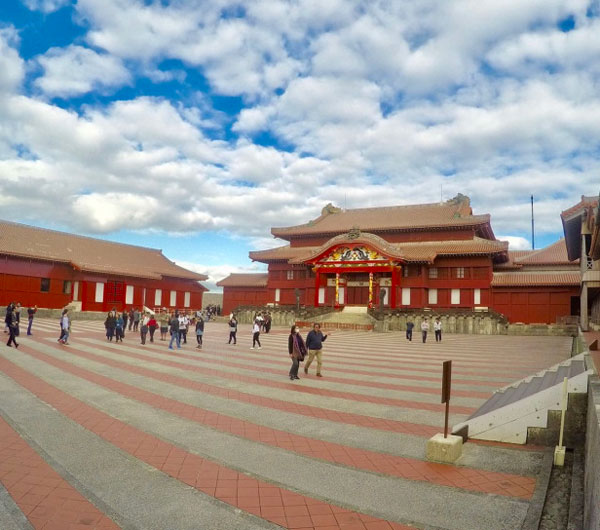 Like most pompous structures characteristic of the old world, the Shuri-jo Castle, a world heritage site, elicits curiosity and imaginings of a bygone era.
Formerly the Ryukyu kingdom, Okinawa was only annexed as part of Japan in the late 1800s during the Meiji Restoration – a period of great advancement and modernization in the country. There was even a time when the kingdom had an embassy in Tokyo (then Edo). Before officially becoming a prefecture of Japan, Okinawa was a prosperous trading nation that counted the Philippines among its trade partners.
With its rich heritage and colorful past, a significant part of the tour offers a peek into life during the Ryukyu era through several attractions topbilled by the Shuri-jo Castle Park. The park is a world heritage site that rivals the Churaumi Aquarium as Okinawa's top tourist attraction. Like most pompous structures characteristic of the old world, the castle elicits curiosity and imaginings of a bygone era in which governments and kings ruled with absolute authority.
When the kingdom was annexed by Japan, the king was removed and the castle served as barracks of the Japanese Imperial Army until it was destroyed during World War II. The castle tour concludes with a scenic view of Okinawa from a hilltop. Expect to take quite a few steps to get to the main attraction.
Apart from the Shuri-jo Castle, Okinawa World and Ryukyu Mura are two other sites that offer glimpses into old Okinawa.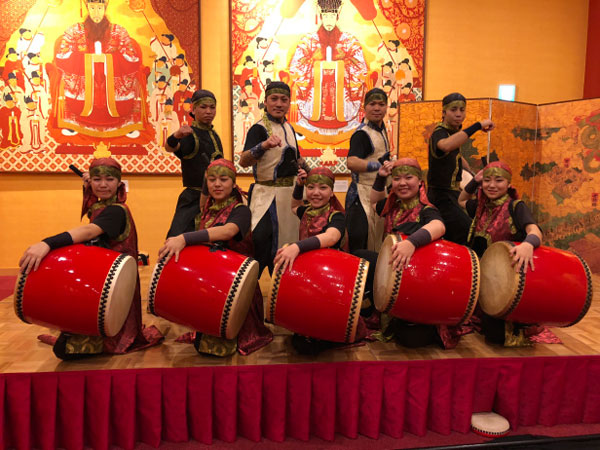 The pulsating Eisa dance is performed to the beat of drums in most Okinawan celebrations and rituals.
The cultural tour at Okinawa World starts with an animated Eisa dance performance accompanied by strings and drums. The dance is a tradition to honor the spirit of ancestors, and is performed in most Okinawan rituals and celebrations. Like the Eisa dance, the ubiquitous shi-sa is also part and parcel of Okinawan culture. The shisa, part dog and part lion, come in pairs and act like guardians – one to ward off evil spirits and the other to keep the good ones. So don't be surprised if you're asked to say "shisa" instead of "cheese" when you take photos.
We also got to try our hands at painting our own shisa at Ryukyu Mura, where we were each given bare shisa-shaped ceramics that we could paint and design the way we wanted to. If you're artistically challenged like I am, you get to take home a really lousy-looking shisa as your souvenir. If not, presentable shisa charms and talismans are for sale all over Kokusai Street, Okinawa's famous shopping district, as are delicacies such as sweet potato tarts, Okinawan donuts and baked chinsuko biscuits.
For those who love shopping but hate mall crowds, Aeon Mall Rycome is the place to get lost in. Or one can go for outlet shopping at the Mihama American Village, which is a hotspot for more than 25,000 US military personnel stationed in Okinawa since it remains a strategic location for US presence in the Pacific.
Citing that they came under US rule after the second World War, Yoshihisa Tamura of the Okinawa Convention and Visitors Bureau said the American influence is quite palpable and has made an impact. "Okinawa was influenced by American culture in numerous ways. That's why Okinawa's culture and history are different from that of mainland Japan," he said.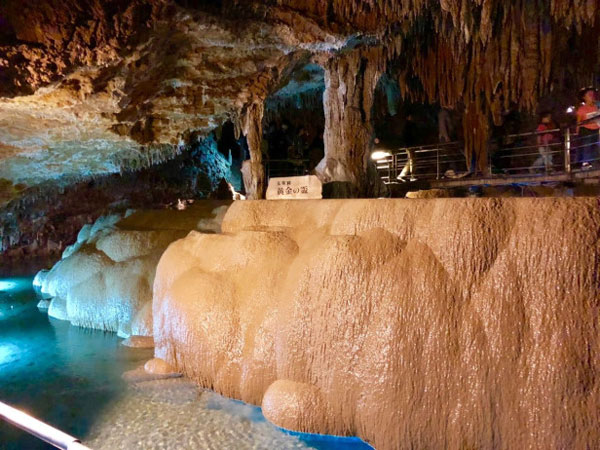 Called the 'Golden Cup,' this limestone stalagmite, the biggest of its kind in Japan, is one of millions of formations that can be found on the five-kilometer-long Gyokusendo Caves.
Getting lost around Okinawa World, we had the chance to admire a must-see collection of shisa and Asian lions at the Kingdom History Museum. What we didn't realize was that we were actually walking on underground limestone caves for the entire length of the park. Spanning 5,000 meters long, the Gyokusendo Caves are said to be over three centuries old but were only discovered by an American exploration team in 1967. Inside the deep and long cavern, one can't help feasting on the impossible details of the million or so stalactites and stalagmites that continue to form to this day.
The caves, with a steady 21ºC weather all year round, are hugely popular in Okinawa and even became a setting for a scene in "Godzilla" in 1974.
Okinawa also figures prominently in two other major Hollywood productions. In "Karate Kid 1 and 2" (1984), Hollywood rightly pays tribute to Okinawa as the birthplace of karate, which is Japanese for "empty hands". Chinese martial arts influenced the sport, which traces its roots to a time during the Ryukyu kingdom when the use of weapons was banned by the king. Who would have thought that karate would later become a major form of unarmed combat and even an Olympic sport for the first time in the 2020 Tokyo Summer Olympics?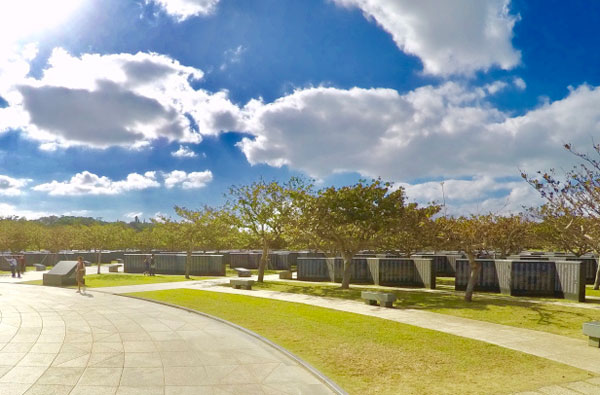 Tombstones bearing names of casualties of the 1945 Battle of Okinawa now stand as a grim memory of the brutality and senselessness of war.
The other major film that thrusts Okinawa to the limelight is "Hacksaw Ridge" (2016). Though filmed entirely in Australia, the Oscar-acclaimed movie depicts chilling scenes from the famous Battle of Okinawa in 1945 in detailing the heroics of a young American soldier.
It was actually for the chance to visit the Okinawa Peace Memorial Park that I eagerly looked forward to this trip. The site is where scores of Japanese and Americans lost their lives when Japan made its final but futile stand before being overwhelmed by a "rain of steel" unleashed by Allied forces. More than 200,000 lives were lost in the annihilation, most of them Japanese civilians who either died or committed suicide in combined acts of bravery and desperation.
The merciless sound of artillery that bombarded Okinawa has been silenced; in its place an eerie calm and a longing for peace.
Since it turned its back on the horrors and futility of war, the Japanese people have been greatly respected and admired by the rest of the world.
If I have to explain why I find Japan a fascinating place, it's quite simply because of its people, and how deftly the country blends the ancient Asian mystique on the one hand and the wizardry of the modern world on the other. Oh, and need I mention the weather that lets me breathe the unconditioned air, the food, and how everything seems to fall into place when you're in Japan?
This Okinawa adventure was no different.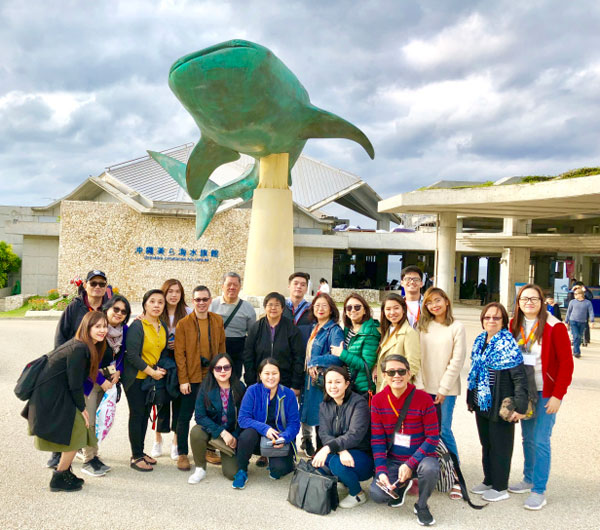 As the Okinawan saying goes, our tour group started out as strangers, and ended up becoming family.
OKINAWA 4D/3N TOUR HIGHLIGHTS: Kokusai Street, Okinawa Peace Memorial Park and Museum, Okinawa World with Drum Show and Gyokusendo Caves, Awamori Sake Brewery, Ryukyu Glass Village, Churaumi Aquiarium with Dolphin Show, Mihama American Village, Shuri-jo Castle, Ryukyu Mura Village, Aeon Mall Rycome
BOOK A TOUR: Rakso Travel offers two Okinawa tour dates on April 19-22 and May 10-13, 2018 at the promo rate of $888 if you book at the TravelTour Expo from Feb. 9 to 11, 2018 at SMX Convention Center. For tour inquiries, call tel. 651-9000 or visit https://www.visitokinawa.jp/