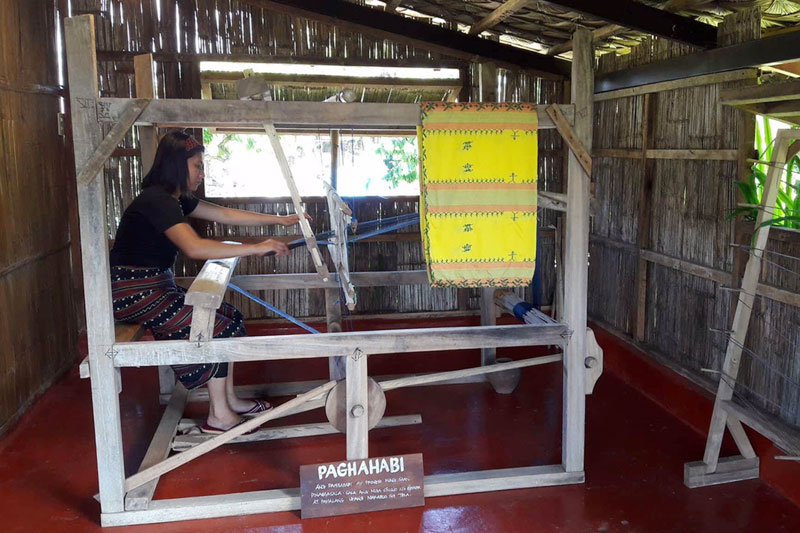 Visitors can try their hand at this traditional weaving loom.
Chit U. Juan
(The Philippine Star) - January 28, 2018 - 12:00am
MANILA, Philippines — "We started with 1,800 square meters of land area and four people 16 years ago," she says as she explains the mission of her baby, Nurture Wellness Village.
Cathy Brillantes-Turvill is an entrepreneur in the real sense of the word – she goes through the ups and downs of business, sharing with us what happened during Typhoon Glenda in 2015 and how it wiped out the whole place.
"We were struck by Typhoon Glenda and woke up with our Ifugao (Cañao) huts down and out," she recalls. But with the community spirit among her now 150-strong workforce, they put up half the facilities back to normal in two days. Now that says a lot about how she has also managed her people.
Her staff are mostly from the community in the Amadeo-Tagaytay towns as her now two properties are located in the Amadeo side, with entrance either from the Tagaytay ridge or from the convenient Maitim route from Aguinaldo Highway in Silang.
"They used to be idle and jobless," she says. Today she makes them speak to tour groups, makes them guide guests in the "happy dance." Most of the men lead the coffee roasting demo or even the coffee scrub massage. She has developed many of her "townmates" into professional guides, therapists and wellness experts where they used to be just sitting around in their homes doing nothing.
"I have been here 16 years," Milette, a therapist, says. Milette speaks of Cathy and husband Mike with fondness and admiration. "They help out in cleaning and carrying stuff," she says. "Some guests mistake them for employees," she continues, "but we happily correct them that they are our bosses and owners of the place."
That must be one of the secrets to their keeping their 150-strong workforce happy. Besides eating well, they also exercise, do tai-chi and enjoy sampling the healthy food prepared by their executive chef and wellness chef.
Two years ago, Cathy and Mike acquired a property nearby, maybe about 300 meters, from the Nurture Spa. From the original location, you can walk along coffee farms and arrive at the place they intend for bigger groups, like those who just come for the day or those who wish to do team building and "glamping" or glamorous camping. Cathy, teaming up with a homeopathy and integrative doctor, designed a garden shaped like the human body.
You can guess what is planted in the brain part, the intestines and finally, the reproductive and excretory parts – the plants, herbs and other natural healing leaves are showcased in each part as you travel the garden. It is easy to understand and makes the wellness tour appreciated even by young children.
Eat malunggay and kale, both superfoods with high nutritional value or, as Cathy says, "nutrival" for short. Kale and mushrooms, if I heard right, are high up in the 90s (scale is 1-100) compared to white rice, which would only score a single digit. She recommends eating superfoods for everyday health – kale, malunggay, arugula, spinach, broccoli and even local herbs like pansit-pansitan.
Geng, a tour guide who is also a certified permaculturist, walks us through the garden and shows us even their vermicompost plots, the chickens who eat only healthy grub and rabbits you can feed with vegetables, a special treat for kids who have never fed animals before.
The tour of the Farmacy can take an hour or a few hours, depending on what and how much you want to see and experience.
There is a Balik-Tanaw pavilion that shows the culture of the Tingian, a tribe in Abra where Cathy hails from. She is a descendant of Gabriela Silang, and this may explain the passion and drive of this woman entrepreneur.
Cathy managed to bring back a loom from Abra, and visitors can try weaving Tingian cloth.
She also has activities like kite-making, sipa ball making from coconut leaves and the traditional way of pounding and winnowing rice. It's a thrill for city slickers!
Further down the garden, there is a coffee roasting demo – her staff roasting the green beans until they develop into what we know as roasted coffee. You can manually grind the roasted beans and then taste the brew served in palayoks (clay pots).
Because we are designing a coffee tour for Department of Tourism (DOT), Cathy asked her chefs to theme her degustacion lunch served at the Salakot pavilion.
There was a spread of mushroom tinola, arugula salad, banana balls (made with puso ng saging or banana heart) and finally the coffee-flavored chicken adobo, beef caldereta and a tangigue with coffee salsa.
For drinks you can have kale-calamansi or pandan tea. Everything natural, organic and, believe it or not, healthier. She has now packaged these juices for people on the go and sells them in "like-minded" places like ECHOstore and at her own Nurture Store.
Today, Cathy manages two sites: the Farmacy at 6,000 square meters of fun and wellness and the Nurture Spa which houses about 16 huts for couples and guests who wish to avail of their detox and wellness programs. But don't be scared. Not everything is about serious programs on health. You can simply sit and relax and shoot the breeze.
What sets her apart from other wellness practitioners is her hands-on approach to health and wellness tourism. Cathy is a spa consultant, a book author (her anti-aging book was published in New York) and recently she also took culinary lessons, completing her thesis on "The Healthy Kitchen."
And she never stops wanting to learn. She heads the tourism council of Amadeo, Cavite and helps organize farm tours in the area.
She is a woman with a clear mission: To make people healthier, happier and better. And that's not a bad thing, while you reap social, environmental and financial profits. Now that's a triple bottom line. People. Planet. Profit.
For more information, visit www.nurturewellnessvillage.com