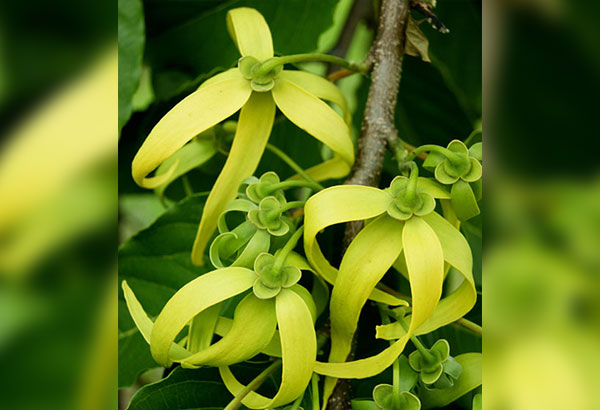 Ylang-ylang to boost farm tourism
Eva Visperas
(The Philippine Star) - December 28, 2017 - 4:00pm
MANGATAREM, Pangasinan, Philippines — An ylang-ylang nursery in Barangay Bueno is looking to become a farm tourism destination.
The nursery, which hosts thousands of ylang-ylang seedlings, started two years ago with the aim of giving a group of about 10 out-of-school youths something to work on.
Pangasinan second district Rep. Leopoldo Bataoil, in a simple Christmas gathering with the nursery workers last week, said he has big plans for the nursery.
"If there is a sunflower maze in Tayug (Pangasinan), we will have an ylang-ylang republic in Barangay Bueno," Bataoil, who conceptualized the project as part of the government's National Greening Project (NGP), told the farm workers.
Currently covering an area of 8,105 square meters, they hope to buy a neighboring property to expand the farm to one hectare.
There will also be a training center to help those interested to propagate ylang-ylang.
The ylang-ylang (Cananga odorata) is prized in perfumery for its delicate floral note, and through the ages the women of Southeast Asia, where the flower originates, have used the bloom to adorn their hair. In aromatherapy, ylang-ylang essence is believed to have a calming effect to help relieve stress and hypertension.
Groups and individuals from other provinces visit the nursery to buy seedlings, hoping to start their own ylang-ylang farm.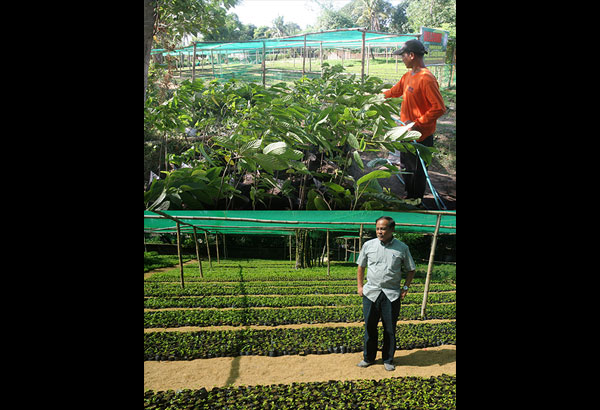 A caretaker waters the ylang-ylang plants (above left). Rep. Leopoldo Bataoil visits his ylang-ylang nursery project in Barangay Bueno, Mangatarem, Pangasinan (above right).
Bataoil said they will have an additional 650 hectares to be planted to ylang-ylang in the mountainous areas in his district under the care of various people's organizations.
Since the start of propagation of ylang-ylang in July 2016, about 120 hectares of public land in Barangay Hacienda, Bugallon town; more than 100 hectares in Sitio Mapita, Barangay Laoag, Aguilar town; and another 80 hectares in Barangay Bantocaling, Mangatarem have been planted to this tree by members of people's organizations assisted by the Department of Environment and Natural Resources through the NGP.
Environment Secretary Roy Cimatu has instructed that ylang-ylang will be part of the NGP. Former environment secretary Gina Lopez had visited their farm during her incumbency.
An ylang-ylang tree can produce three kilos of flowers a week all-year round. The tree can be productive for 25 years.
Each hectare of their ylang-ylang plantation maintained by people's organizations has about 277 trees.
Bataoil said he is excited about the project because there is a ready buyer who needs supply of ylang-ylang, not only for local needs but also for export.
In the 1800s, France imported ylang-ylang essential oil from the Philippines, but this changed as seeds were taken from the Philippines and planted in the Comoro Islands, Madagascar up to Union Island which then supplied the world market.
But their plants are now too old, prompting buyer Fred Reyes to see it as a sign "to regain the glory of our very own Philippine ylang-ylang."
Reyes co-owns Philippines-based Chemworld Fragrance Factory that will buy the ylang-ylang flowers of Pangasinan to process for essential oil for local use and export.
"If we would be able to plant 1,000 hectares, we can be the Ylang-ylang Capital of the country," Bataoil said.
Meanwhile, Municipal Councilor Ricardo Pastor Jr., caretaker of the lot where the nursery was set up in Bueno, said the YY (for ylang-ylang) boys who tend the plants may not have studied agriculture (their highest educational attainment is Grade 3), "but their love for what we are doing shows in our ylang-ylang products."
"Let us love what we are doing because this is not only for us but for our community and our dear Mother Nature," he added.