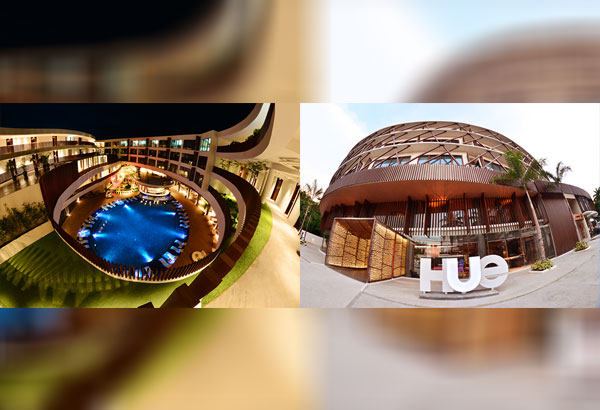 Hue Hotels & Resorts Boracay may be built like a coliseum, but it's no fortress. With no walls or gates, Hue Boracay invites everyone on the island to take a look, have a bite, and get a taste of Boracay's next wave.
Pack your bags, hue Boracay is ready
Just when you thought you've had one too many muffins and shakes and blazing tangerine sunsets, Boracay whips out something new to try: a cute thematic bar, a monster-sized club, a death-defying aqua sport. It's what I love about the island — how it's always almost unrecognizable with every visit, and how both the strange and familiar win you over, every time. Proof that Boracay is in constant evolution is the latest hotel of its scale to open on the island, Hue Hotels & Resorts Boracay. It's a statement hotel in that the structure itself, which managing director Dexter Lee likens to the Roman Colosseum, is not at all shy about imposing its presence. Likewise, what the property brings to the table — an elevated experience of Boracay culture — is foreseen to transform the way we vacation on the island. Their actual statement: to bring that vibrancy to Hue Boracay "so that the only reason they'll leave the hotel is for the beach," says Dexter. This lofty mission is accomplished in several ways, from its super-comfy beds (custom-made for Hue and checked for quality by Dexter himself), its very extra pool (stocked with lounge chairs and floaties) and pool bar, Prisma (stocked with the largest collection of rum in the country), down to its already popular open-to-all lifestyle center, Station X.
Your own private island
Hue Boracay does incite that feeling of never wanting to leave (not in the Hotel California sense, but in a why-struggle-outside-when-it's-so-nice-here kind of way). It's built so that it literally extends an open invitation to non-hotel guests. No walls, no gates, just friendly security guards in friendly shorts to usher you in. There are two entrances, one along the Main Road, which goes to the hotel, and the other one through a side street, which leads to Station X and its restaurants. Once you're in, you'd have to be a real bore to not want to explore its many features that are, as millennials would say, Instagrammable AF.
The pool, the nucleus of the spacious Hue sphere, is an oval oasis that connects to Prisma, so you can have drinks on an inflatable rainbow-cloud, as one does. Order a rum cocktail for the full experience.
The rooms are spacious and tropical-themed, so you won't feel too detached from #islandlife. The shower, toilet and sink are free-standing, which saves a lot of time and, also, potentially, some bladders.
To make sure guests have a comfortable and memorable stay, Hue partnered with Hospitality Innovators, Inc. (HII) to manage the property. HII founder and CEO Luis Monserrat shares that what makes Hue Boracay unique is its value for space, which is gold in crowded Boracay. "There's so much open space in the hotel. For developers, that's money. The fact that they were willing to trade that off for the guest's experience is pretty special," he says.
As a guest of three days, I can attest to the fact that the beach (only two minutes away) is, indeed the only reason to consider enduring the task of putting one's valuables in a bag and putting on real clothes. It's true how space can be a luxury — a very addictive luxury, especially when in busy Boracay. In the event that you do decide to go out but don't want to bring a bag, Hue Boracay makes sure that you don't get locked out of your room by re-fashioning the highly impractical room key-card into a waterproof rubber bracelet (that won't deactivate at contact with a phone, yay!). Clever advertising, too. According to Dexter, the Hue bracelet will soon also act as a method of payment Station X establishments. Simply tap and go.
Your very own station
Stations 1, 2 and 3, formerly boat stations, have long been only universally known major points of reference on the island, which does not apply the use of street names and signs. To invent a new station is a gutsy move. Perhaps others have thought of it, but it's not something you pull off with a mere neon sign. To create a station is to cultivate a new culture, and this is what Station X in Hue Boracay does.
While other hotels on the island may have one or two restaurants, Station X has nine (and one more coming). These are homegrown brands that you won't see anywhere else, so that when you're craving for Supermagic's Umami Burger, or Little Wave Coffee Co.'s Slutty Brownie, or Fat Rice's Cha Ca La Vong, you'd have to fly to Boracay to get some. The nice part is, Station X doesn't look like your usual retail-area-floor — the look transitions nicely between the hotel and street life. You won't feel out of place at all in your wet, sandy swimsuit.
From the first Hue Hotel, which opened in Puerto Princesa, Palawan early this year, incorporating local culture and homegrown brands has been part of its DNA, as Hue Hotels & Resorts managing director Dennis Lee points out. "These tenants at Station X reflect the creativity and originality Hue Boracay values. We continue to espouse our advocacy of promoting local culture, so we made sure to prioritize these entrepreneurs whose concepts are unique and world-class," Dennis says.
Station X houses the island's first and only food hall called Streetmarket, probably the sexiest food hall you'll ever meet. It's where you can get fresh seafood at Percy Seafood, comfort food at Winner Winner, Asian cuisine Fat Rice, pizza at Diavolo, Mexican fare from Santa Peligrosa, yakitori from Poketo, and iced desserts from Sugar Cloud. All are run by Hue partners, entrepreneur husband-and-wife Nowie and Odette Potenciano, who say they're keeping these establishments exclusive to Boracay.
Also within Station X are Nonie's, which serves guilt-free healthy meals, Local Color, a shop of cute and unique locally-made pasalubong products, and Boracay's only premium KTV bar. Most of these establishments' owners, managers and staff are locals who've always lived on the island and they say Hue Boracay is an exciting addition to the scene.
Boracay's next wave
"A lot of people are saying that Boracay is on its way out, but the locals themselves have been telling us that it's not going to fall anytime soon, and we want to be the first to initiate that kind of change," says Dennis. Change is, in this case, Hue Boracay's introduction of their "cosmopolitan local" concept through the hotel and Station X. They've always thought of building hotels like chameleons, anyway (that's why they call them Hue!), and come to a city or an island, embrace its lifestyle, involve the locals, all while giving it that Hue twist.
* * *
Hue Hotels & Resorts Boracay is located at Station 2, Main Road, Boracay Island, Malay, Aklan, Philippines. For inquiries, email boracay@thehuehotel.com, reservations@thehuehotel.com, boracayreservations@thehuehotel.com, or visit www.thehuehotel.com.