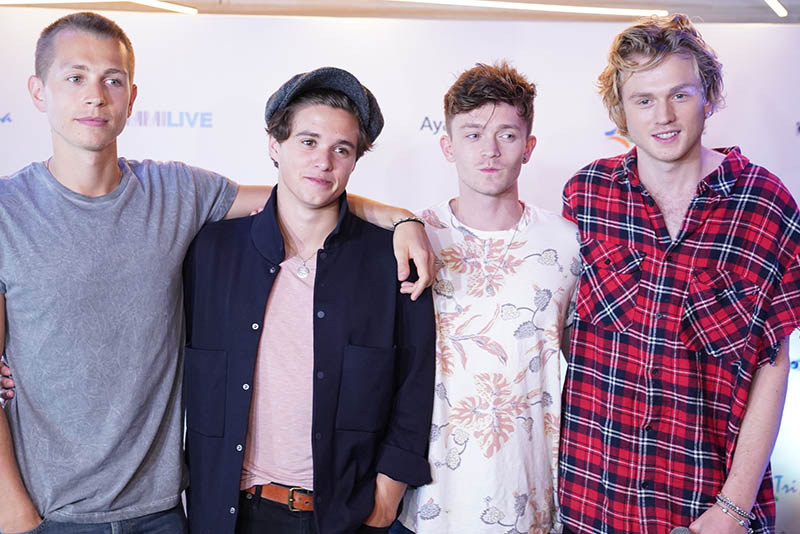 British sensation The Vamps had a one-night concert in Quezon City recently. Photo release
5 ways to experience early Christmas in Quezon City
(philstar.com) - October 23, 2017 - 10:08am
MANILA, Philippines — Due to its nearness to the country's biggest TV networks, Quezon City has been fondly called "City of the Stars."
But besides the movie sets, the nearby residences of the stars and the historic Memorial Circle, Quezon City, or "the north" as "southerners" or those from the opposite Makati and Alabang would call it, has so much to offer.
Here are five new reasons to spend the holidays at the "north."
World-class performances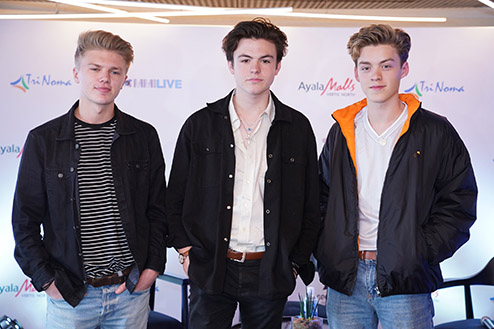 New Hope Club
A few hangout places up north have emerged lately and one of them is the newly opened shopping destination, the Ayala Malls Vertis North. According to the management of the Ayala Malls, this would be their first commercial and leisure hub to cater to the constantly changing hip lifestyle of today's young generation.
Boasting a fusion of cutting-edge technology, art, music, fashion, and lifestyle, the Ayala group has once again given birth to another ecosystem that combines business, entertainment, and a plethora of things that might excite and resonate with the young and young at heart.
Apart from the mall, the Ayala property also houses Seda Vertis North Hotel plus other residential towers, all within close proximity to TriNoma.
As more festive decors light up the road, and more Christmas tunes fill the airwaves, there's no doubt that the season of giving is almost here.
To kick off its grand opening, the property group has brought British sensations New Hope Club and The Vamps, who treated mall-goers to a one-night concert last October 6.
The up and coming and fresh-faced trio New Hope Club is not really new to the music scene. Prior to the group getting signed with The Vamp's label—Steady Records, musicians Reece Bibby, Blake Richardson, and George Smith have been around since 2015 putting up cover songs on YouTube and SoundCloud; similarly, how their predecessor The Vamps got their breakthrough.
Before the band was formed, Bibby, who was then a member of another band Stereo Kicks, joined the 11th season of "The X-factor" in the UK. After Bibby's former group decided to part ways, he then joined Richardson and Smith to form New Hope Club.
Back in October 2015, New Hope Club did a cover of The Vamps' smash hit "Wake Up," which garnered a massive traction online within and outside of The Vamps' global following. This was how the group got their first taste of sweet victory. Soon enough, the talented trio found themselves under the wing and mentorship of The Vamps, who was already peaking at the time.
Early this year, the band's debut four-song EP "Welcome to the Club" was released on Hollywood Records via Steady Records. Just as last month, the band was at number five on the Billboard Next Big Sound chart—and with an eye for success, it is no surprise if the group hurls up with a chart-topping record next year.
Prior to the concert, a press conference was held at Seda Vertis North Hotel last October 5, where the trio shared some of their biggest updates. "We started doing all our covers live. We want to show that it's all real, it's all us singing the songs and learning the lyrics through our acoustic guitars. We feel that we can own the songs better by choosing the right ones that strongly resonate to us. We also started doing mashups of our favorite songs from Harry Styles, Shawn Mendes, and even Justin Bieber", according to vocalist Blake Richardson.
When host Vince Velasco asked what their biggest goal for 2018 is, this is what they said: "We never had a show of our own. Apart from a secret show we did at a rooftop in New York, we haven't had a solo yet. So having our own show and touring as a group would be insane. We just need to get the word out there and make more people listen to our music."
Meanwhile, British pop rock band The Vamps, consists of Brad Simpson, 22 (lead vocals and guitar), Connor Ball, 21 (bass guitar and vocals), James McVey, 23 (lead guitar and vocals) and Tristan Evans, 23 (drums and vocals) first visited the country back in 2014.
At the press conference, the boys excitedly talked about their third studio album "Night and Day" that frontloads two hit tracks: "Middle of the Night" and "All Night." The band's fresh sound features club-friendly songs that combine EDM and soulful melodies with chest-clenching choruses. Overall, the band has somehow rebooted their image—becoming more relatable and in tune with their authentic side. And this is a clear indication that the group is evolving to keep up with the music scene.
Lights and sounds show
On November 16, Ayala Malls' Vertis North will showcase a grand spectacle fit for ushering in Christmas with the first ever Lights and Sounds Show to be held in Quezon City. Complementing the signature annual event at the Ayala Triangle Gardens in Makati, Vertis North is the latest estate to bring this lights and sounds performance closer to home for those up north in Metro Manila.
The mall is also said to be the home of the Philippines' largest movie screen and recliner seat cinemas.
Catholic church with a crying room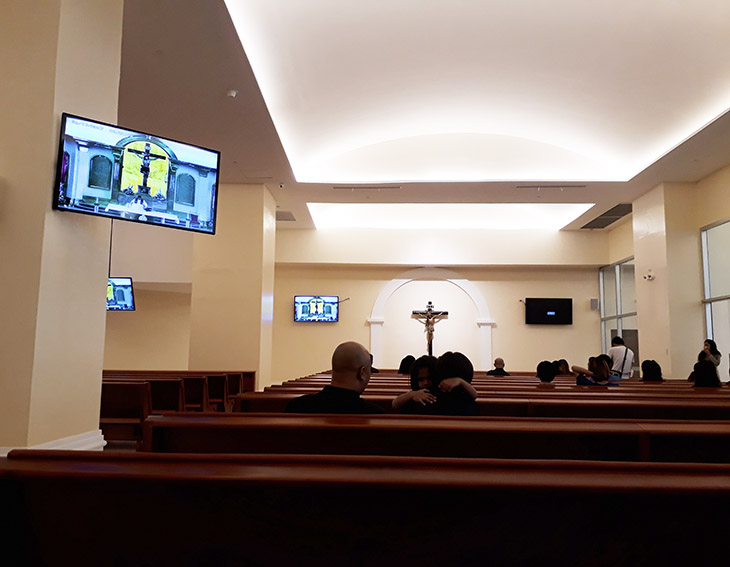 Mary Mother of Hope church in Landmark Trinoma. Philstar.com/Deni Rose M. Afinidad-Bernardo
For those who want to complete their Christmas mass rituals but worry about their children getting impatient inside the church, the air-conditioned Mary Mother of Hope church in Landmark Trinoma has a crying room, wherein kids can play and roam around while their parents hear mass from giant monitor screens.
Global Filipino design
At the third floor of Seda Vertis North hotel is a pool surrounded by a spacious deck and spa, featuring world-class furniture by Filipino designers Kenneth Cobonpue, Vito Selma, and Pacific Coast.
For flexibility, the ballroom has been made modern and with no chandeliers, while some rooms for "staycation" have been retrofitted with seats on the shower.
The hotel's studies show that millennials love working in cafes, so guest rooms have been equipped with working tables that dabble as dining tables.
Chef's Table
Inside the hotel is an all-day dining facility Misto, a restaurant that has a show kitchen with various stations and an extensive Filipino and international buffet.
Communal wooden tables, like those at the lobby, likewise add warmth and an element of surprise to the smart casual dining outlet. The long tables are not just for groups but also for individuals who may wish to share meals in this age of shared office spaces and ride sharing. "It's our way of promoting social interaction among individual business travelers who, because they spend a long time alone on the road, may want some company during meals," according to Group General Manager Brett Patrick Hickey.
According to him, the hotel is the seventh and biggest in the hotel chain's Philippine portfolio.
Since "experiential" or making unforgettable experiences is a big trend now in the hospitality industry, the hotel also offers Chef's Table, a program wherein guests can customize their type of dinner or lunch party anywhere in the hotel – even inside the kitchen and with a "flash" singing performance from the chefs.
WATCH: Flash performance from the kitchen staff
— Reports from Deni Rose M. Afinidad-Bernardo