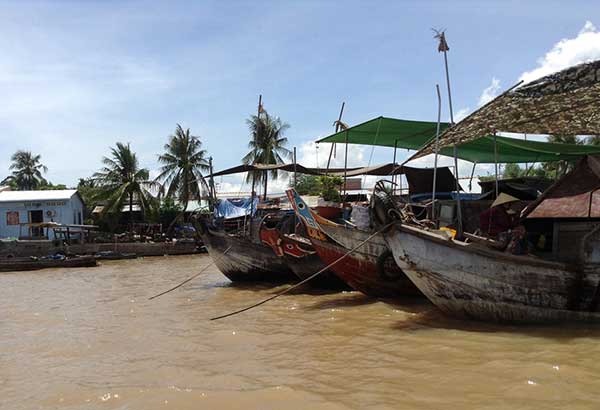 Sampans gather at Cai Be to form part of a floating market.
Life along: The Mighty Mekong
Edu Jarque
(The Philippine Star) - September 30, 2017 - 4:00pm
MANILA, Philippines — The morning sun rose high and bright above the mighty Mekong River, a 4,350-kilometer wonder of nature which starts in Tibet and crosses through China, Myanmar, Thailand, Laos, Cambodia and Vietnam before finally emptying into the sea.
"The murky water is full of sediments which fertilizes the land," reveals our guide Trinh Hoang Hanh Nguyen. "Though it's pretty when it's bluish, due to its salt content at high tide, it is actually deadly for the crops." he continues.
Spanning over 40,500 square kilometers on the extreme southern end of the Mekong River is the sprawling Mekong Delta, dominated mostly by flat plains of fertile farmlands and rice fields, fruit orchards and bonsai gardens, mini-forests and sweeping swamps, surrounded by abundant waters, with complex systems of canals and tributaries, which has all attracted its very own local river bank communities of mainly farmers and fisherfolk, home cottage industries and innovative traders, in several fluvial villages.
One such microcosm that thrives off the Mekong is Cai Be, a two-hour-drive from Ho Chi Minh City – a half-river, half-land town which lies in the water hyacinth-filled rural district of Tian Giang province of southern Vietnam, a thriving tourist destination.
We hopped on a wooden sampan; there's a lot of commerce and industry along the river, as we witnessed the transfer of heaps of sand, huge bags of cement, multiple pieces of hardware and stacks of iron bars. It is also utilized as a means of transportation for the majority of the citizens in the area.
From a distance we caught glimpses of boats of all sizes gathering right in the center of the river. Upon closer look, we observed that the large barges were the wholesalers, while smaller ones were retailers, and even smaller sails were individual buyers hunting for the best bargains, active in buying and selling ripe fruits and fresh vegetables. Small, non-motorized rowing watercraft successfully squeezed in among the nooks and crannies, to reach out to other merchants to swap money for produce.
With each movement of these collections of vessels – some 400 of them – the ripples got stronger, coupled with a slight gust of wind, until it became a gentle rocking force which swayed us from side to side.
Interestingly, on top of each boat lies a tall wooden pole where local produce such as bananas, rambutans or coconuts are hung, to signal what products they sell. However, we were informed that when coconut leaves are exposed on the pillar, it signals that the entire ship is for sale.
"The daily market closes at noon, so you are seeing the transactions at its busiest," says our amiable guide Wen, as we joined in the commerce and tasted some local fruits.
Navigating through several narrow canals we soon crossed slightly bouncing gangplanks and rather frightening arc-shaped monkey bridges – some two to ten meters high above the water – to reach a house with no visible walls, which hosted a mini-factory of handmade treats.
A lady was roasting some rice paper by hand on a large round table as four women in various sitting positions busily chatted away and, like clockwork, cut, packed, sealed and re-packed rice crispies.
As the women were thus occupied, two men were caught sleeping in hammocks.
There was an improvised mini-café solely for tasting little bites of their delicacies such as rice and corn pops, peanut coconut toffee, dried ginger and dried banana, and relaxing cups of the fragrant jasmine green tea.
To our great surprise, there were a number gigantic jars filled with liquid considered as wine for some, yet just tea by others, with layer upon layer of peacefully curled snakes. It is believed to be some sort of traditional medicine – and even more.
The establishment had an efficiently-run store where we bought colorful lacquered husks which were recycled from the workshop.
We then headed to the immense orchard-island of Tan Phuong, an ecotourism destination which boasts specialized cultivation of trees such as rambutan, pomelo, longan and durian.
"Here we will be entertained by musicians who have adapted the Nhã nh?c musical style." Wen announces. "It is a form of Vietnamese court music during the Tran dynasty of the 13th Century until the Nguyen regime at the end of the 20th Century, and were traditionally performed during milestones, anniversaries and official and religious holidays."
This music has been named by UNESCO as a Masterpiece of the Oral and Intangible Heritage of Humanity in 2003.
Today, locals have their own renditions of these pieces, using finely tuned instruments such as a five-stringed concave guitar, a single-stringed monochord sometimes called a gourd chord and a moon-shaped lute. The instrumentalists sat on the makeshift stage, while singers and dancers alternated roles.
For a late, late lunch, we headed to Binh Hoa Phoc Islet, along the Dong Phu Canal, for a taste of authentic, traditional Mekong cuisine, eaten family style, with absolutely no tourist flair or flavor.
The star of the meal was the sought-after elephant ear fish, an entire giant gourami fish deep fried to crispy perfection, and served on a rack. One must flake off the flesh, accompany it with personal choices of herbs and vegetables such as the ever-present mint leaves, lemongrass, sliced peppers and an assortment of pickles, rolled in rice paper, and then dipped in either fish or chili sauces.
Another standout was the braised pork in coconut milk, a recipe which infuses some of Vietnam's most recognizable spices. We had our fill alongside rice raised from the Mekong Delta – which, by the way, is considered the most flavorsome in the Asian region.
The last stop was the busy gateway port of Vinh Long, before driving back to Ho Chi Minh City, still feeling the gentle waves of the Mekong River.