Rediscovering Pinto Art Museum, A paradise in Antipolo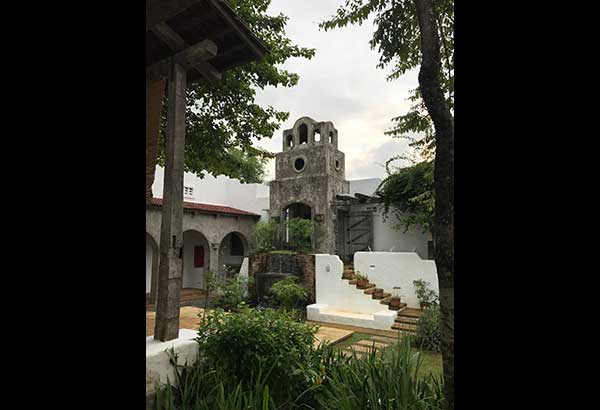 Antipolo is steep in myths and legends. And high above its hills is a place where folklore and reality cohabit the Pinto Art Museum. The museum is a home to Philippine contemporary art and a shelter for artists from all walks of life.
Perched on a verdant land of 1.3 hectares is an art paradise. Yes, Pinto Art Museum, located at No. 1 Sierra Madre Street in Antipolo City, is a destination that needs to be discovered and rediscovered because it is a repository of Philippine culture and heritage as seen through a thousand and one artworks on display. You enter the museum and an antique pinto (door) with an old little bell above it welcomes you. Upon entry, statues made alternately of bricks and other materials accompany you immediately to your excursion. In this beautiful contemporary art space are several art galleries in open-air Mediterranean-inspired villas, shrouded by well-maintained gardens and landscaped greens.
The artworks on display are from the massive collections of Dr. Joven Cuanang, owner of the Pinto Art Museum. He started collecting wooden art when he was still a young boy.
Right beside the gallery is the Rizal Café that serves pastas, sandwiches and desserts. Among our favorites are the signature burger, tamarind shake, and the vongole pasta.
The fruit trees and hardwood abundant in the open patches of the museum calm your senses as you begin to explore every nook and cranny of this art paradise. The excitement of a new discovery begins with the narrow arched entrance that welcomes you into the gallery.
A quaint little chapel greets you as you walk past the gallery. (Celebrated and upcoming artists have exhibited at the Pinto Gallery.) The chapel is awash in white; at its altar is an image of the Pieta with only a wooden sculpture of the Dying Christ; The Madonna is not in sight. It's a good start to help us ponder what the museum is all about.
Before we could even explore the museum, we were led to the new addition of the Pinto gallery, which is the Pinto Academy for Arts and Sciences for Healing and Wholeness. Dr. Cuanang, former medical director of St. Luke's Hospital, says that in earlier times, the arts have always played an integral part in the attainment of a well-lived life. (I will discuss this further in my future column.)
In the galleries, there are numerous artworks that will tickle your fancy. What got my attention was the depiction of a shoe box which was gigantic in size. The artwork is titled "Lolong and Loleng" by Demetrio de la Cruz. The artist reminds us that all luxury bags despite their brands and ridiculous costs are just the by-product of an animal — in this case, a crocodile. Yet humans go to great lengths to make some animals extinct just so luxury items can be produced. In tongue-and-cheek humor, the artist goes even further in "Holy Cow" and labels the skin of the animal with the monograms of the luxury brand.
Ferdie Montemayor gained critical notice for his series of paintings or cityscapes in the 1990s. By the end of 2010, the artist shifted his work towards a series of paintings of competitive action games. "Panalo" is a highlight of that series and depicts the movements and progression of a triathlon.
Jaypee Samson's "Kahit Maputi na ang Buhok Ko" depicts an elderly couple standing in front of the Antipolo Church, their faces squinting in the heat of the noonday light. Painted through the distorted effect of a fish-eye lens, the couple's bodies loom and bend, sending their faces in a warped effect.
On the other hand, Pamela Yan Santos' installation art titled "Handle With Care version 2" showcases the contents of a living room shown wrapped in paper. These are work sheets conveying the relations between actions and objects. What occurs is a meeting of worlds and an insight into how we make labels of society, as a way to access things as banal as a cup or a leaf. We are led to unravel our assumptions of what is real, what is permissible and what is not.
Even the 44 members of the Philippine National Police-Special Action Force killed in Mamasapano in Maguindanao in 2015 are given honor in Alwin Reamillo's series of works on tin cans. "Fallen 44" (2015) is part of a collective installation titled "Manufacturer's Advice: Contents May Vary" (2015).
Of course, a visitor to the museum will not miss the amazing centerpiece in the main gallery, the "Karnabal," an acrylic on canvas measuring 144 x 480 inches. Ripe with socio-political undertones discussed in eight big panels, "Karnabal" is a microcosm of Philippine society. Many things are happening in the mural — a clown confessing to a priest, Darna minus her abilities, Superman dressed down to his sando, a monkey operating a mechanical monster among other scenes of seditious acts.
"Karnabal" is a "place" one needs to visit for at least one hour. It frees your mind, opens you up to the realities of society, then and now. It afflicts the soul.
According to Dr. Cuanang, the "Karnabal" is a 1992 masterpiece by the art group Salingpusa, composed of Rolly Acuna, Elmer Borlongan, Karen Flores, Emmanuel Garibay, Mark Justiniani, Antonio Leano, Erwin Leano, Joy Mallari, Neil Manalo, Andy Orencio, Jim Orencio, Vincent Paul Padilla, Anthony Palomo, Mikel Parial, Jose Santos III and Geronimo Tapales. Coming together as a group in the tumultuous years leading to the People Power Revolution, it is easy to locate the Salingpusa — given their perennial associations with activism, says Riel Jaramila Hilario. The artist collection Grupong Salingpusa came about as a reorganization of a group of young Antipolo-based students under Fernando Sena called Bahaghari in 1985.
Dr. Cuanang said the "Karnabal" was created during a period of almost three months in his house, in his garden. His house was built here in 1975, the first structure to be built on this extensive Antipolo property. He then decided to open his house to the "striving artists," those with a strong belief that someday they might be known in the art scene. Eventually they did, and to honor them, he built a museum to showcase his collection of these artists' works.
The Salingpusa is not the only group on display in Pinto Museum. There are also works by other groups such as Sanggawa, Salingkuting and Sangviaje.
Other known artists like Philippine STAR's Igan D' Bayan, Demetrio dela Cruz, Keiye Miranda, Wire Tuazon, Tatong Torres, Elmer Roslin, Marina Cruz, Dennis Gonzales, Ian Quirante, Carlo Saavedra, Jerson Samson, Constantino Zicarelli, Guerrero Habulan, Kiko Escora, Jason Moss, Kiko escora, Andy Orencio, Riel Hilario, Jaypee Samson, Danilo Ilag-ilag, Jose Ruiz, John Paul Antido and more are exhibited in the museum.
Dr. Cuanang has been collecting art for a very long time, but his decision to open an art gallery and a museum was actually an aftereffect of the EDSA Revolution.
At the start of 2000, Dr. Cuanang and his artist friends gathered in Antipolo and decided to do a project to inaugurate this new millennium. On January 1 of that year, the Pinto Art Gallery, designed by Tony Leano, came to life. Dr. Cuanang has always believed in the Filipino artists. The twisted figures of Elmer Borlongan, the provocative artwork of Cris Villanueva, Ferdinand Montemayor, Joven Mansit, Nona Garcia, Pam Santos, Salvador Alonday, Marina Cruz, Rodel Tapaya, Geronimo Tapales, Plet Bolipata, Victor Santos and Aba Lluch Dalena proudly displayed in Gallery 2 of the museum are proof of his love and passion for Filipino artists.
All the galleries feature inspiring works by Filipino artists. One gallery also features a painting by Winnie Jumalon, called "Second Life Portrait." Dr. Cuanang said that he relates to this piece, especially after his quadruple bypass. Elmer Borlongan's imagery visibly shows a truth that is primarily existential — one that can be felt in empathy with other human beings in the same condition. Borlongan's vignettes take us to the theater of everyday life in their barest appearances: the labyrinth of meanings endures, because the spirit does so as well.
The artist Nona Garcia first caught the attention of the art world in her early 20s, with a pioneering work titled "See Saw" at the 2001 ASEAN Art Awards of the Philip Morris Group in Singapore. The piece is a diptych, one panel portraying a naturalistic rendering of an object swaddled in cloth, while the second panel is an x-ray light box. The x-rays are illuminated, for clarity and for viewers to be enlightened, although they are framed and installed in a cruciform manner, in Black Friday tones that refer to their Christian origins.
Perhaps the myths and legends enveloping Antipolo are the same elements of folklore that are found in the 1,001 artworks found at the Pinto Art Museum. Perhaps the parody and politics apparent back then are still the parody and politics that we enjoy and endure today.
At the Pinto Art Museum, the human mind, body and soul are open, ready to explore the talent of the Filipino artists, ready to bask in the glory that is Philippine contemporary art.
* * *
For more information, call Pinto Art Gallery and Museum at 697-1015 and 633-0329 or e-mail [email protected].