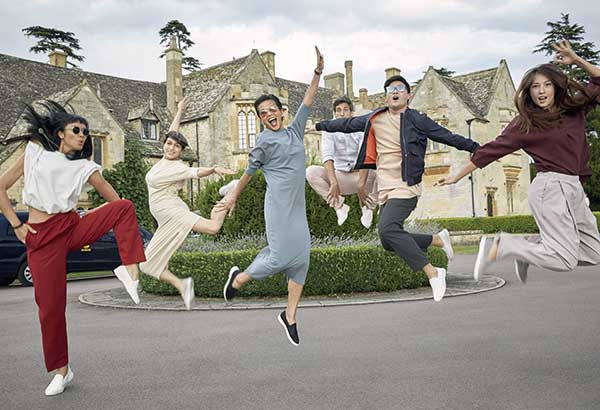 The brand is known to be quite picky with the people they invite and instead of doing what everybody else does, they choose the other cheek and make sure that what they do goes.
The British summer brings about a few surprises — a dazzling sunrise then a quick drizzle here before another opening of beautiful sunshine, a reason to bring out your umbrellas right before setting your blanket for that picnic in the park.
When Harlan + Holden called a few of us for a London event, I knew I had to drop everything and say yes. The brand is known to be quite picky with the people they invite and instead of doing what everybody else does, they chose another tack to make sure to go against the grain — the mark of a true iconoclast in this follow-the-herd industry.
First, the brand. Harlan + Holden works hard at the science of simplicity. Everyone else tries their best to keep up with the giants and the Joneses. Harlan + Holden couldn't care less. They go with their flow, seeking self-mastery versus looking at their neighbor's fences. The way they build that uniqueness — regardless of trends — makes them leaders in their craft.
Soho Farmhouse surprise
I want to make it clear that despite my love for the brand, I didn't have an idea of what was going to transpire. All the guests simply said yes, without knowing the details! Sure, more than half of the guest list are my close friends, but 'til the very last minute, I was kept in the dark about what was going to happen in the next few days. They wanted everything to be as much a surprise to me as it would be for the other guests.
Now, I'm not one for surprises — the control freak in me was panicking and wanted answers. But I guess life happens and it does so to teach you a few lessons — so I guess mine was to be "patient" and the fast-track person in me told me I needed to sit back and just enjoy the ride.
Upon landing in London, we were ushered to the English countryside, where the city dwellers among us absorbed a different vibe, slightly more laidback and devoid of social media. Soho Farmhouse was the refuge of the Brit elite, and it was clear from the beginning that we had to set aside our mobile phones to make sure we got to inhale the fresh air and appreciate nature without having to post an IG Story to prove it. Still, I took out my phone and asked my new partner-in-crime Feli Atienza to document the action.
After a warm welcome by our friends at Harlan + Holden, I had a massage that was so good I forgot that jet lag was possible. Clad in a robe that was softer than cotton balls, the soothing voice of my Soho Farmhouse masseuse lulled me to sleep, making me feel like I was floating with angels and hopping from one cloud to another. When I woke up, I made sure to explore this place that was built for the weary city dweller — to realize that there was much more than the city than we can imagine. Wearing my Caminos — the real reason why we were here — I explored the place by foot, inhaling as much oxygen as my lungs could absorb, just being thankful for the experience and savoring the present — I knew that this was just the start.
Hot air balloon
The next full day, I was talking to horses with Nico Bolzico, riding a carriage with Steph Kienle Gonzalez and daughters Andrea and five-month-old baby Arielle, having long walks with Solenn Heussaff, planning clay pigeon shooting with Mia San Agustin and Kelly Tandiono. On our first 24 hours in the UK, we had easily bonded with each other — light chatter and full-on laughter replacing moments of silence. The group had gelled easily as the hot air set into the balloon for our sunset ride — the first surprise of the day, which was about to be unveiled.
We looked at the grass and then we looked at the sky. There was a larger-than-life balloon being inflated right in front of us. Most of us who had ridden a hot air balloon before knew that usually, this was done when the sun was about to rise. But not with Harlan + Holden, for this particular balloon ride took place at sunset when we headed for the sky.
To our surprise the guys behind the balloon said, "Come on, go inside!" And so like kids in a candy store, we all jumped in and took pictures inside. It looked like a circus and we all felt light, so hop we did while the sun was still in sight. Later, the balloon blew up and onwards and upwards we went. Wow! What a great day; everything was heaven-sent; we all had a ball doing that ride.
The next day, sure, there was some rain, but the drizzle didn't stop us from indulging in the countryside. We rode in horse carriages, shot some clay pigeons and then off to the city we went. This was just the first chapter, and London was ours to conquer.
Caminos in the City
Our home away from home was Claridge's — and boy, did they go all out to make us feel not a detail was out of sight. Clad in full Harlan + Holden tech collections we went, each day was a new adventure, and tonight was all set.
Our first night back in the city was all about knowing how to throw a party — from James Bond to an espresso martini, each one of us learned how to delay sobriety. Solenn learned a few tricks here and there. Afterwards we all wanted to play "Truth or Dare." Okay, I should stop with this rhyming already.
The next day I made sure to wake up early — some of us wanted to explore the city, around Hyde Park and beyond. That afternoon we were supposed to have a picnic, but all of us were in some sort of a panic. "Should we or shouldn't we?" Of course, indulge, we all did. The afternoon was ours for a big, great party.
The London weather was unpredictable. In the end, we worked with what was possible. A penthouse picnic hosted by Poppy Delevingne where all were clad in Harlan + Holden's latest happened — we had scones and sushi and then some. And then it rained. So we all let out a good laugh — our instincts were right from the very start. This was made extra special because Poppy had gotten married in this same property a few years back, she had told us. It felt like we just met a long-lost friend. Poppy and the Pinoys — bonding over fashion and different situations.
Later on, she took all of us on a road trip and walked us through the Pink Floyd exhibition at the Victoria and Albert Museum. It was raining all throughout but that didn't dampen our spirits. Poppy pointed out how these musicians were able to define British pop culture despite the odds — we were just happy to see how they surpassed all the fads.
Cat on a Hot Tin Woof
What is a London experience without the West End? That same night we all rushed to catch the gala of Cat on a Hot Tin Roof, the sold-out hit production that starred Brit It girl Sienna Miller. All throughout the show we were quiet — amazed at the range of Miller and her co-actors as they went from scene to scene, accents and all, to deliver a tour de force performance like no other.
Our group was just there, waiting for our transport back to the hotel when, unbeknownst to us, the Harlan + Holden team had planned on having Sienna herself meet us right after bowing. In full Harlan + Holden garb, she stepped out and then hugged us all like we were long-lost siblings ready to catch up on all the long-lost years of bonding. And so bond we did over questions that ranged from memorizing the script to intimacy with fellow actors to anticipation of the awards season and whatnot. "These are the lightest and comfiest shoes I have ever worn!" is the only thing I remember her saying, because I was too starstruck to remember anything else after I was born. (Okay, stop with the rhyming now!)
The next day had us do a walking tour. Filipinos prioritize shopping and tend to forget the other finer parts — like culture and history. This time a guide took us to the secret parts of Gray's Inn, a most elite part of London that tourists and even locals don't know about, and then a secret silver vault, and other places that even Londoners are not aware of. I never realized the distance that we were walking — of course — because the Caminos kept me most comfortable while trekking.
After all that walking, the Harlan + Holden team told us to prepare for something "active." We had no idea about the activity until we met Johanna Konta face-to-face. She is the UK's top female tennis player and is ranked fourth in the world. I know this much: we were not worthy.
More tricks from the masters
After hitting a few balls, we realized she's the most down-to-earth human being and so we began to be more at ease. Johanna then taught us to serve and gave us a few tricks on how to cinch the Wimbledon trophy. Yes, we did it all in our Caminos — I kid you not. I also never saw Nico happier.
That night, we were told we were going to meet Britain's Most Wanted Chef Ollie Dabbous. Chosen by Harlan + Holden because of his famed no-fuss, easy way of cooking, we thought we were gonna go to his Michelin-starred restaurant but in the end, it was much, much better.
Instead, we went to his flat where we whipped up a few (an understatement) dishes and chef Ollie taught us how to make each one — in his own home. I volunteered to start with the dessert for fear of having to make more difficult dishes but the vibe was relaxed and the spirit was friendly — like visiting your neighbor's kitchen.
The result was magical — everything was yummy and everyone felt like they were part of the cooking and serving process. A trip to chef Ollie's bar down the road ensued and if my memory serves, everyone had more than the right dose of fun walking around the streets of London in the lightest footwear made for traveling, and more.
Post-London realizations
I guess it's when you're at your most comfortable, when you're at your lightest, that you find your best self. And it is when you are with your best self — that's when you'll realize that everything in life is best taken one step at a time.
It's been more than a week since the London trip, but still, I can't get over the fact that in less than a week, we were able to see and experience more of London than ever before. Nothing ordinary about this trip.
Was it the easy bonding with other people that made it? Was it the conscious choice of going beyond the tried and tested route? Or was it walking in the Caminos of Londoners that made us see the light?
From an afternoon with Poppy to an evening with Sienna to playing tennis with Johanna to practicing in the kitchen with chef Ollie — one can never really tell. It's best to go along for the ride — and you'll have the best time going through it. What an amazing trip to see London in your Caminos.
* * *
Follow me one step at a time: @officialtimyap on Instagram and twitter. Follow the event in Instagram #InYourCaminos.