Malolos: Revolutionaries, empanadas & Art Deco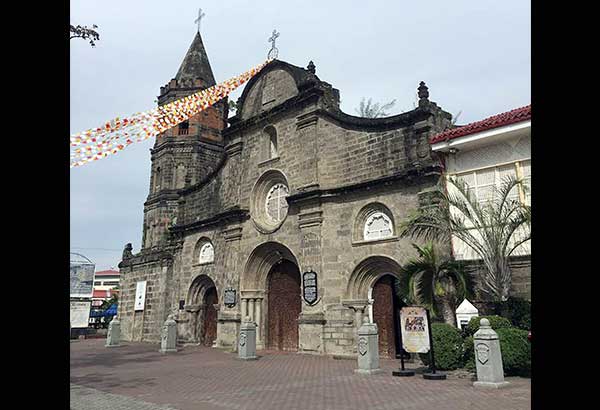 MANILA, Philippines - Malolos is one of those places you've always heard about but never been to. Or, if you have, it's probably a long time ago on a school trip back in high school.
Only 40 kilometers north of Manila, the city figures early in social studies class, having been the site of the first republican congress in the country inaugurated in 1899. It is a place I've always associated with that one iconic, shining event in our nation's history, a destination of choice for school kids doing their requisite out-of-school educational trip.
As a tourist, there is no missing this historical distinction. On a recent visit, our first stop was invariably Malolos' most famous landmark: the 129-year-old Barasoain Church which stands proudly along the aptly-named Paseo del Congreso. The church complex, as religious as it is a politically sacred ground, was the venue where Gen. Emilio Aguinaldo convened 85 delegates from around the country, effectively establishing the legitimacy of his status as the 1st president of the Philippine Republic.
The significance of this historical narrative is effectively told through didactic exhibits at the Museo ng Republika ng 1899 (Museum of the 1899 Republic), housed in the adjacent former convent of the church. This shrine is a must for the first timer, if only to give a proper perspective and refresh one's understanding of this turning point in the nation's history.
"Malolos was a hotbed of intellectuals and radicals in the 19th century," says Leo Cloma, a native son and enthusiast of his city's history. Not only was it a place of revolutionary fervor, Malolos was also a boomtown from the 19th to the 20th centuries. It had access to a railway line from Manila and agricultural businesses flourished among the town's Tagalog-Chinese mestizo merchant class.
With this new wealth came architectural expressions in the form of abodes for the town's new elite. In the historic Kamestisuhan district, we see the creations of the town's belle epoch age as we enter the Tanjosoy family home. The exterior looks typically 19th century – a two-story bahay-na-bato structure with adobe walls and oversized capiz windows; but inside suddenly reveals a profusion of playful curves, feminine forms and sinuous lines, the work of master sculptor Isabelo Tampinco who imbued this home with an extraordinary art nouveau idiom.
Nearby at the former residence of Albeta Uitangcoy we learned, over a savory snack of the city's famed empanada de kaliskis (literally scaly meat pie), about the exploits of 14 women who fought for educational reforms and empowerment. They became known as the Women of Malolos, an extraordinary feat of woman power in a time of revolution dominated by male characters of a 19th century feudal society.
But Malolos is not all revolutionary history. A surprising twist in our recent visit was the discovery of a wealth of Art Deco heritage in the city. Think 20th century modernist architecture in the inter-war years: stylized forms, sleek lines and machine-age aesthetics of the Commonwealth up until the immediate Post-War years.
We appreciated this design theme as we explored various city landmarks such as the Bulacan Provincial Capitol and Malolos Municipal Hall (notice both structures' jazzy staircase). Over at the old Kamestisuhan quarter, we spotted more of the Art Deco theme at the neighborhood's assemblage of historic homes. There is the former Adriano family home with her elegant woodwork which can be openly appreciated by those paying their utilities at this now Meralco office. Nearby, the Crisostomo mansion's geometric wood-finished interior takes inspiration from period cinema houses of yore.
But the crowning jewel of Malolos' heritage houses is undisputedly that one built by Dr. Luis Santos in 1933. To say it is the city's most beautiful mansion is an understatement, as it quite possibly the most spectacular Art Deco style home in the entire country. A true marriage of professional success and artistic patronage, Santos was considered the top ophthalmologist in the country in the 1920's who was just as adept in performing eye surgeries as he was in commissioning celebrated artists of his time to decorate his new home. The result is a magnificent Art Deco masterpiece crafted with the finest local hardwoods from Bicol, fashioned into opulent stylized reliefs throughout the interior.
And to up the ante, painter Fernando Amorsolo and sculptor Guillermo Tolentino, both eventually declared as National Artists, added their artistic weight in the ceiling and front lawn sculpture of the mansion.
Outside the Kamestisuhan historic quarter, we complete our Art Deco-themed circuit by heading out to the Chiong and Galman-Cruz family homes, worthwhile specimens for our Deco groupies, specially arranged by our hosts from the city's tourism office.
Malolos turned out to be more than just the ordinary textbook historical destination, it was delightful architectural surprise. Living in Manila, it's so easy to overlook this little city, practically considered a suburb of the metropolis, as an exciting day trip. But as I realized, even the most jaded of destinations sometimes deserves another look. And I'm glad this time, I got to see Malolos in a new light.