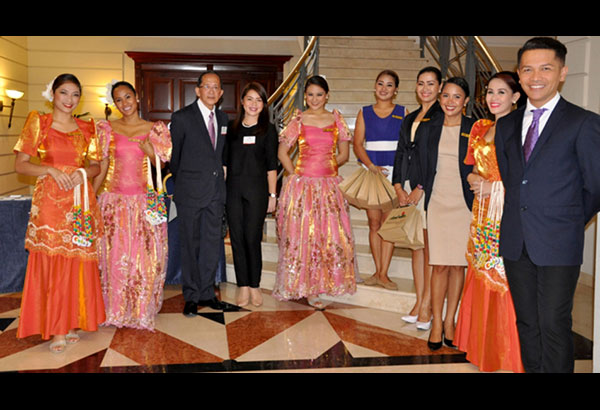 The Plantation Bay team with GM Efren Belarmino and director of sales Jid Velaso (third and fourth from left).
Plantation Bay wows Russia
Ehda Dagooc
(The Philippine Star) - June 24, 2017 - 4:00pm
MANILA, Philippines - Cebu-based Plantation Bay Resort and Spa made a historic move to promote the country as the next destination for Russian tourists.
The five-star resort property led by general manager Efren Belarmino and director of sales Jid Velasco conducted a 10-day roadshow to the two big cities in Russia – Moscow and St. Petersburg – last May in conjunction with President Duterte's state visit.
Plantation Bay brought 18 of its resort personnel, including their famous dancing staff, to show off the beauty of the Philippines and Cebu to key Russian travel specialists and tour operators.
Belarmino noted that never before has a resort property taken the initiative to promote not only itself but the country as a preferred destination of wealthy Russian travelers.
Despite its many charms and attractions, the Philippines still is still not a top choice vacation site, compared to other countries in Asia. In fact, Belarmino said most of the Russian travel operators have limited knowledge and recall of the Philippines as a destination.
Plantation Bay hosted lavish five-star dinners for Russian travel partners and key movers at the Radisson Royal Hotel in Moscow and at the Kempinski Hotel Moika in St. Petersburg.
President Duterte's friendly overture to Russia is expected to bring an influx of these high-spending travelers to the country.
The roadshow, Belarmino noted, was made successful through the hands-on support of Russian Federation honorary Consul Armi Garcia, who helped the delegation to link up with key people in Russia.
The 255-room water surrounded resort facility, is situated on a sprawling 11.5-hectare property in Barangay Marigondon, Mactan Island.
Russia used to be among the resort's top foreign visitors, and Belarmino hopes to rekindle this very important market.
Plantation Bay is also anticipating more foreign tourists once the Mactan Cebu International Airport Terminal 2 will be opened next year.