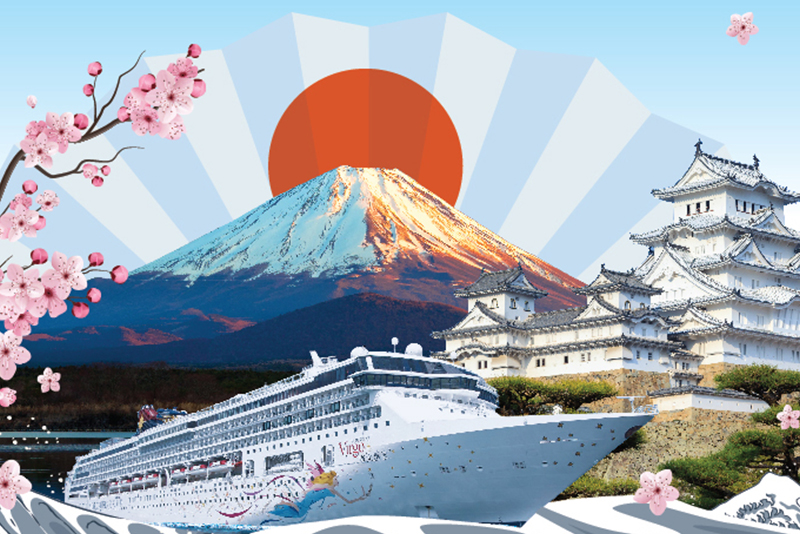 Known as the "Golden Land Route," these tours also take in Mt. Fuji, the majestic symbol of Japan, and Kyoto, the historic capital of Japan. Photo release
Shanghai to Japan cruise route launched
(philstar.com) - June 23, 2017 - 6:36am
MANILA, Philippines — Due to popular demand, a cruise liner has launched a new cruise route.
Leading cruise liner Star Cruises has enhanced its itineraries from Shanghai to meet International standards of eight-day, seven-night voyages, now taking in the capital city of Tokyo and the iconic Mt. Fuji, two "must see" destinations in Japan, in addition to Osaka and Kagoshima. The new cruise season will begin on July 6 and extend to November 30 to also take advantage of the beautiful autumn foliage in Japan.
Known as the "Golden Land Route," these tours also take in Mt. Fuji, the majestic symbol of Japan, and Kyoto, the historic capital of Japan. The cruise industry has also benefited from Japan's popularity as a vacation destination, with over two million passenger destination days in the country in 2016.
In fact, cruising offers even more value and convenience with ships calling to multiple ports, with rich cultural land tours, all within the comfort of your own floating resort at sea!
Guests aboard SuperStar Virgo can visit Tokyo, Mt. Fuji, Osaka, with land tour options to include Kyoto, and Kagoshima, with spectacular views of the active volcano, Mount Sakurajima, in Kagoshima Bay. The "Golden Sea Route" cruise vacation will also appeal to families, with cabins on board Virgo able to accommodate three to four guests working out to be one of the best value holiday options to some of the most popular destinations in Japan.
"The average cruise length from China tends to be short, at four to five nights, with calls to secondary port cities. The cruise ship itself is the primary attraction," says Ang Moo Lim, President of Star Cruises.
On board, guests can enjoy an immersive Japanese experience with complimentary local delicacies such as Takoyaki (octopus balls) from Osaka and Sushigaku, a Tokyo specialty, with Balcony and Admiral Class passengers also receiving a complimentary Yukata set. For unparalleled onboard shopping, guests can also take advantage of a wide selection of popular Japanese merchandise and Enrichment programs with a touch of Japanese flair are also available throughout the Shanghai homeport deployment, including floral arrangement and Origami classes providing guests a more in-depth appreciation of the Japanese culture.
Passengers will appreciate the ease of a cruise vacation as they can visit a variety of attractions without the hassle of multiple flights or bus journeys or the stress of having to re-pack and travel to different hotels. For an in depth cultural experience, Star Cruises' shore excursions will focus on sightseeing with added local traditional shows in various ports prior to departure.