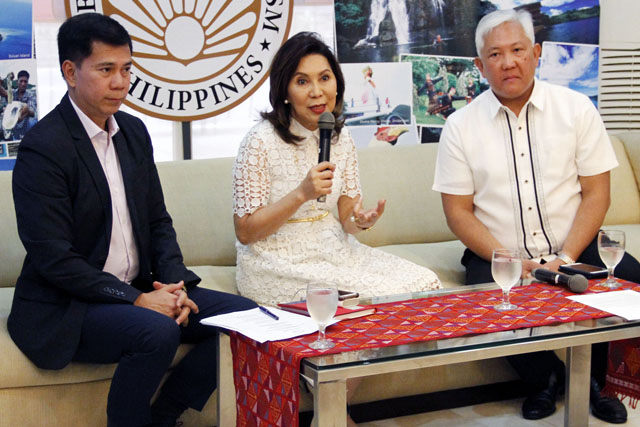 In this photo, tourism officials hold press conference at the DOT Media Center, DOT Bldg., Makati City on Wednesday, June 7, 2017. Philippine News Agency / Ben Briones
DOT unveils new 'Experience Philippines' promo video
MANILA, Philippines — The Department of Tourism has released a new tourism campaign video amid safety issues hounding the Philippines.
At a press conference on Wednesday, DOT, led by Tourism Secretary Wanda Corazon Teo showed a 60-second campaign video tagged "Experience Philippines" to members of the press.
Teo said the video will be shown simultaneously during flag-raising ceremonies on Independence Day, Monday.
The "Experience Philippines" promotional video featured tourist destinations in the Philippines, including the Banaue Rice Terraces, Paoay Sand Dunes, and Calle Crisologo in Vigan.
It was based on a blind Japanese retiree named M. Uchimura who decided to live in the Philippines.
"Here ,you don't have to see the sun to discover radiance. You don't have to see color to experience vibrance. You don't have to see smiles to know you're safe You don't have to see to feel you're home," the ad says.
It ends with: "Life feels better when with Filipinos."
The ad comes in two versions, a 30-second one and a 60-second one. It will also be aired on television soon.
New DOT ad features Japanese who retired in the Philippines @PhilstarNews pic.twitter.com/2NLP0bktPU

— Rosette Adel (@rosette_adel) June 7, 2017