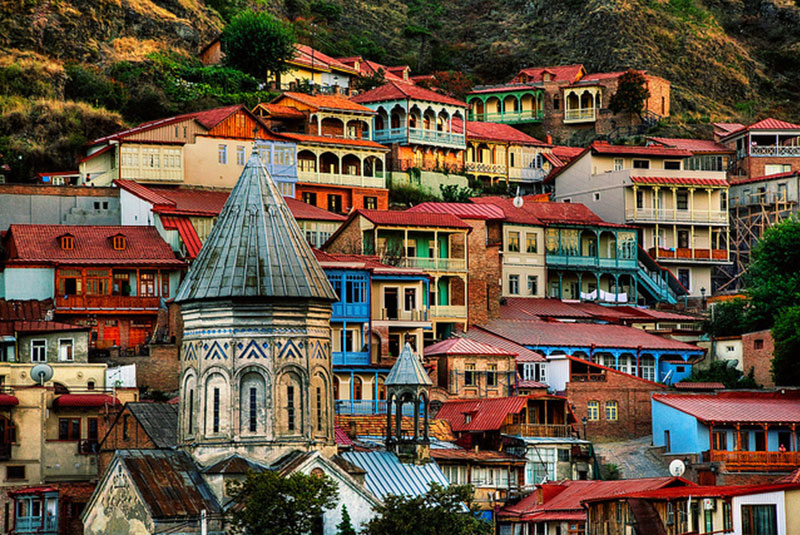 Old Town T'bilisi and the multi leveled houses
Georgia…" Okay, I can sing the first word like Ray Charles swooning over a woman by that name, but I will end it there. It's not the "Peanut State" of former American President Jimmy Carter we're talking about, but the Georgia located in Northwest Asia, between the Caspian Sea and the Black Sea, with next-door neighbors Azerbaijan and Armenia, sharing the Great Caucasus Mountains.
For centuries, Georgia was a center of commerce and trade route to the Far East. These three neighbors had a common, tough history of being occupied by Russo Russia. (Russia still occupies two areas belonging to Georgia — South Ossetia and Abkhazia — an ongoing point of contention.)
We reached its capital, T'bilisi, formerly known as Tiflis, by crossing the border from Baku, Azerbaijan: a smooth drive, thanks to our Azerbaijani guide who tipped tour operator Arlina Onglao, and for a few dollars more, we could hire a van to drive past the border and have our luggage unloaded to our waiting van on the other side of the fence.
"Gamarchova (Hello)!" greeted Nina, our Georgian guide while driver Valerie revved up the engine. Nina continued, "Madlova is 'Thank you.'" But get a load of this:
"Mama" in Georgian means father while "Deda" is mother. Georgia's alphabet and vocabulary have this way of bunching consonants together, making it kind of tricky to pronounce.
First must-see: The Signagi Georgian National Museum for its impressive collection of art paintings by local artist Niko Pirosmanashvili, including medieval Christian art, stunning gold and silver jewelry, coins (numismatics) and changing exhibitions on art, culture, science and education.
Just outside the museum, I saw red, lumpy things hanging on strings that looked like Spanish chorizo. "What are they?" I asked. "Churchkhela," Nina replied. "They're walnuts with grape jus poured on it repeatedly until a chewy, waxy exterior forms."
"What about those thin, multi-colored crêpes?" I asked. "Tklapi. Georgian's version of fruit roll-ups made from puréed fruits spread thinly on a sheet, sun-dried on a clothesline, then rolled" like ice cream barquillos. They tasted tart and sweet like champuy. "What's the shelf life of tklapi?" I asked. Nina exclaimed: "Years!" Whoa! Finally, a pasalubong that has no expiry date.
By then, we were ready for a good proper meal: Georgia's famous khachapuri. It was a brag dish. Bubbling cheese on a canoe-shaped crust with butter and a cracked raw egg thrown in. You swirl the egg to cook it fast and take a big bite of the tongue-singeing pizza crust. Another version uses local cheese called sulguni stuffed in the crust, baked, and smothered with butter. Toothsome.
Another dish, khinkhali, is similar to the Chinese xiao long bao dumplings, filled with hot broth and minced meat. You bite a small hole on the side, slurp out the broth before sinking your teeth into the filling. Their local bread puri (poo-REE), baked in huge clay ovens called tones that reminded me of the Indian naan. Delish.
We then entered a little courtyard for a sampling of locally produced Georgian wine with the label Pheasant's Tears. It carried an amusing tale: "Only a wine beyond measure could make a pheasant cry tears of joy!"
From a hilltop, Nina drew the curtain to a magnificent view of T'bilisi blazing with lights casting a yellow, topaz glow on government buildings, bridges, as well as historical and heritage monuments. "Like Paris!" I thought. A bit gritty, but warm and welcoming.
The following day, we went to the Old Town for a walkabout (or rather, Georgia-bout) and a closer look at its attractions:
1) The equestrian statue of King Vakhtang Gorgasali, founder of Georgia, on an elevated cliff facing the Mtkvari (Kura) River. The statue is on the grounds of the Georgian Orthodox Metekhi Church of the Assumption. Metekhi lost its religious functions when it was converted to military barracks during the Soviets' occupation of Georgia until the head of the Orthodox Church, Catholicos-Patriarch Ali Georgia Ilia II, campaigned to restore it as a church of Worship.
2) The sulphur baths in the Abanotubani Bath District with semi-circular tiled dome and glass windows. Long ago, women stayed the whole day in these baths, eating, drinking tea, chatting, showing off their dresses and jewelry and making chica-chica. Matchmakers (Think Yente from Fiddler on the Roof) made a killing defying spinsterhood. According to one author, "The fate of many beautiful women had been decided in the baths."
For lunch, more Georgian dishes at Maspindzelo restaurant: chkmerulad, or sizzling mushrooms with cheese and cream; chkmeruli (chicken with garlic and sour cream enhanced by hot adjika chili sauce); and chvishtari, another Georgian dish made of corn flour, shaped like a scone and filled with local cheese. Notice these dishes all begin with the double consonants "ch"? They're addictively delicious.
3) The Gabriedze Marionette Theatre. My favorite! It's been years since I've seen a theater devoted to puppetry, post-Jim Henson's Sesame Street. The founder, Gabriadze, has a name so similar to my grandson's, Gabriel.
We strolled around the Old Town and found a Catholic Church (of the Assumption) in one of its narrow streets. There was the crooked Clock Tower, the statue of the Light Keeper and the inviting aroma of fresh brewed coffee from Sans Souci Café with its attractive cafe curtains made of cotton eyelets, embroidered with famous art figures and theater characters.
The houses in the Old Town are characterized by deep, elaborately carved, wooden balconies painted white, teal blue, cinnamon or green. They reminded me of cakes with marshmallow icings. Fancy woodwork, stone reliefs and glass balconies looked like they had been torn from fairytale books.
I was advised to wander around the Old Town without a map, for more discoveries. True enough, I spotted an elderly woman baking puri in a deep pit oven next to the sidewalk.
Also not to be missed:
4) The towering statue of Kartvlis Deda, the Mother of Georgia on a hilltop, next to the Narikala Fortress. The statue holds a cup in one hand, and a sword in the other, meaning: if you come in peace, she welcomes you with a drink; but if you come as an aggressor, she brandishes the sword to swoosh off your head.
5) Tsminda Sameba Church or The Holy Trinity Cathedral of T'bilisi. Colossal! Built on a hilltop of St. Elijah, in the heart of T'bilisi, it is the main cathedral of the Georgian Orthodox Church with nine chapels dedicated to the archangels and saints, particularly Saint Nino (not to be confused with Sto. Niño). The complex is also the official residence of the head or Patriarch of the Orthodox Church.
6) The Mtskheta is a town about 20 kilometers from T'bilisi. This is the site where Georgia was converted to Christianity. It has a commanding view of the two converging rivers, Mtkvari and Aragvi. The tongue-twisting Svetitshkhoveli Cathedral, the Jvari Monastery, and the Samtavro, where Saint Nino lived and prayed, left us a with a deep sense of appreciation for what Georgian Orthodox Christianity is all about.
7) Another beautiful church is Sioni Cathedral of the Dormition, also in the Old Town. Look up at the elaborate fresco of Christ on the domed ceiling.
Georgian women are expected to dress decently when visiting churches or praying, so we helped ourselves to long skirts located just by the door of Sioni Cathedral. While inside, a Georgian lady approached me and struck up a conversation. "Do you know why the head must constantly be covered?" I waited for her to continue. "As a sign of humility and piety, just like the Virgin Mary. The devil is always on the lookout to win disciples who'd turn against God; when he sees your head covered, he passes you by," she noted. Whoa! I quickly adjusted my headscarf.
8) The Flea Market on Dry Bridge. What a genuine goldmine for bargain hunters and collectors. I spotted Soviet historical memorabilia (medals, war pins), coral, turquoise, garnet jewelry, farm furniture, porcelain china, glassware, even swords and daggers. Remember to haggle. Use the old trick of pretending to move away so the vendor softens his stand. Next to it is the Art Walk for a wide selection of fanciful paintings, sculptures, hand carvings, icons, pottery and leather craft. It was tempting to bring some home.
9) Open Air Museum of Ethnography for samples of houses that depict Georgian's folk culture from different regions of Georgia. Each house was a showroom of tools, textile, ceramics, furniture, tapestry, and other typical native ware. In the Giorgitsminda House and Megrelian House, for example, guides are attired in clothes worn during that era.
10) Rustaveli Avenue. This street was named after a Georgian poet, Shot Rustaveli. You'll feel the pulse of a multi-cultural population. Sidewalk cafes, boutiques, fast food chains, blend with traditional delis, bakeries, local wine, fruits and nuts stores. Georgians love their bread and it was a common sight to see Georgians holding hot khachapuri, best eaten on the run.
When I think of Georgia now, I think of her backed by awe-inspiring mountains, cobblestone streets, crayon-like houses, Orthodox cathedrals and monasteries, art nouveau buildings, Soviet Modernist structures, and Kartlis Deda looming atop a dramatic fortress, welcoming visitors à la Supra. Foreign invaders never succeeded in destroying Georgia's spirit, nor erase its rich culture. She continues to guard and preserve whatever is uniquely Georgian — in its art, culture, wine, dance, music and cuisine.
You know how it goes: "Just an old sweet song keeps Georgia on my mind."