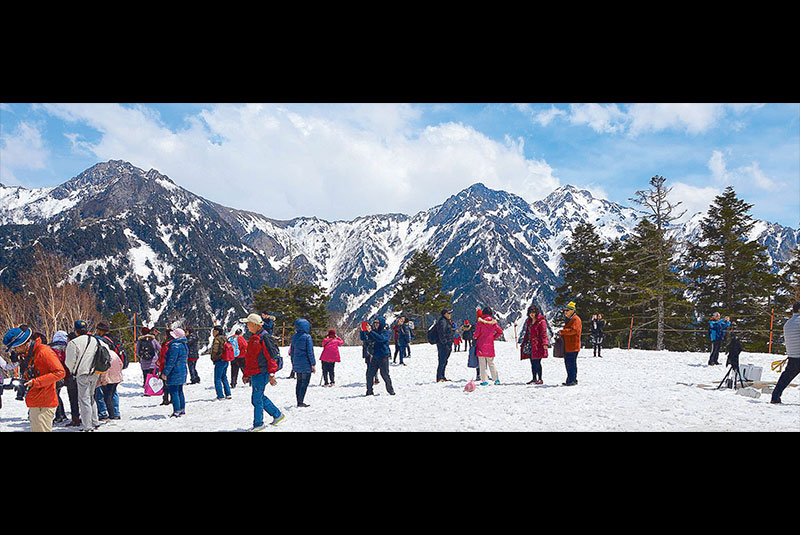 High adventure: At 2,500 meters, Murodo is the highest point on the Tateyama Kurobe Alpine Route. You can drink delicious spring water or even take a bath in a hot spring.
MANILA, Philippines - Could there be a more beautiful reason to go to Japan between March and April than the cherry blossom season? We were in Nagoya towards the end of April to catch the last of the cherry blossoms (sakura) before they faded out of sight (we were actually on a five-day media tour of the Chubu Area). But other than these awesome harbingers of spring, we saw a city in full bloom, having jetted our way to Nagoya via Jetstar Japan.
Sights and sites
There are breathtaking sights to see and unique architectural wonders and historical sites that have withstood the ravages of time to marvel at, side by side amazing technological advances.
The Nagoya Chubu Centrair International Airport is an attraction in itself. Arriving and departing at Centrair is smooth and fuss-free, plus you can enjoy assorted leisure facilities. Relax in a bathhouse and watch planes coming and going. The airport boasts fine restaurants and shops to occupy your waiting hours.
And now, let me walk you through some of Nagoya's must-see features.
Drawing the third largest number of tourists (after Tokyo Disney Resort and Universal Studios), Kariya Highway Oasis is a unique rest stop for weary travelers as it comes with an amusement park with shops and food stalls. It's also got a hot spring — cool! And if you get hungry, look for that shop that specializes in ebi-senbei (crackers from starch with shrimps). The marketplace teems with the freshest fish and veggies sold at very cheap prices. (Cheap is a word we don't use often in Japan.)
Magome is a most well-kept ancient accommodation station. Popular during the period was the blue color, called Japan Blue, which Claude Monet referred to as "Japonism." The town has been beautifully restored, lined with refreshing greenery. As you walk through the old town, feel the vibe of the Edo period. Like the place that served as the accommodations of the feudal lords. Also, visit the museum where you may chance upon the works of Shimazaki Toson, popular author who wrote the novel Yoakemae (Before the Dawn).
It's not every day that you get to see a national treasure such as the Matsumoto Castle in Matsumoto City, Nagana Prefecture. The oldest existing five-story castle, it was built by a lord who must have been so powerful because not many lords were allowed to have five-story castles at the time. Plus back in the 16th century, the lords were only allowed one castle each; the castles burned during the war and only 12 were left, of which five are now designated as national treasures.
All roads may as well lead to the Tateyama-Kurobe Alpine Route, the most popular (and most spellbinding) mountain scenic route. It connects Tateyama and Omachi by crossing the Tateyama Mountains, the Kurobe Riber, and the Hida Mountains using different modes of transportation. It's more than awesome, you won't see anything quite like this!
Raise the roof
Leaf through a cherished page in history as you visit the historic villages of Shirakawa-go and Gokoyama, named UNESCO World Heritage Sites. These villages have clusters of farmhouses and due to the considerable snowfall in this mountain region, the houses were constructed in such a way as to shed snow from their roofs. These Gassho-style houses have slanted thatched roofs that can withstand heavy snowfall. The houses are large enough (three to four stories) to fit extended families. The upper stories were used as space for silkworm beds — silkworm farming flourished in the 16th century until the '70s — while the first floor was used for the production of nitre (material for gunpowder).
Takayama means "high mountain" and you get a different kind of high in this mountain city. Its high altitude and isolation allowed it to develop its own culture for over 300 years. Take in the sights and later, indulge in the local foods — beef, soba, ramen, downed with a robust shot of sake. Hai! If you're not nursing a hangover, visit the morning market of Asaichi, one of the biggest in Japan.
Gujo City is known for its canals, fountains and waterways that are still used for washing rice and vegetables, and doing laundry. The canals are kept so clean and the water so fresh — Gujo is proud of its drinking water, and visitors enjoy the pure mineral water that flows straight from the tap. Gujo is also famous for its food replicas (those plastic food models you see in resto display windows). They look so real — and good enough to eat — that the imitation ingredients are even chopped up as they would be when you're actually cooking. A real big hit with visitors is when they try their hand at creating their own plastic food art using wax, watercolors, and lacquer thinner, like we did.
Jazz the way you like it
Just because you love jazz, get to visit Jazz Dream Nagashima, an outlet park themed after New Orleans, USA, the hometown of jazz music.
For those with a green thumb, it's worth visiting Nabana no Sato, a botanical garden with one of the biggest flower parks in the Tokai region. It's got a big greenhouse of begonias and roses from all over the world. Tulips are abloom in spring while dahlias are a sight to behold in autumn. A must-watch spectacle in the park is the evening illumination — you just have to see it for yourself!
Now, this one will drive you crazy: the Toyota Commemorative Museum of Industry and Technology (or simply Toyota Tecno Museum). Here's some trivia: Did you know that Toyota started as a textile firm (a red-brick textile factory built in 1911) and evolved over the decades into an international car producer? So, what you'll see here are the old textile looms and get the ride of your life as you travel through the history of cars. More, you get to meet those high-tech robots! And yes, you can enjoy the active displays as you unravel the progress of technology.
For your last stop, visit the SCMaglev and Railway Park, a railway museum owned by the Central Japan Railway Company. Marvel at the 39 full-size railway vehicles, train cab simulators, bus exhibit and railway dioramas as you discover the progress of high-speed railway technology and the impact of railways on society.
Where to stay in Nagoya? Your home away from home includes: Hotel Buenavista in Matsimoto City, APA Hotel in Toyama City, Business Hotel in Gujo Hachiman City, and Tokyo Daiichi Hotel Nishiki in Nagoya City.
Having seen and experienced all this, it's no wonder that those who come to Japan will tell you, "You gotta go to Nagoya!"
* * *
Jetstar Japan, the larget domestic low-cost carrier in Japan, flies direct from Ninoy Aquino International Airport, Manila to Chubu Airport in Nagoya, Japan four times weekly. With late- night departures from Manila and evening return flights from Japan, visitors flying Jetstar can maximize their holiday time in Japan. As Jetstar Japan also flies to 11 domestic destinations, such as Sapporo, Fukuoka, Kagoshima, customers will be able to fly beyond Nagoya, Tokyo, and Osaka on a singe booking and see more of Japan for less. Prices for one-way flights from Manila to Japan start at P3,000 during sale events. For inquiries, call 810-4744 or visit http://www.jetstar.com. Photos by FELIX SUERTE