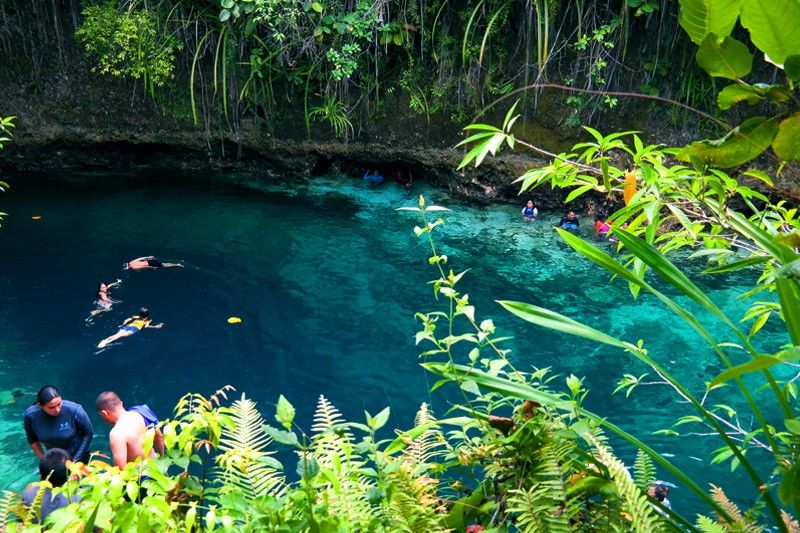 The Enchanted River of Hinatuan town is Surigao del Sur's hidden gem.
CC BY 2.0/Bro. Jeffrey Pioquinto, SJ
3 tourist-friendly provinces that will teach us about water this summer
MANILA, Philippines — A nation of natural wonders, the Philippines is teeming with pristine beaches, powerful waterfalls, enchanted rivers and massive lakes. Often, these beautiful bodies of water draw local and foreign tourists to the towns or provinces they are located.
But more than just visiting and appreciating these eco-tourism destinations—especially now that summer has arrived—travelers can also learn the value of water to its communities.
Here are three local efforts that will inspire travelers to conserve water wherever they may be:
The protection of Enchanted River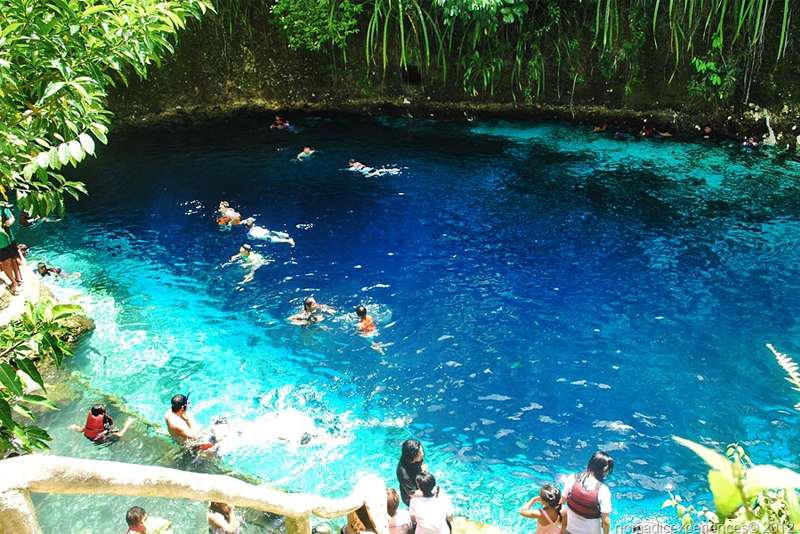 To preserve its natural beauty, the local government of Hinatuan has prohibited tourists from swimming at the Enchanted River. nomadicexperiences.com/Marky Ramone Go
Surigao del Sur did not use to be in the radar of travelers but this has changed thanks to its gem, the Enchanted River of Hinatuan. Known for its picturesque features and the water's clarity, the river is also believed to be inhabited by mermaids, spirits and fairies. In fact, folklore has it that these unseen inhabitants protect the river from outsiders.
As tourism spiked in the country, so did Enchanted River's popularity. Thousands of Filipinos and foreigners now visit the river daily—effectively making Surigao del Sur as a top tourist spot in Mindanao.
The local government of Hinatuan has thankfully taken a bold step to preserve its natural wonder. In March, it announced that tourists are now prohibited from swimming in the river. The decision has stemmed from research that too much human activity in the river may endanger the ecosystem.
Understanding is asked from everyone so that future generations can see and appreciate the beauty of the Enchanted River.
The birthplace of rampump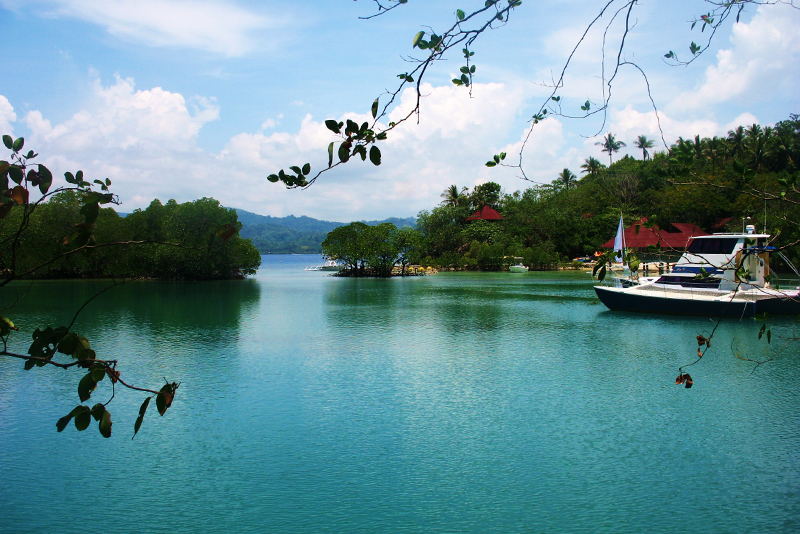 Danjugan Island's Moray Lagoon. gridcrosser.com/Roel Hoang Manipon
Negros Occidental remains one of the most underrated Philippine destinations. Nonetheless, its potential for tourism growth is undeniable.
Start in Talisay City where the picturesque The Ruins stands to this day. Then go northeast to Sagay City where you can snorkel at Carbin Reef and visit the ancient mangroves of Suyac Island. Both are part of the 32,000-hectare Sagay Marine Reserve.
Head southwest to Cauayan City and discover Danjugan Island, a 43-hectare sanctuary with five lagoons, 70 bird species, 572 fish species belonging to 139 genera, 244 hard coral species, 17 mangrove species, at least 10 bat species and 22 butterfly species.
Of course, don't forget Bacolod City, the gateway to these prized destinations. The provincial capital is also the birthplace of Alternative Indigenous Development Foundation Inc. (AIDFI), the non-profit organization that invented the award-winning hydraulic rampump.
This technology harnesses the power of underground falling water to pump water up and distribute it to uphill communities. And while it sounds simple, rampumps have proven life-changing to Filipinos living in remote areas who don't have access to safe-drinking water until AIDFI's intervention.
Today, AIDFI has already installed ram pumps to over 3,000 villages all over the country.
The home of Kalinawan River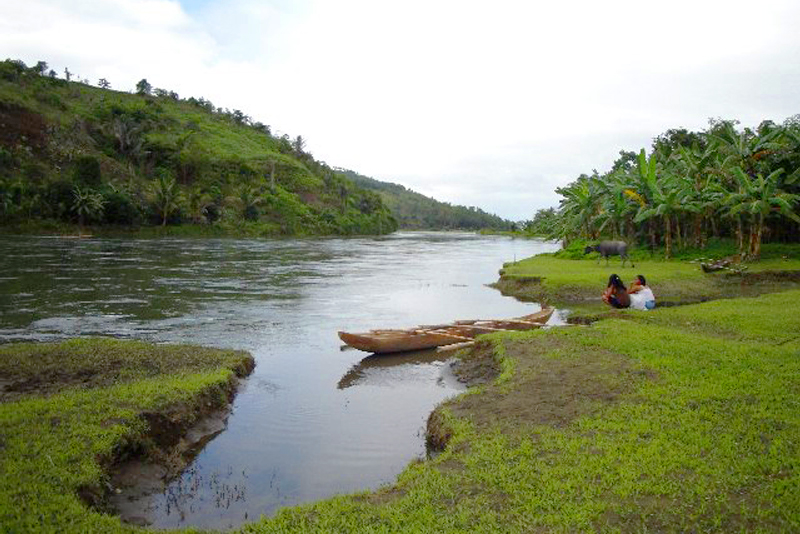 Agusan del Norte is home to Kalinawan River, considered as the cleanest inland body of water in the whole Caraga Region. Lake Mainit Development Alliance/Released
Not much is reported about eco-tourism in Agusan del Norte but the province has so much to offer. It is home to Kalinawan River, considered as the cleanest inland body of water in the whole Caraga Region. Its name even comes from the word Filipino word linaw, meaning clear.
Stretching for 29 kilometers, the river passes through the municipalities of Jabonga, Santiago and Tubay before it finally empties unto Butuan Bay. It is also the only outlet of Lake Mainit, which is the fourth largest lake in the country and a tourist destination in itself.
Tourists can go canoeing on the river and the lake, which serves as ancestral sites and fishing grounds to the Mamanwa tribe.
To preserve the cleanliness of Kalinawan River, locals from surrounding towns regularly join riverbank cleaning and replanting activities organized by a private company along with the Department of Environment and Natural Resources.
Agusan del Norte further implements its water conservation efforts through the Butuan City Water District (BCWD). Since its establishment in 1974, BCWD has championed water causes by holding seminars, workshops and even a water conservation festival.
#EveryDropCounts
About 71 percent of Earth is covered with water but only 2.5 percent of this is freshwater. Thus, #EveryDropCounts as clean water for consumption and usage is becoming limited.
Just like Agusan del Norte, Negros Occidental, and Surigao del Sur, Colgate-Palmolive is also doing its part to conserve water. The company's Save Water campaign encourages everyone to "pledge" simple practices that when done collectively, will make a big change.
Start by turning off the faucet while brushing teeth, washing hands, and washing dishes and save thousands of gallons in year. For its part, Colgate-Palmolive has reduced water consumption in manufacturing and thereby saved enough to fill approximately 20,000 Olympic-sized swimming pools.
To know more about the Save Water campaign, visit http://everydropcounts.colgate.com/.