#ThrowbackThursday: 4 Malay-Filipino traditional games that will take you back to your childhood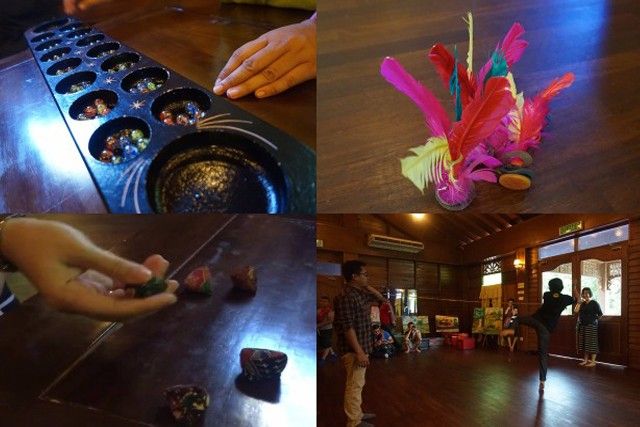 MELAKA, Malaysia — One museum center in Melaka, Malaysia is not your usual establishment where there are only exhibits of artistic and cultural finds, and have historical artifacts and distinct collection on display.
At Muzium Hang Tuah or Hang Tuah Centre, not only can you feast your eyes on cultural, historical and informative displays but you can also enjoy them for yourself.
Among the interesting cultural finds in Hang Tuah Centre are their traditional games, which resemble some games in the Philippines.
There are four games on display and available for playing inside the museum: congkak, capteh, batu serimban and zero point.
Congkak
If in the Philippines our traditional board game is sungka, in Malaysia, they have their own version called "congkak." It is also being played in Indonesia.
Congkak and sungka use the same material of wooden block with seven circular holes and two large holes at both edges, each of which is considered the home or territory of the respective players. However, the pieces inside the hole vary for each country.
Back home, players use shells while in Malaysia, they traditionally use marbles or what Filipinos call "holen." Some locals say as an alternative for marbles, Malays use shells, pebbles or seeds.
Both Malaysian and Filipino sungka require two players and go by the same rule of removing pieces from the hole and distributing seven to all the circular holes except the home of the opponent in a clockwise motion until the last piece runs out. The only difference is that Malays play simultaneously while Filipino players get to play it by turns.
Capteh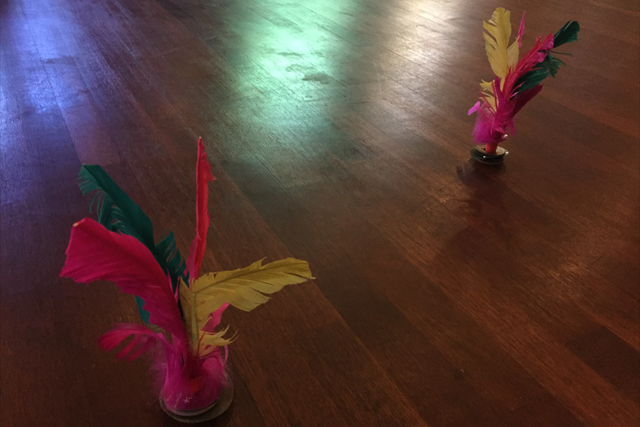 In Malaysia, their larong sipa is called "capteh." Philstar.com/Rosette Adel
The Malay version of the Philippines' "larong sipa" can also be found in Hang Tuah Centre. They call their version "capteh," which is also popular in Singapore.
Larong sipa or the game of kick was previously considered as the Philippine national sport until it was dethroned by "arnis," which was declared as the national martial art and sports of the Philippines in 2009 under then President Gloria Macapagal-Arroyo.
Compared to the Malaysian version, larong sipa uses simple materials. Capteh is more stylish as its shuttlecock is embellished with colorful feather while the Filipino adaptation is made of washer with only colorful plastic straws.
The games are similarly played by a single player and by tossing it using one foot and the knee without the shuttlecock or washer hitting the ground.
Batu seremban
Another Malay traditional game similar to Filipino's is the Batu Seremban, also known as Selambut or Serembat. It is the Malay version of jackstones, which reportedly originated from South Korea and was adapted by Filipinos.
Unlike jackstones where the pieces are literal jackstones and a small ball, batu seremban have more personalized pieces. The game requires five pieces called fruits, which are small and triangular in shape.
The fruits are made from a cloth bag that is personally sewn and filled with rice grains, sand, seeds or pebbles.
Both jackstones are being played by dispersing the pieces and collecting them one by one in every toss without dropping them.
Zero point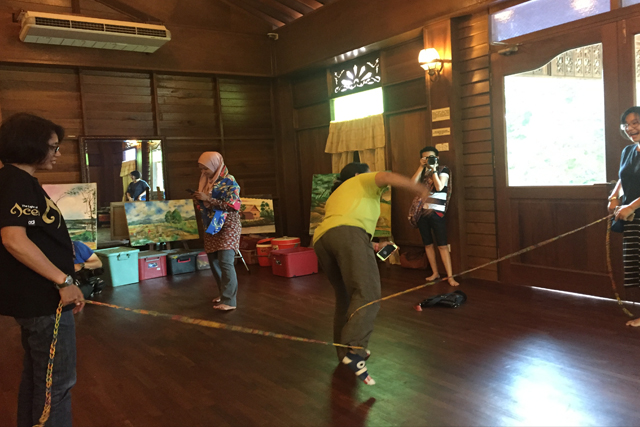 This zero point game requires balance and flexibility. Philstar.com/Rosette Adel
The popular childhood game Chinese garter also has a Malay version, and it is called "zero point."
The game requires a long chain of rubber bands and involves three or more players. Two of the players should hold the chain or rubber bands now formed as ropes at both ends and at a certain height.
The players, taking turns, should attempt to cross the rope without tripping as the rope gets elevated in every next level.
Locals say the Chinese garter game version zero point involved the making of zero point rope.
In the Philippines, the game is mostly played outdoors while in Malaysia they play it indoors due to the weather. The game is usually played by girls.
Relive your childhood by visiting this cultural center at Hang Tuah Center in Melaka, Malaysia, which is open from Mondays to Fridays.