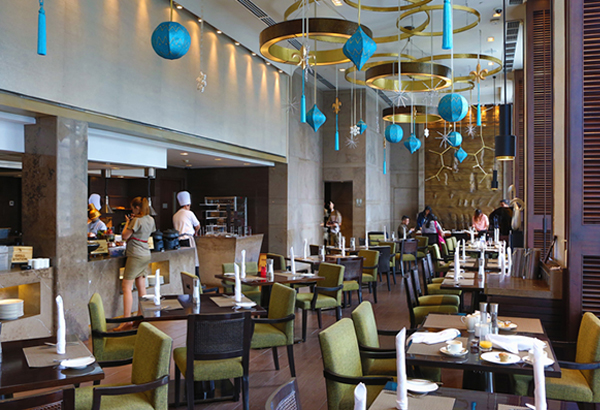 All-day dining at Cucina, located on the 24th floor of the hotel.
Marco Polo Ortigas gets it right
MANILA, Philippines - The hospitality industry is expecting an even better year in 2017, Marco Polo Ortigas Manila general manager Frank Reichenbach told The STAR in a recent interview. With almost P900 billion allotted by the government for infrastructure development next year and the improving security provided to tourists by authorities, tourism's seen to pick up the pace in the coming months.
Reichenbach, who worked in Manila in the 1980s as food and beverage manager, sees the difference in the number of tourist arrivals then and now.
"When I was here in the 1980s, there were less than a million visitors. After 30 years, the government is now expecting six million tourists. Still a long way to go but this can be implemented," he said, but pointed out, "You cannot double the number of tourists with the same airport. We also need more direct European flights."
He returned to the Philippines in July last year to head Marco Polo Ortigas Manila and is determined to propel the hotel to greater heights as it celebrates its second anniversary.
Reichenbach was named General Manager of the Year for ASEAN at the BMW Hotelier Awards held last week at The Parisian Macao.
"It doesn't get any better than this," he said. "I have workled in most countries in Asia and now I am back in the Philippines. I think this recognition is something that is really special."
He acknowledged his team at the hotel, saying, when asked what makes a great hotel, "It's the person, it's the interaction, it's the wow factor."
"In opening a hotel, there is always the time to build it up. On the first year you launch it, then on the second you consolidate. The most difficult part is to put the brand on the map – to let people know that there's this new hotel, where it is exactly and what it is offering," Reichenbach said.
The main market segment of Marco Polo Ortigas Manila, nestled in the vibrant and growing commercial district of Ortigas Center in Pasig City, is corporate guests as "leisure travelers would probably go to gaming resorts."
"In terms of occupancy, we're doing better than some of the well-established hotels here," Reichenbach said.
This is the first five-star Marco Polo hotel in the country, offering discerning guests 316 spacious rooms.
In general, Reichenbach said there is healthy competition among hotels, and the secret is to find out where the market is going or what the market is looking for.
"It always boils down to the fact that pricing is not the most important factor. There are still a lot of people who want good quality, good service. They like to go back to a place where they are recognized and appreciated and obviously you have to be consistent," he said. "You cannot make too many mistakes or upset too many people."
He cited that in travel website TripAdvisor, Marco Polo Ortigas Manila is a favorite.
"Our service has to be top and that is easier said than done. Every hotel will tell you the same thing. It is one thing to say and one thing to really deliver. So people must say you're really special," he said.
And just what makes Marco Polo Ortigas Manila a cut above the rest?
"I will say what I hear from the customers. It's the hospitality – the Filipino touch, the friendliness – it's not artificial, it's natural," Reichenbach said.
"There's also the unobstructed view, and we also get extremely good comments on the designs of the rooms. And of course, the food and beverage. Everybody loves to eat," he said.
According to Reichenbach, who has over 40 years of experience in the hotel industry, millennials now compose the bulk of travelers and they are known to be IT-savvy.
"We try to keep abreast about the latest developments on this new segment. For millennials, wireless connection is vital. They engage a lot on social media so make sure that they get the message. More than 70 percent use mobile phones. They also like spaces where they can meet so I think lobbies are important," he said.
He relates that the average age of employees in their hotel is around 30 "so we have millennials serving fellow millennials and they understand each other."
He shared that they have a lot of dedicated, diligent staff, a crucial factor in hotel operations.
"Talking to them makes them happy, and if they are happy they will stay. So we try to keep them happy in many ways. We cannot solve and say yes to all their demands, but we can do small things like provide them with smoking area, resting area. These may be considered minor but at least try to show some interest in finding solutions to their problems," the consummate hotelier said.
The hotel consistently receives a lot of good feedback and Reichenbach stressed that the key is to get it right all the time.
"When something goes wrong, we have to fix it immediately, make up for it so that when the customer leaves, he will still have a good impression about the hotel." And that's getting it right. Photos by WALTER bollozos