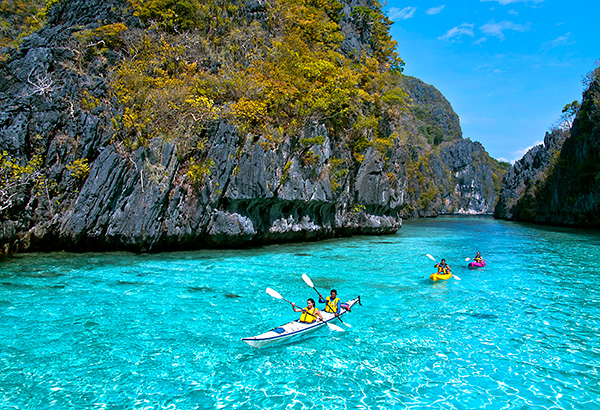 El Nido, Palawan was included in Trip Advisor's Travellers' choice awards for Destinations on the Rise released last Friday. George Tapan
El Nido voted world's 6th destination on the rise
MANILA, Philippines — One of the Philippines' top tourist destinations, El Nido, Palawan was recognized by a travel website for reviewers, Trip Advisor, as among the top destinations on the rise.
El Nido, Palawan was included in Trip Advisor's Travellers' choice awards for Destinations on the Rise released last Friday. It ranked second in Asia and was voted as the world's sixth destination on the rise.
"El Nido is known as the Philippines' last frontier, and if you're looking for magnificent beaches in an unspoiled setting, it's a perfect place for you to vacation," Trip Advisor said.
The travel website encouraged tourists to experience the island's beauty by snorkeling in an orchid-walled lagoon and staying over its cottage on stilts.
San Jose del Cabo, Mexico topped Trip Advisor's list. The ten tourists destinations which made it to the roster are listed below.
San Jose del Cabo, Mexico,

Whistler British Columbia

Jericoacoara, Brazil

Kihei, Hawaii

Baku, Azerbaijan

El Nido, Philippines

Eilat, Israel

Las Palmas de Gran Canaria, Spain

Tbilisi, Georgia

Jodhpur, India
The Department of Tourism (DOT) was pleased with Trip Advisor's recognition. It said the agency's efforts to enhance the tourist experience are reinforced by recognitions like this.
"We are very happy with the recognition of El Nido as a destination on the rise, especially as this is based on the unbiased reviews and opinions submitted by Trip Advisor users all over the world," the DOT said in a statement.
"This is an affirmation of the Department of Tourism's continuing efforts to enable quality destinations through enabling regulations and standards," it added.
The Tourism department is hopeful that other islands in the Philippines will also get recognized as it doubled its initiatives to make Philippine destinations the best choice for travellers.