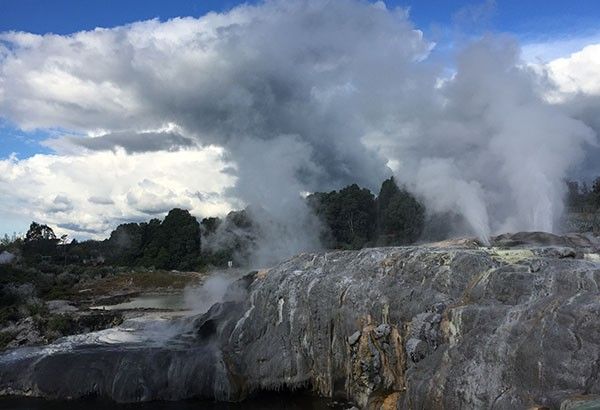 Smoke gets in your eyes: Pohutu in Rotorua is the largest geyser in the Southern Hemisphere.
Wellywood, the Wine Trail & other must-dos in New Zealand
(Part 2)
Rotorua, about three hours' drive southeast from Auckland, is a city of pungent smells. There's the sulfur smell from pockets of volcanic activity, which blanket the city in a light aroma similar to a certain bodily emission. There's the woolly smell of the sheep, which puts you in mind of Rotorua's livestock and farming culture.
In actuality it's the Maori cultural center, a geothermal valley whose residents — Maori compose 12 percent of New Zealand's population — tap into natural resources like hot springs, geysers, and mud pools for their heat and health benefits.
• Witness a real haka at Te Puia. Remember that viral video in which a Maori bride's family sent her off with an emotional haka? At Maori village Te Puia you can witness this war dance in the flesh, as well as the ladies' graceful poi dance and various love songs, complete with welcome and peace offering from a young Maori chief. We learned the Maori greeting "Kia ora," which means "hello" and "welcome."
It's believed that the Maori first arrived in New Zealand 1,000 years ago from their fabled Polynesian homeland of Hawaiki, located somewhere in the South Pacific Ocean (although ethnically and linguistically links have also been found to the indigenous Taiwanese).
When Europeans settled in New Zealand after Capt. James Cook's entry in 1769, they tried to end Maori culture by preventing them from speaking their language, and disciplining the Maori who did. "In the late 1800s the chief of our tribe thought of bringing tourism to the valley and that's what saved our culture," Te Puia host Rob tells us. All the proceeds from the shows and the hangi (a traditional Maori feast steamed underground) go to funding a school that teaches Maori youngsters their native language, woodcarving, and weaving.
www.tepuia.com
• Catch the eruptions of Pohutu Geyser by day… and night.
Perhaps the most emotional moment of my trip was gathering around Pohutu Geyser — which erupts once or twice every hour — under a full moon, as we sat on naturally heated rocks nursing cups of hot chocolate that were tepid in comparison. Rob told us the story of how, in the 1600s, the chief of the tribe that lived in the geothermal valley killed a rival chief — Rob's ancestor — so his tribe exacted their revenge: 400 men danced the haka around Pohutu and went to war against the killers, driving the incumbent tribe out of the valley and then moving in themselves. "So I grew up here," Rob said, gesturing to Pohutu's white cloud of sulfur-laced steam. The geyser provided them warmth and hot water on demand; even the hot mud from the bubbling pools soothed their bruised and aching muscles after war.
Reservations@tepuia.com
• Watch the sheep show at the Agrodome. Sheep are the stars of this entertaining show in which a live shearing takes place, as well as sheepdog herding and cow milking. Founded by top sheep shearer Godfrey Bowen, who produced the show for the World Expo in Japan, it was such a hit that Bowen and friend George Harford brought it to Wellington before establishing its permanent home in Rotorua. Afterwards you can tour this working eco farm of 350 acres and feed some of its 1,200 sheep, as well as a few alpacas and llamas. Be ready to get your shoes dirty.
www.agrodome.co.nz
• Sample the award-winning lamb at Aironga Peak restaurant. If you can get over how cute the Agrodome sheep are you can taste what our guide, General Travel's Anna Black, says is New Zealand's quintessential dish, lamb, at this 75-year-old restaurant, now owned by an antique collector from Hong Kong. If you can't, you can always order salmon and savor the awesome view of Rotorua.
Mountain Road, Rotorua, +64-7-347-0036
Where to sleep: The Millennium Hotel Rotorua, which is a short walk from the Polynesian and Lake Spas. Take a dip in one of the private or public hot-spring pools, which are set at different temperatures for a truly therapeutic spa experience.
www.polynesianspa.co.nz
TAUPO
• Walk alongside Huka Falls, or take a jet-boat ride right to its foot. The roaring blue waters of the Waikato River culminate in Huka Falls, New Zealand's most-visited natural attraction. You can choose to walk alongside the river, or, for a real thrill, take a jet boat right to its foot. Not only did New Zealand pioneer the bungee, they also invented the jet boat, which is an adrenaline-pumping ride of the first order. The best, safest operator is Hukafalls Jet, whose driver Trent was like Michael Schumacher on the water: he'd steer us perilously close to trees and rock faces before veering away at the last second and doing a 360-degree spin. (Strong warning: this ride is not for seniors, the faint of heart and those with motion sensitivity.) The reward at the end of this 30-minute thrill ride is that you are brought right to the foot of Huka Falls, from where you get the best view to take photos and video of 220,000 liters of water crashing down to form a foamy, aquamarine pool.
www.hukafallsjet.com
• Feed the baby prawns at Huka Prawn Park. Founded by two Kiwis, this prawn farm grew from 50 prawns to the six tons it ships to restaurants today. They have a nursery where you can feed these baby Malaysian river prawns, and also a restaurant if you prefer eating fresh prawns dipped in garlic butter.
www.hukaprawnpark.co.nz
• Go trout fishing with Chris Jolly. A more sedate alternative to the jet boat is the fishing vessels of Chris Jolly Outdoors, from which you can view Maori rock carvings and catch your own trout (it's illegal to buy trout in New Zealand; only licensed fishermen can catch and eat their own). We were able to catch one, which our captain sliced into trout sashimi for us.
www.chrisjolly.co.nz
NAPIER
• Take an Art Deco walking tour of Napier. On Feb. 3, 1931, a 7.8-magnitude earthquake razed the coastal town of Napier to the ground. After the devastation was cleared, architects like Ernest and Laurence Williams and Louis Hay chose to rebuild the city in the style popular at the time: Moderne, aka Art Deco. The result is a beautifully preserved city that mixes Deco hallmarks with styles like Spanish Mission, Prairie and Stripped Classical. Make it a point to also walk at night, when the city is fully lit and you can watch the illuminated, dancing waters of the Tom Parker fountain at Marine Parade beach. Napier even hosts annual Art Deco festivals where the entire town dresses up in their flapper finest.
• Wine and dine your way through the Classic New Zealand Wine Trail. NZ has three major wine-producing regions, including Hawke's Bay, Wellington and Marlborough. While the 380-km Wine Trail would take four days at minimum to explore, if you're not a serious connoisseur you can drop in at one of over 100 cellar doors as we did, at Mission Estate Winery, begun by 12 Marist priests. There, we tasted a lovely Pinot Gris, bestselling VS Rosé and full-bodied 2013 Reserve Malbec, and had a very fine steak lunch overlooking the vineyard.
www.missionestate.co.nz
Where to sleep: Scenic Hotel Te Pania – Make sure to get a room with a sunrise view of Marine Parade beach.
www.scenichotelgroup.co.nz/locations/new-zealand/napier/scenic-hotel-te-pania
WELLINGTON
• Take a city tour on the GreatSights bus. This gives you a great overview of "Windy Wellington," whose stiff breezes could literally blow you away. You'll stop by Old St. Paul, the oldest gothic revival church in the world built of native timber; Mt. Victoria Lookout, from which you can see the South Island on a clear day; and the Wellington Botanic Garden, which features over 300 varieties of roses and a begonia house.
www.greatsights.co.nz
• Shop at Lambton Quay and Cuba Street. While Lambton Quay is lined with high-street boutiques and a David Jones department store, Cuba Street offers quirkier, cooler fare like vintage clothing and pre-loved accessories. Our most-visited shopping destinations, however, were actually supermarkets like Countdown and Pak'nSave, which are open till 10 p.m. There we scored the fruits of New Zealand's amazing dairy industry (No. 2 after tourism): bars of Whittaker's chocolate, blocks of cheese, cubes of butter, as well as vacuum-packed steaks and lamb, and jars of Manuka honey, which is prized (and priced) for its anti-cancer benefits. Manuka should have a UMF (Unique Manuka Factor) of 10 and above for it to have significant health benefits.
• Glimpse behind-the-scenes movie magic on a Weta Studio tour. Wellington is also known as Wellywood thanks to the Weta group of film production companies founded by Peter Jackson, Richard Taylor, Tania Rodger and Jamie Selkirk. Weta, which takes its name from a Kiwi grasshopper and the Maori "god of ugly things," is apt when you consider it's produced the Orcs, Uruk-Hai, goblins and trolls for the Lord of the Rings and Hobbit trilogies. What's less well-known is that it's also produced one of the biggest box-office hits of all time, Avatar. Director James Cameron, in fact, splits his time between Hollywood and New Zealand and helicopters in from his Wellington estate to work on Avatar 2 and 3. Other Weta movies include Mad Max: Fury Road, The Amazing Spider-Man 2, Man of Steel, Tintin, the Narnia movies, Warcraft, and District 9.
On the tour, which includes a Thunderbirds are Go behind-the-scenes experience, you'll get to see the creative process behind these movies: how their costumes, weapons, special effects and sets were conceived and made (usually using the most mundane of household items, like vacuum-cleaner tubes, lemon squeezers, and expandable polystyrene). Others are works of art, like the incredibly detailed armor of Sauron.
You can customize your tour with a prosthetic makeup or blood-making workshop, or content yourself with souvenirs from the Weta Cave. We were lucky to be granted entry to the Weta boardroom, where Jackson meets with Hollywood honchos. Inside glass cabinets lining the walls are the raft of Oscars and BAFTAs the studio has won, as well as a film geek's wet dream: hundreds of 3D-printed and handmade collectible figurines from LOTR and The Hobbit.
www.wetaworkshop.com/visit-us or email bookings@wetaworkshop.co.nz
• Spot the kiwi bird at Rainbow Springs Kiwi Wildlife Encounter or Zealandia. Kiwi spotting can be a "Where's Waldo?" exercise in futility if you don't know where and how to go about it. A nocturnal animal, the elusive bird is usually only "encountered" in dimly lit glass enclosures where you might be able to make it out as a small dark hump with the silhouette of a porcupine.
You have the best chance of running into an actual kiwi at Zealandia, a wildlife eco-sanctuary that has a five-mile-long "Great Wall" around it to keep out predators. There, 130 spotted kiwis roam freely and you can go on a guided night tour in search of them. We went during the day but there was still a lot to see: Tuatara lizards peering out of their holes, Karkar birds nesting in Monterey pines, and colorful Takahe birds walking nonchalantly through the grass.
• Learn many fun facts and view Weta's Gallipoli exhibit at Te Papa Tongarewa Museum. Just an hour at this fascinating museum will get you all the highlights; try to get the dynamic and engaging Phil as your guide. At Te Papa you'll learn much about New Zealand's natural history, from the earthquakes and super-volcanoes that formed the country to the fact that there are no native mammals or deadly species like snakes. We saw the skeleton of a blue pygmy whale, a colossal squid preserved in amber, and a giant greenstone from which weapons and jewelry are made.
Also don't miss "Gallipoli: The Scale of Our War," a special exhibit for which Weta Workshop made eight giant, incredibly lifelike sculptures of Anzac soldiers and one nurse whose compelling stories defined the triumph, loss and pathos of that World War I campaign. It's on until 2018.
www.tepapa.govt.nz
• Bring the kids to Space Place at Carter Observatory. This digital planetarium is the perfect place to end a day of touring. Settle back into comfy recliners and watch a short film like We are Aliens, narrated by Harry Potter's Rupert Grint, which delves into the origins of life on Earth. There are also interactive multimedia experiences for the whole family.
* * *
This November, Singapore Airlines offers promotional fares to Auckland, Christchurch, and Wellington, New Zealand. From Nov. 15 to 30, travellers can avail of all-in round-trip fares to Wellington from just US$800, to Auckland from US$950, and to Christchurch from US$950, for travel from Nov. 22 to July 31, 2017.
In addition, customers can connect onto various domestic flights in New Zealand and enjoy attractive rates through SIA's alliance with Air New Zealand. Singapore Airlines flies from Manila to Singapore four times daily, which connects to onward flights to the rest of the world. Passengers traveling from Cebu, Davao and Kalibo can fly to Singapore via SilkAir, which flies 12 times weekly from Cebu, nine times weekly from Davao, and three times weekly from Kalibo.
To book, log on to singaporeair.com or visit Singapore Airlines and SilkAir reservations and ticket offices in Manila, Cebu, Davao and Kalibo. Call 756-8888 or contact SQ's partner travel agents. Visit www.singaporeair.com for more details.
* * *
Follow me on Facebook (Therese Jamora-Garceau), Twitter @tjgarceau and Instagram @tj108_drummergirl.