Bountiful harvest for farm tourism
MANILA, Philippines - The next big thing in Philippine tourism is nearly ripe and will soon be ready for harvest. Farm tourism has started to grab the attention of farm owners and visitors in the last few years. Led by the International School of Sustainable Tourism (ISST), the 4th Farm Tourism Conference and Farm Tourism Market Festival will be held from July 14-16, to help farmers further develop their properties as a sustainable tourism product.
"In other countries, the farmers are policy makers. They are very influential," ISST president Mina Gabor says, while in the Philippines farmers are often taken for granted.
She adds that most Filipino farmers are 57 to 60 years old, with the younger generations lured to the metropolis, seeking more lucrative jobs. "They think farming is a very lowly job," says Gabor.
One way to augment the income of farmers is through farm tourism – which has become popular in other countries such as Taiwan, where families flock to farms and partake in activities such as rice planting, vegetable harvesting and others.
At first, Gabor says, they used the term agri-tourism and started actively campaigning for it in 2012, but the name did not have much appeal to visitors and was intimidating to small farm owners – "agri" made them think of bigger, industrial farms. When the term "farm tourism" was introduced, it became more accessible and the project took off. Gabor says, "Now there are more than 100 accredited farm tourism establishments" all over the country.
Aside from farm stays, other activities that can be offered in farm tourism destinations include museums (for wine, flora, butterflies), petting zoos for children, horseback riding, lagoon fishing and trekking. Many farms are also able to sell their fresh produce to visitors. The farmers know the strengths of their locations, Gabor says, so they can readily identify what they can offer.
To upgrade the standards of farm tourism by putting systems in place, creating tour packages and improving facilities, the Farm Conference was launched, organized by the ISST with the support of the Department of Tourism and Tourism Promotions Board, Department of Agriculture, Department of the Interior and Local Government, Department of Trade and Industry.
This year's congress will be held in Tagaytay in cooperation with the provincial government of Cavite and the municipal government of Tagaytay. The three-day conference will put the spotlight on the unique fusion of farming and tourism, with the theme, "Farm Tourism: Promoting Biodiversity, Contributing to Food Security."
The conference features lectures by leaders in agriculture including Jose Luis Fernandez of the Food and Agriculture Organization of the United Nations, who will speak on the "Importance of Pulses to Diet and the Environment," in line with the UN's declaration of 2016 as International Year of Pulses; "Time to Get Bee-zy: Benefits of Adding Indigenous Stingless Bees to Farm Tourism Destinations" by Asian Apiculture Association president Siriwat Wongsiri; and "Cultivate Profit: Potential of Farm Tourism as a Business" by Southeast Asian Regional Center for Graduate Study and Research in Agriculture director Gil Saguiguit, among many others.
Breakout sessions will also guide participants on the basics of starting a farm tourism business, how to create farm tourism packages and marketing and promotion of their destinations.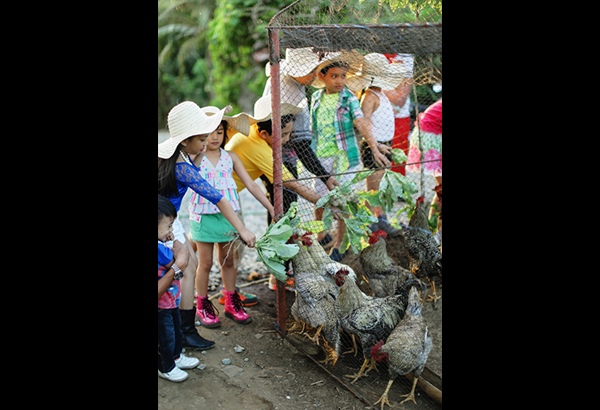 Children interact with animals at Nuture Wellness Village.
Throughout the conference, participants will also be able to interact with fellow farm owners who can share best practices in farm tourism. Farm visits will be made to some successful farm tourism destinations in the vicinity – Gourmet Farms, Flower Farm, Paradizoo and Nurture Wellness Spa.
New additions to the congress are the Farm Tourism Exhibit and the Farmer's Market, which are both open to the public. Here, visitors and participants will be able to enjoy produce straight from the farms and hear about the successful farm tourism destinations that they can visit.
With a wide variety of offerings, farm tourism can cater to all sectors – from those into healthy food and organic products which are very trendy today, to schools who want students to learn and appreciate local agriculture; from families looking for a unique activity to visitors who want to disconnect from their busy lives in the city, reconnect with nature and even enjoy an organic spa treatment. "That's the beauty of farm tourism," Gabor says.
There have been many success stories since the first farm tourism conference, Gabor adds – family farms from all over the country who have been able to harness the gifts of their land and turn them into a more lucrative business. Furthermore, the ones in charge of developing the tourism destinations are usually the younger generations – children of the farmers who have come back to their hometowns because they see a worthwhile future in farming once more.
Gabor hopes that the incoming tourism secretary will continue visiting and accrediting new farm tourism sites to sustain the progress that has been made in this budding tourism product. Hopefully, as farm tourism develops even more, farmers will soon be reaping its bountiful rewards.
For more information, call 834-2994, 0920-2258690 or email info@isstphilippines.edu.ph.