Herald Suites enters new era
MANILA, Philippines - Herald Suites may already be turning 17 this coming October but it is anything but old. A recent visit to its premises along Chino Roces Avenue in Makati showed that Herald Suites is right on top of its game. There are new facilities, renovations, and additions happening here – all aimed at bringing guest satisfaction to new levels.
The current Herald Suites is brighter, more spacious, and indeed airier than its version of five years ago (the time we last visited the hotel). It was a pleasant surprise to see the old-world charm more pronounced, with polished wood and vintage tiles completing the setting. The arrangement is more advantageous for guests to move around.
Highly noticeable were the two spruced-up food and beverage outlets of Herald Suites, Coca Café and Meridian Lounge. The latter now occupies where the dining area used to be, and what can we say? It was a good decision. Depending on one's mood, Meridian can be dimly lit or bright, but it still relaxes just the same. It offers a wide selection of alcoholic and non-alcoholic drinks, and bar chow. We cannot urge people enough to try the Choc-O-Nut Martini, a real treat for anyone who has a thing for candy-garnished liquor.
The elegant and cozy Coca Café, found at the other end of the ground floor, serves a delightful menu of local and international cuisine. Try the steaks, prime beef aged 21 days the natural way and made more flavorful with the café's special gravy.
Herald Suites' Hatsu Hana-Tei Japanese Restaurant may as well be the secret Japanese foodies would love to keep from other foodies. The sight of Japanese diners is reassuring enough, indeed a true sign that this is the place to be. Meals at Hatsu Hana-Tei include regional specialties created by the Japanese chef, with everything from the freshest seafood to the choicest meats on the ready. Their sushi boat is the power pick on the menu. We also love how the servers are attentive to the needs of their customers. A ring of the bell in the tatami room is enough to send a server rushing to one's side.
Herald Suites general manager Arturo Jacob and director of sales and marketing Edna Gepte chorus that their offerings never go without the staff's personalized service.
"It is second-nature to the staff to deliver personalized service," says Jacob. "Anticipating the needs of our guests even before they ask is the way of Herald Suites."
Gepte adds, "We have always been consistent about that aspect. As soon as we encounter guests, we continuously deliver the commitment we promised, that is, excellent personalized service."
"That is reason why we have remained strong in our 17 years of operations," the general manager remarks. "We never wavered in our delivery. We are fortunate to have countless loyal customers. Every time they are in Manila, they choose Herald Suites because they know that we stay true to our commitments. It is our way of showing respect to our guests, too."
Right now, the hotel boasts of 88 rooms configured into standard, superior king, deluxe, and junior suite. Renovations are happening, with four rooms undergoing overhauls at a time. At any rate, Jacob promises that the new and improved rooms would provide the utmost comfort for their guests. The full- functions rooms, which can accommodate private meetings and social events, are fully equipped with the latest technology.
"Even though we are frequented mostly by Japanese businessmen, we try to maintain our Filipino traits," Gepte states.
"Our foreign guests appreciate the Filipino way of hospitality, of making them feel at home. A lot of them have become good friends of Herald Suites through the years. See, it is this personal connection that has spelled the big difference for us," Jacob declares. It is also this big difference that will help carry Herald Suites into a new era of true Filipino hospitality.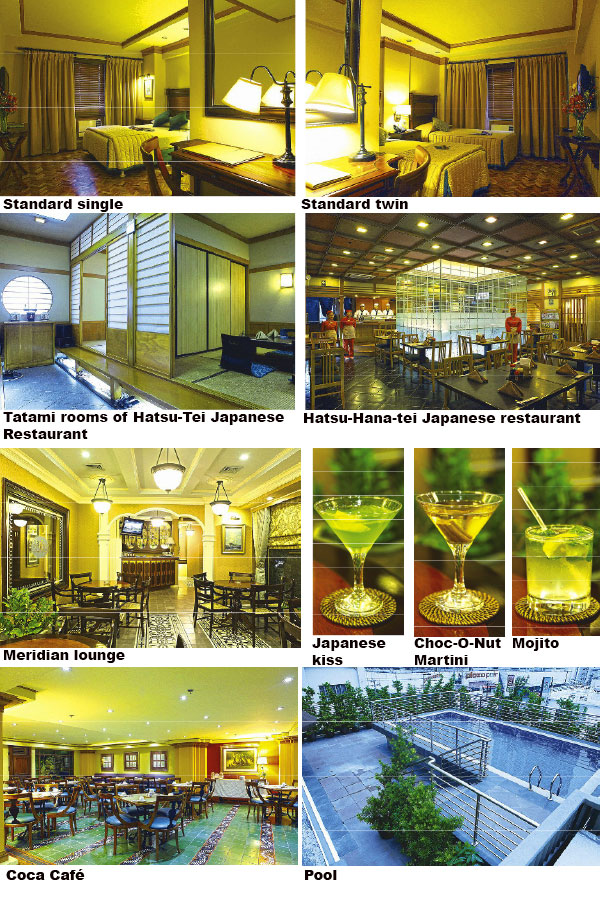 * * *
Herald Suites is located at 2168 Don Chino Roces Avenue, Makati City. For more information, call (02) 759-6270 to 81, fax (02) 894-1193, email at sales@heraldsuites.com, or visit the website at www.heraldsuites.com. Photos by FERNAN NEBRES