Money and life lessons from Anna Sorokin, Tinder Swindler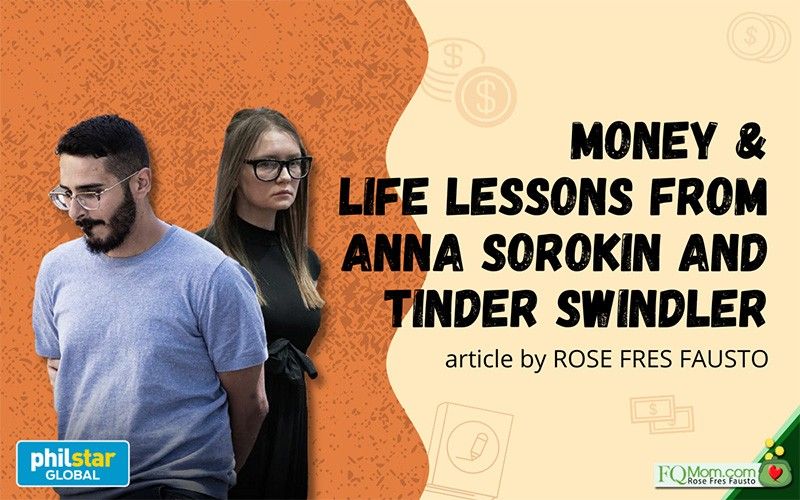 Have you watched the two Netflix series on international budol entitled "Inventing Anna" and "Tinder Swindler"?
Anna Sorokin, a Russian who grew up in Germany, repackaged herself fraudulently as Anna Delvey, a German heiress waiting for her inheritance amounting to 60 million euros on her 25th birthday. She was convicted of attempted grand larceny, larceny in the second degree and theft amounting to US$275,000 in the US.
On the other hand, Shimon Hayut, an Israeli who changed his name to Simon Leviev, presented himself as the heir of a Russian-Israeli diamond mogul, victimized women using the dating app Tinder stealing not just their hearts but also an estimated US$10 million! He was convicted for theft, forgery and fraud.
Con people have been with us since time immemorial. We have small-time and big-time versions. The ongoing Netflix series discussed above remind us that budoleros and budoleras will always be around, and so we have to be vigilant about them to protect ourselves from being their budol victims.
Let's discuss some lessons from these two con artists.
1. Nakakasilaw ang ginto! Anna Delvey was tipping $100 to the waiters, hotel staff, that even if they all found her an obnoxious guest, they still raced to serve her. Despite being rude, new found "friends" were still drawn to her, maybe because of her expensive gifts and treats. Simon Leviev also conned his way into the hearts of good-looking women partly because of how he lavished them with expensive gifts and out-of-this world dates.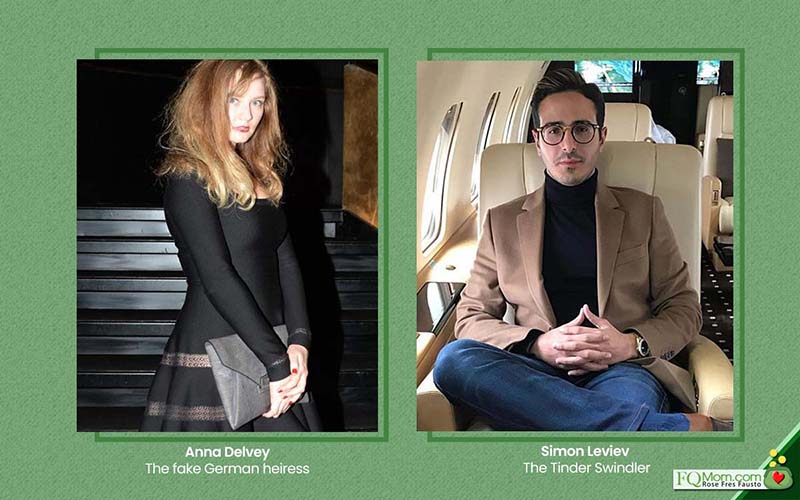 2. We believe what we want to believe. In Behavioral Economics, we call this confirmation bias (our tendency to collect evidence that overvalues or supports our claims or beliefs and minimizes contradictory evidence). After the onset of nakakasilaw ang ginto, the victims of both Anna and Simon, ignored the clues that already showed the true colors of their con friends. They clung to their belief that they were the real deal. They became blind loyalists.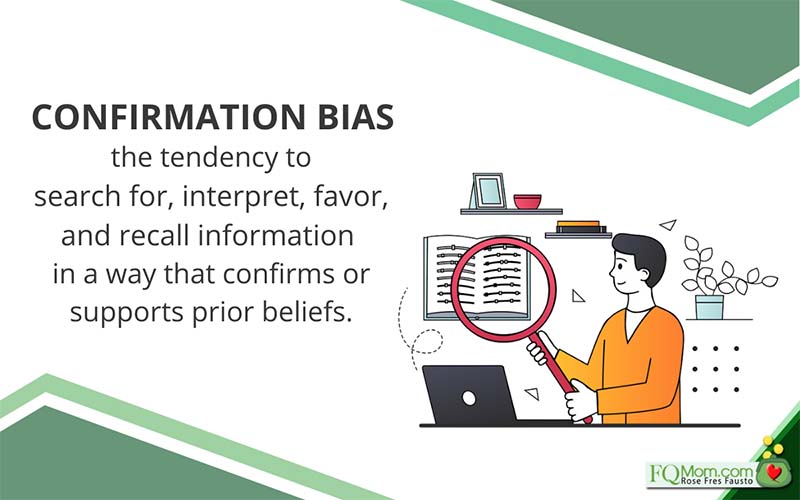 3. Don't take on debt for anyone else, especially under duress. When Anna and Simon borrowed money, they acted as if it was just a temporary situation. When a friend asks you to take on a debt (be it credit card or straight-forward debt), take a pause and still consider giving it a credit assessment, no matter how temporary the debt looks. You still have to apply the 5 Cs (capacity, capital, collateral, conditions and character). And since lending to relatives and friends is a sensitive and tricky situation, my mom's advice is the prudent way to go, "Lend only what you can afford to lose. When your borrower is unable to pay back, you don't suffer. If he pays back, it's a bonus."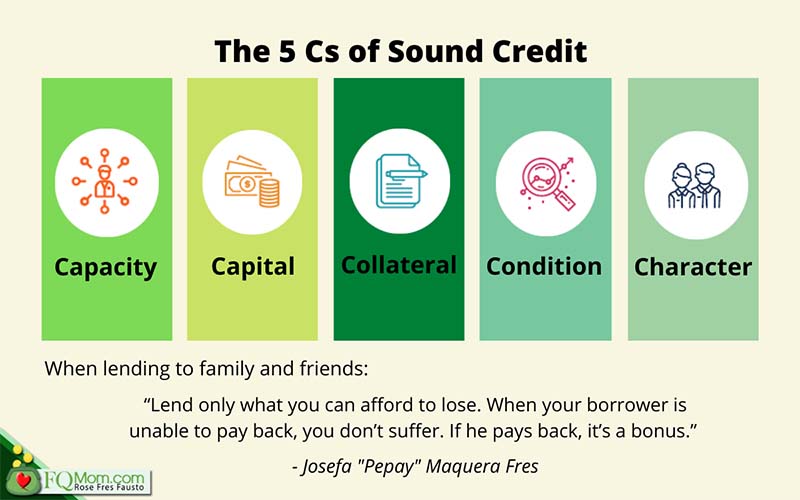 4. Even smart people get duped. No matter how smart we think we are, we can still be budol victims. All the con artist needs to know is what our weakness is. Anna was able to continuously con her friends into making her use their credit cards or allow her prolonged stay at the hotel without proof of ability to pay because she was feeding on their fantasies of living a rich and glamorous life, something that both craved for. The same thing with Simon, it was the feeling of being swept off their feet that made them overlook their boyfriend's budol tricks. No one among these victims are stupid, they could actually be smart. They were just manipulated by feeding into their weaknesses. So, check yourself, what is your weakness? How are you addressing this weakness?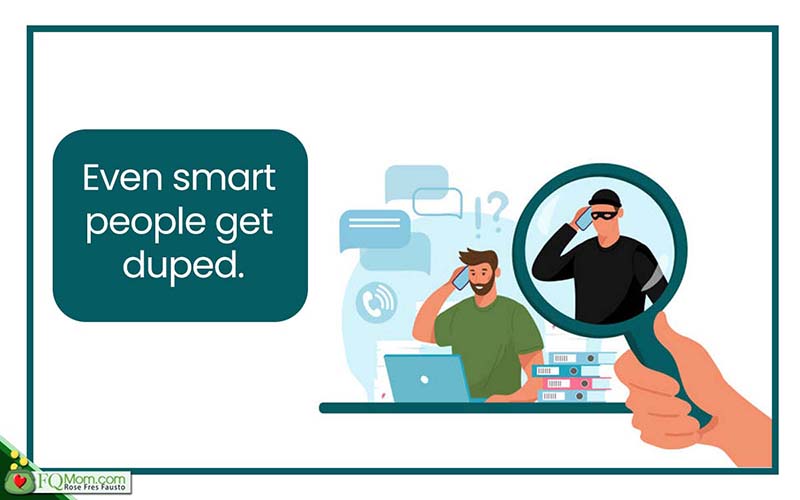 5. There is a double standard when it comes to the sympathy we give to victims. Sometimes, there's this feeling of "Buti nga sa kanila!" feeling when the victims are rich people which is what probably brought some fascination with the fake German heiress. To see how a young girl duped the rich people in the upper crust of the social pyramid of New York and the finance companies who approved her big loans, gives some people that unhealthy feeling of jubilation. Maybe it's because the common notion is that rich people also commit fraud. Then there's also this stigma of reporting that you've been duped among them well-heeled people, allowing fraudsters to continue with their act.
6. Be careful with charming sociopaths. Sometimes we are drawn to really attractive adorable people, and when I say attractive, I'm not only referring to looks but the general vibe. It's so nice to hang out with them. In doing so, check their character. Both Anna and Simon displayed rudeness which may have actually added to their charm and appeal to their victims. If someone so wonderful doesn't seem to be fazed at all, it's possible that he may be a sociopath (this is a personality disorder of lacking in conscience - no regard for other's rights, feelings; lacking in empathy and remorse for wrongdoings; conveniently exploits and manipulates others for personal gain). If you see the interviews of these two, they actually don't have any guilt. They seem not to believe that they did something wrong. Doesn't this remind you of some of our corrupt leaders? When I look at their faces, it's as if they really believe that they're telling the truth. And you know what, you need to have a little tililing going on in your head to be able to pull this off.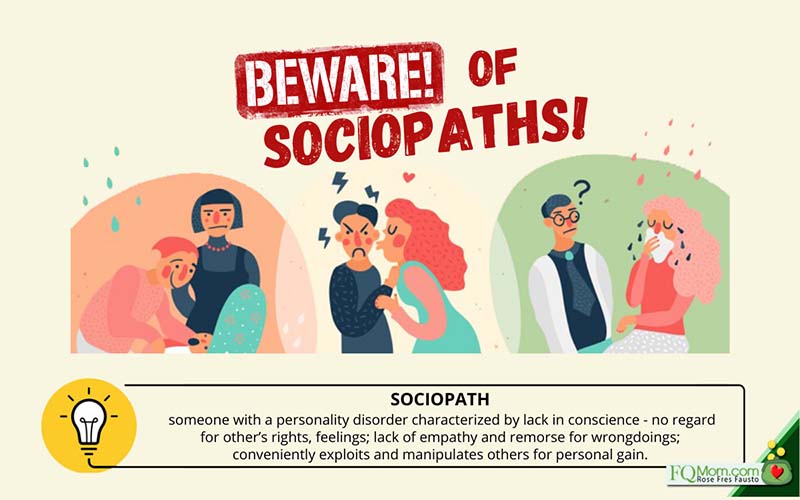 7. Victims are often left to pay for the fraud done on them. The victims of these two conmen are still paying the debt they were duped into taking. (Sigh!) Doesn't this remind you of our 11.7 trillion pesos?
8. Is it still true that crime does not pay? The sad reality is that some con people get away with murder and number 6 happens. Nakakapikon! Anna was sentenced to four to 12 years in prison. She was released in February 2021, rejoined Instagram and twitter, then detained again awaiting deportation. She was paid US$320,000 by Netflix and is now hustling to sell more stories about herself. Simon was only sentenced to 15 months in prison and is now a free man and currently dating a gorgeous Israeli model. He has a big number of followers on social media, even sold business advice and is now eyeing Hollywood. Sometimes, it's irritating to see fraudsters not being punished "enough" while their victims continue to suffer. I wonder how the "Son of Sam Law" (the law designed to keep criminals from profiting from their crimes) is being implemented on the earnings of these con men? Whether these scammers seem to suffer or not, I think we still wouldn't want to be in their situation. Even if their sociopathic selves are not suffering, their loved ones may be the casualties of their crimes, and of course, the last verdict belongs to someone up there. So, I think it's still true to say, "Crime does not pay."
9. All we need is love. Come to think of it, we are susceptible to budol because we need to fill a hole in our hearts. Most of the time, all we need is love, and we just have to make sure that what we're getting is real love, not just an ego filler that can bring us peril in the end.
I hope the above help you in protecting yourself from budols – be it about money, love, and electing our leaders.
Let's discuss budols and scams, this time in the Philippine scenario. Join in me in my Money Lessons with FQ Mom on Thursday March 10, 2022. Our guest will be journalist Salve Duplito who has followed and reported some of the scams that have victimized a lot of Filipinos.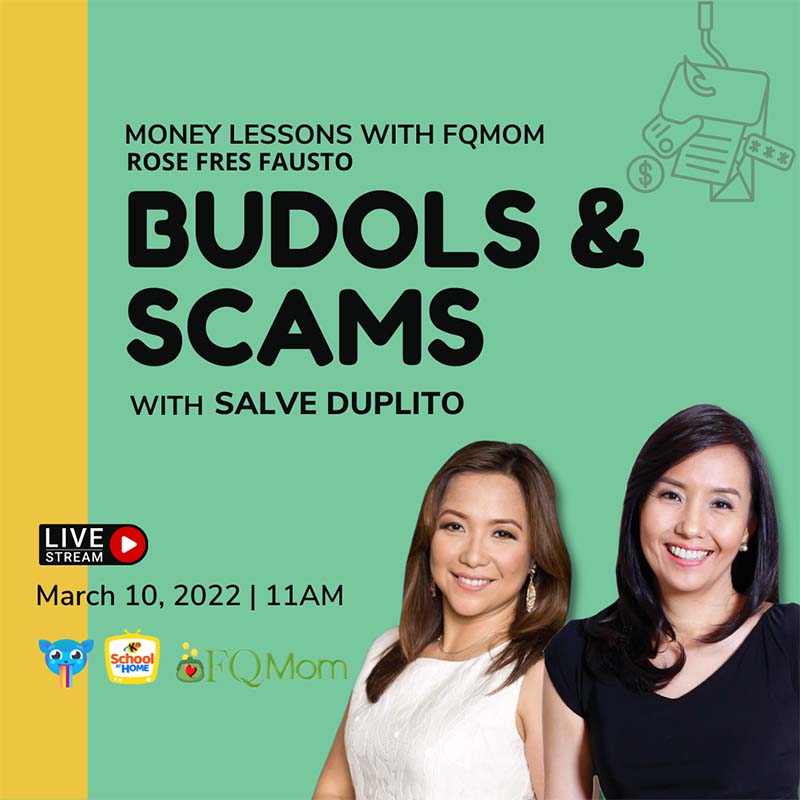 ANNOUNCEMENTS
1. We now start the end of the first quarter of 2022. If you still want to do your goal setting for the year and want to use FQ template for this activity, just email your request to [email protected] with the subject GOAL SETTING TEMPLATE.
2. Grab your copy of all or any of the FQ Mom books.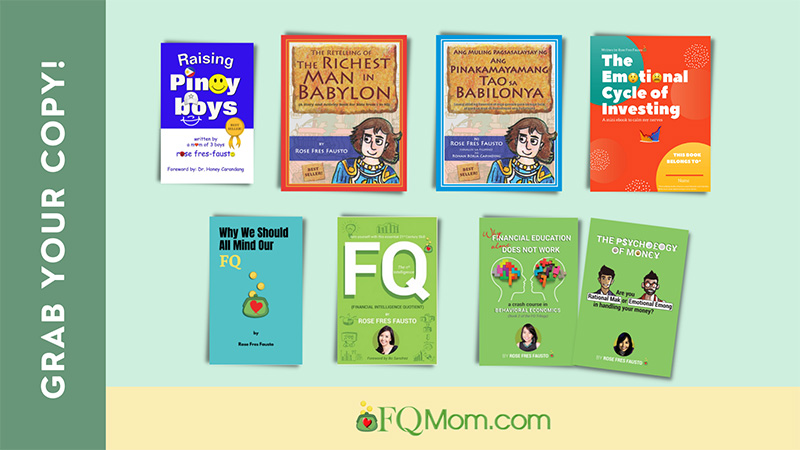 This article is also published in FQMom.com.
Attributions: Popcrush, Picuki, Pinterest, Vectorshock, Vecteezy, Shutterstock