FQ lessons in action
September 15, 2021 | 12:00am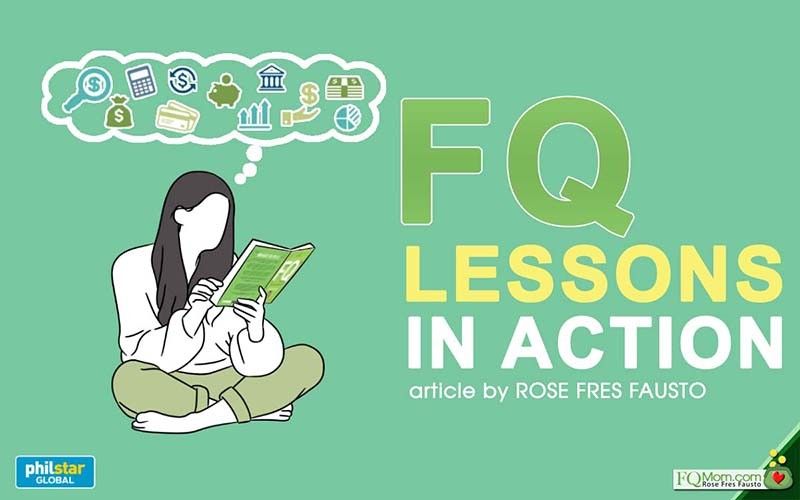 For today's article, I wish to share with you a very heartwarming letter that really helped me have a most wonderful birthday on September 4. Read on to find out why.
Dear Ms. Rose,

I have been your follower since 2018. I watch your videos on Youtube. I just search your name and watch all the videos you are in. I read your weekly article on Philippine Star but lately, I have been listening to the podcast version on Spotify.

I am 24 years old, the eldest daughter in our family. I am one of the many people who have acquired a higher FQ (Financial Quotient) through your books, articles, videos, and podcasts.

I am not sure if you will be able to read my message but I will take chances. I am actually the winner of one of your contests back in 2019.

First of all, I want to greet you a Happy Birthday! I thought of writing this message on your birthday because I cannot give you anything naman po but my gratitude. I just finished watching your webinar at Home Credit and you mentioned there that our feedback is food for your soul. You have been a big part of my financial journey. I know it is still a long one ahead, but I know somehow that I am on the right track already. Thanks to you.

It was September 14, 2018, three years ago – September is truly special – when I watched you on Ms. Bianca Gonzalez's vlog. Then it was followed by another guesting, and another, and another on her channel. I really learned a lot from those vlogs and it became a trigger for me to learn more and enhance my FQ.

It was because of you that I started making my quarterly assessments. I make my Balance Sheet and Income Statements now because of you. I also followed your advice of making saving and investing automated. I opened an EIP in BDO and invested in Equity Index Funds. #PayYourselfFirst!

I love how you make complicated financial topics so easy to understand and also easy to remember. I learned a lot about Behavioral Economics from you and now I want to learn more about it. FQ Book 2: Why Financial Education Alone Does Not Work (A Crash Course in Behavioral Economics) is already in my cart. It is just waiting for 9.9 to check out! ?

For my part, as you reminded, I am relaying things I learned from you to my siblings and friends. Since I was not able to start #PayYourselfFirst with my first paycheck, I made sure that my younger sister would. And she did! Now, we're both on our journey to financial happiness.

This message has been too long already but there are still lots of things I want to say but I will cut this off here. ?

Again, happy birthday Ms. Rose. Wishing you a longer life to live for you to be able to continue teaching Filipinos how have a high FQ.

Looking forward to #FQMondayHabit and more financial lessons from you.

Cheers to high FQ!

From,

Shiela Miranda Diwa
Via FB messenger
Wow! Shiela is really one great FQ student and now also an effective FQ teacher herself. I underscored the FQ lessons that she is now putting into practice, namely:
I am so looking forward to more Shielas putting the FQ lessons into action. Thank you very much for your birthday gift of feedback. This is truly food for my soul.
How about you? What FQ lessons have you been putting into action? Would you care to tell me?
I hope you have been with us in our #FQMondayHabit. We just released Episode 2 which is the FQ Test. Whether it's your first time to take it or not, this is still going to be worth your while as some FQ Test takers still have questions about their scores and want to know more about the items in the test. This is your chance to do so in a fun way! I am very grateful to the FQ Team for putting this together. Even if 20 minutes may seem long for our attention-deficit standard these days, I promise you, this will be worth every minute of it.
After watching the above, you may calendar your Thursday 11 a.m for this show. Have you noticed how Pinoys have become super-Korean fans these days? Well, we have an OG Korean guest tomorrow. We have known him since he was in nursery. Today, he owns and manages a Korean restaurant, and he will talk about how it managing it during the time of pandemic.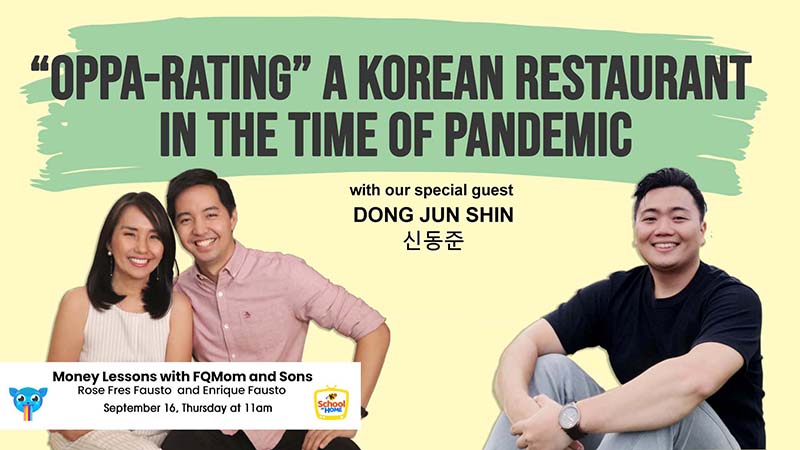 See you.
ANNOUNCEMENTS
1. Join our #FQMondayHabit where we give you short fun videos to improve your FQ. Each video has a homework so you can put the FQ Lessons into action right away. In case you missed our episode, here it is https://youtu.be/2AFRZf74DUY.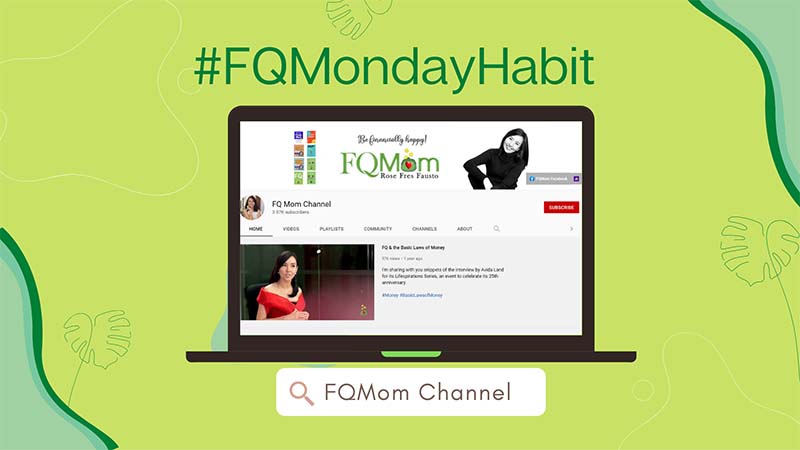 2. I invite you to subscribe to my new FQ Mom Podcast. If you'd rather consume this article in audio and listen to my additional comments and insights, you may listen to my podcast on the platform of your choice.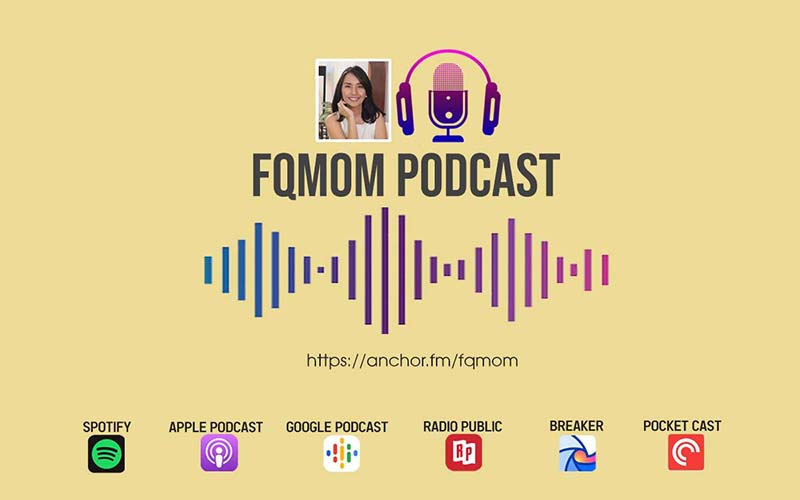 3. To learn more about your money behavior, get your copy of FQ Book 2. Get copies for your loved ones too. The principles you will learn from here are not only applicable in your financial life but all the other important aspects of your life. https://fqmom.com/bookstore/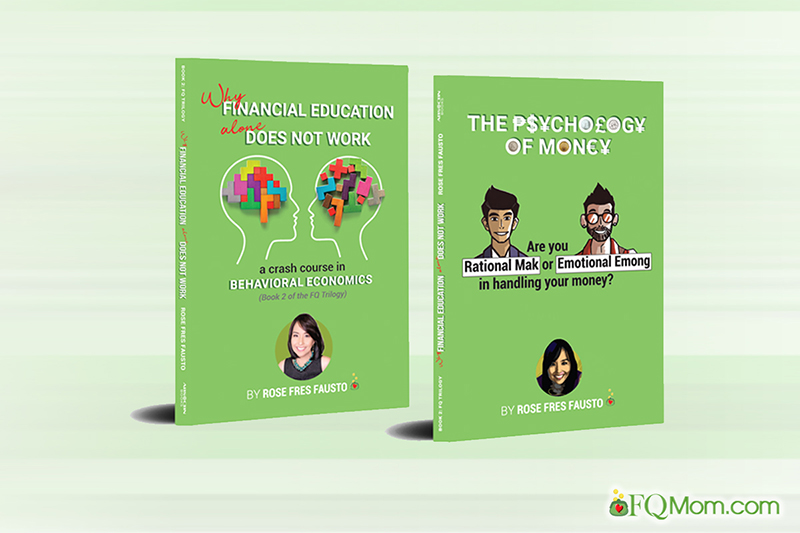 To know more about FQ Book 2, watch this short video.
4. How good are you with money? Do you want to know your FQ Score? Take the FQ Test and get hold of your finances now. Scan the QR code or click the link http://fqmom.com/dev-fqtest/app/#/questionnaire.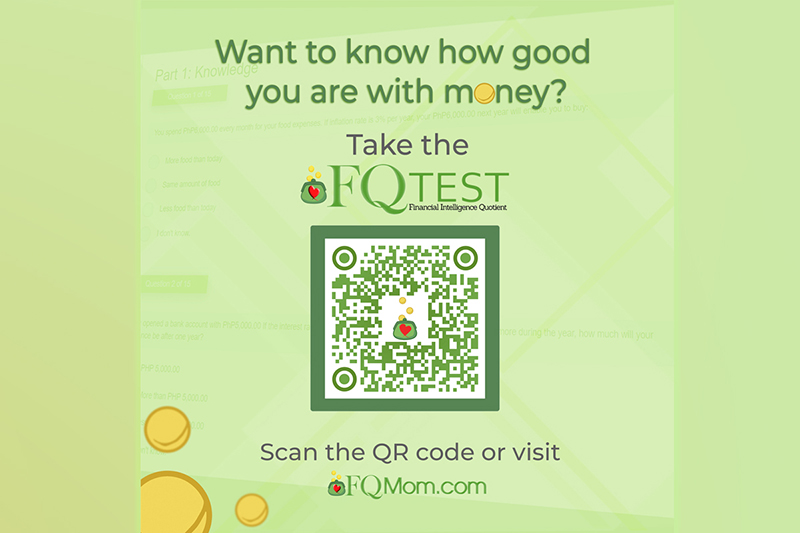 This article is also published in FQMom.com.