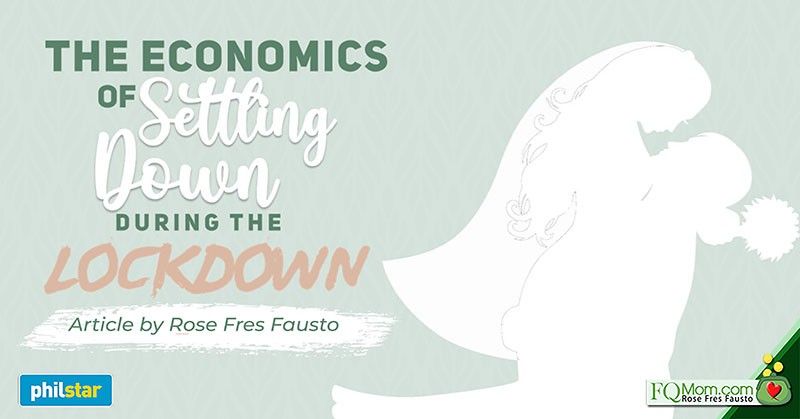 The economics of settling down during lockdown
Are you or anyone you know supposed to get married in 2020? What did you/they do? Postpone the wedding? To when? Or go ahead with "I do"?
Getting married in the Philippines has become quite a big project that requires a big production number, putting in lots of effort and money.
You start off with a proposal that involves family members and friends, if not a village (you know, flash mob dance and similar effects). Then there's the ring, and some ladies actually expect a decent-sized rock that should not be any smaller than one carat, ouch!
So even before you get the matamis (or mabigat?) na oo, you're already out in six figures! No wonder couples postpone weddings to later dates, with or without the pandemic.
Here are the major wedding elements and their indicative costs.
1. Church – Let's take a look at San Agustin church. They charge P33,500, which includes a bit of floral décor, priest, soloist. But I think they also charge additional on electricity, then there are optional fees if you want to include opening of the big doors for dramatic effect, use of the museum, courtyard, aerial view, extension of your one hour if you need more time for your photo shoot, and each "additional" features is a few thousands per pop! In 1989 when we got married in this beautiful church, it was just a couple of thousand pesos. I wasn't happy with the flowers on the aisle and wanted to add more. I figured, if I added more flowers, the brides before and after our wedding will be using my flowers too, so I asked the church secretary for the numbers of these two brides. I called them up and asked if they wanted to split the cost of the additional flowers with me. They said yes. That's definitely an #FQripotBride.
2. Venue – These would run into the six figures, especially if you need space for at least 100 guests.
3. Food – Catering costs anywhere from 2,000 to over 6,000 per head. This plus the venue usually constitute the biggest cost of the wedding. And don't forget the staff meal. Back in my 1989 wedding, giving food for the photographer, videographer, etc. was a voluntary act. Today it's like a requirement, and sometimes I wonder, shouldn't that be part of the cost of doing business for the suppliers? I remember before, our suppliers would make their staff bring baon. Then it was the wedding couple who would voluntarily offer them food. So, this has to be added to your food cost which could be a big sum given the number of staff each supplier brings these days.
4. Wedding attire – The wedding gown could be anywhere from P10,000 (simple off the rack) to over P100,000. The groom's could be a little lower but again depending on the designer. Add to that the outfits of your entourage.
5. Hair and make-up – I have always wondered why wedding make-up costs significantly more than a usual hair and make-up? But of course, the bride would want to look her best on her wedding day. This could be as high as P30,000, making it hard to wash that make-up off once the day is done.
6. Photographer – This has become a huge part of the budget. It is your most important souvenir of your wedding, and most of all, you have to have gorgeous photos to post on your socials! This could be as high as P150,000 and above for well-known photographers.
7. Videographer – The same goes for this, so their prices don't differ much. That's another P200,000.
8. Wedding coordinator – It depends if you're hiring just for the day or from the planning stage. It ranges from P10,000 (day only) to over P50,000.
9. Wedding host – This ranges from P10,000 to P30,000. (For a good one, hire my son Anton Fausto. It can even come with choreography of your first dance, hahaha!)
10. Wedding rings – This depends on the carat of your rings, and if you will still include precious stones. My mom told me of a superstition with an FQripot angle, "Don't put stones in your wedding rings, pampabigat sa buhay 'yan."
No-stones wedding rings may be anywhere from P15,000 and up.
11. Wedding cake – There are a lot of good bakers that you can find online now. Cakes range from P5,000 (small simple ones) to P50,000 to a lot more for the fancy ones, some even have lights inside the cake.
12. Flowers – This cost has also gone up a lot compared to the time we had our first (out of six) weddings.
When I attended a wedding fair at Shangri-la Hotel two years ago, I saw floral packages amounting to P500,000 to P800,000! It's like the total budget for a wedding, right? No wonder, you can't see the person seated across you at the dinner table anymore.
13. Souvenirs, invitations – The cheapest invitation can be found in the university belt, below P100 per piece, but this could also go as high as hundreds a piece. The same goes for souvenirs.
14. Hotel accommodations – Do you need to sleep at a hotel prior to and after the wedding day? Who are coming with you? How many rooms do you need? Hotel room rates range from P2,500 to over P10,000 per room per night.
15. Costs of licenses, permits, other documents – The bigger cost of obtaining these documents (which may just be in the hundreds) is the cost of your time, skipping work and being subjected to bureaucracy. But you need to do this. And if I may suggest? Please include a session with your spouse-to-be to read together and discuss the Family Code so you know what you're getting into. When you say "I do," you don't just become one in body and soul, but also one Balance Sheet!
How about settling down during the lockdown?
Here's good news out of this not-so-good news of being in quarantine for the last seven months (and counting). If prior to the pandemic you had already planned to get married this year or even next, consider not postponing anymore. The above costs can sum up to millions, and you can save on almost all of them. This frees up your cash so you can use it for the more essential things in a married couple's life in the long run.
Don't get me wrong. Have a beautiful wedding still. Just look at our current condition as your cue to not take wedding spending to its usual level.
We will discuss this more in my FQwentuhan with host and actress Cara Eriguel who decided to settle down during the lockdown. Join our conversation of her "Quarantin Weddin".
The longer discussion will be available soon on Rose Fresh FausTalks. Watch out for our video podcast on FQ Mom youtube channel and spotify.
Have a great married life!
ANNOUNCEMENTS
1. I will give a talk for Prulife UK on Oct. 21, 2020.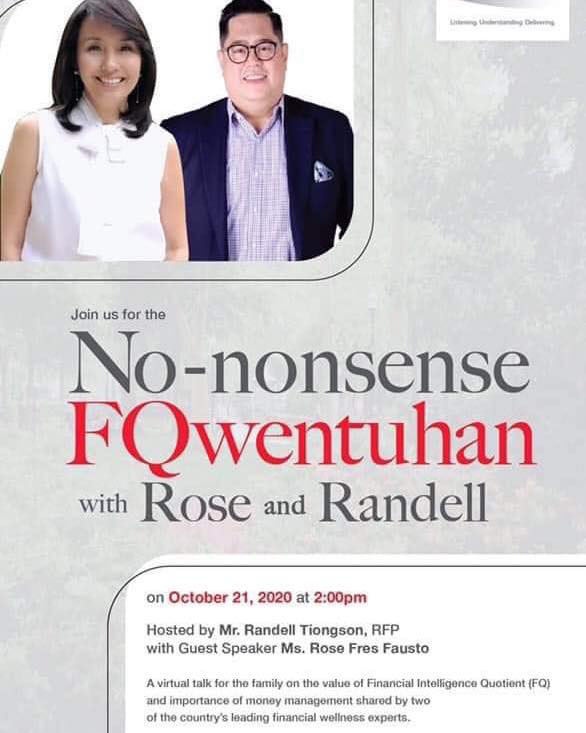 2. I will give a panelist at the Philstar event on property investing. Date to be announced.
3. How do you rate yourself when it comes to FQ? If you want to find out, take the FQ Test and see where you stand right now. Scan the QR code or click the link http://fqmom.com/dev-fqtest/app/#/questionnaire.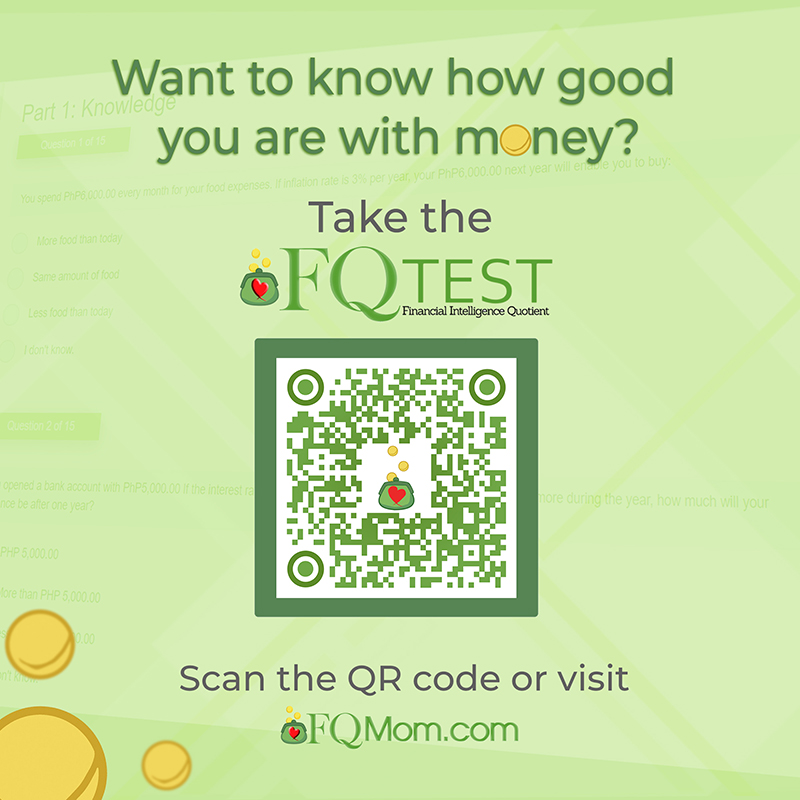 4. Have you visited our new home recently? Please do, click http://fqmom.com and let's continue the conversation.
5. If you want to enhance your FQ through stories, check out FQ Mom books, available in print (with autograph) and ebook versions.