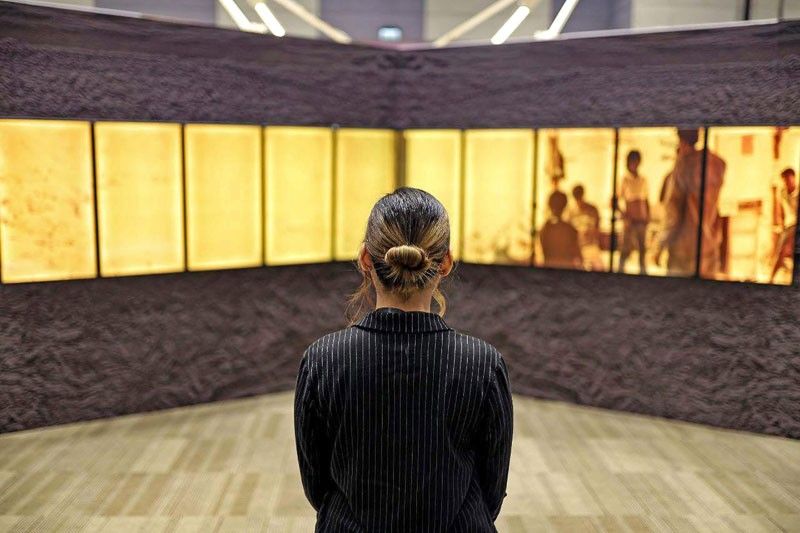 Multidisciplinary artist Derek Tumala shares his raw yet thought-provoking work entitled "Pure Impermanence" in a digital art wall installed at the heart of the first-ever ALT Philippines 2020, reimagining how we look at photos on our mobile phones.
How art makes meaningful connections with tech
Keep on exploring, look into arts and be open," artist Derek Tumala told The Philippine STAR, while standing at the middle of a crowded exhibit with a glass of wine on one hand.
Tumala is one of the 150 contemporary artists who joined the first-ever ALT Philippines 2020 — a collaboration of 150 contemporary artists from various galleries such as Artinformal, Blanc, Finale Art File, Galleria Duemila, MO_Space, The Drawing Room, Underground, Vinyl on Vinyl, West Gallery and 1335 Mabini — presented in collaboration with Smart.
Located at the center of SMX Convention Center at SM Aura, the multidisciplinary artist's work titled ''Pure Impermanence'' captures visitors through raw yet thought-provoking combinations of animations and random photos taken using his own smartphone. For added immersive experience, Tumala's work is flashed on a 10-channel video in portrait orientation, mimicking how we look at photos on mobile phones.
The digital art wall shows roughly 900 photos, composed of moments and sceneries that people don't often see, look at, or pay attention to.
"I subconsciously do that. If it's interesting to me, even if it's just a random thing, I take a photo of it," he shared of the inspiration behind his work. "This one is very personal. It is also very raw. I always want to capture where I am at the moment."
"It's more of showing what's real. We use our phones and look at a lot of photos every day. Maybe, people can think about how we process images, or how we look at it," he added.
Tumala recognized the importance of technology and connectivity in contemporary art. "Technology provides more platforms or options for us artists to explore and express ourselves. It also challenges the market to consider what's beyond painting, sculptures and what's intangible. This is also very dynamic, and people can engage with it. This form can be something more significant."
"By taking photos, you also make conversations with people. Looking from a distance, you are also engaging with them. I didn't know that taking time looking at images on my phone could be fascinating. But, sometimes, you may feel as if you're bombarded because you see a lot of photos, and you do not really understand what's behind it. However, when you talk to people about it and they say, 'Hey! I saw your story on Instagram,' they have their different interpretations or analogy of it because, sometimes, these posts may seem cryptic. It is really how you see art. It is very subjective," he added.
Looking through passions
Supporting various passions — be it art, sports or music — Smart gave its Smart Signature Plan subscribers exclusive access passes and tickets to the landmark art event.
"We partnered with ALT Philippines because we want to reimagine how you see art. It is also a form of support to Filipino artists in showcasing their talents," explained Smart president Alfredo Panlilio about the partnership.
"There was an alignment in pushing the brand not only in connectivity but really looking at the passions of our customers. From Smart's standpoint, we always want to make sure that our subscribers live the life that they want, including their passions. In a way, we want to support that and make sure that the experiences they want are available with Smart," he added.
Optimistic for a brighter future for Filipino artists, Panlilio said that Smart is looking into other art-related partnerships. He also opened the possibility of combining technology and art through QR codes, which will conveniently show details about the exhibits, artists, and their works.
"The more of this, the better. We don't want just one art show or exhibit. We want more of this. Here today, we have the top artists and curators, and we want to continue the development of the Philippine contemporary arts. Hopefully, we can reimagine how art is developed. Maybe, this can be the contribution of Smart in the Philippine contemporary art scene. We just have to push the talents. Filipinos have a lot of talents, and maybe we can push it even more. We are really supporting the passions of our customers and its relevance to them," he said.
Supporting the Filipino's passions is nothing new to Smart. The network has steadily recognized and associated its services with sports, esports, music, entertainment, and gaming.