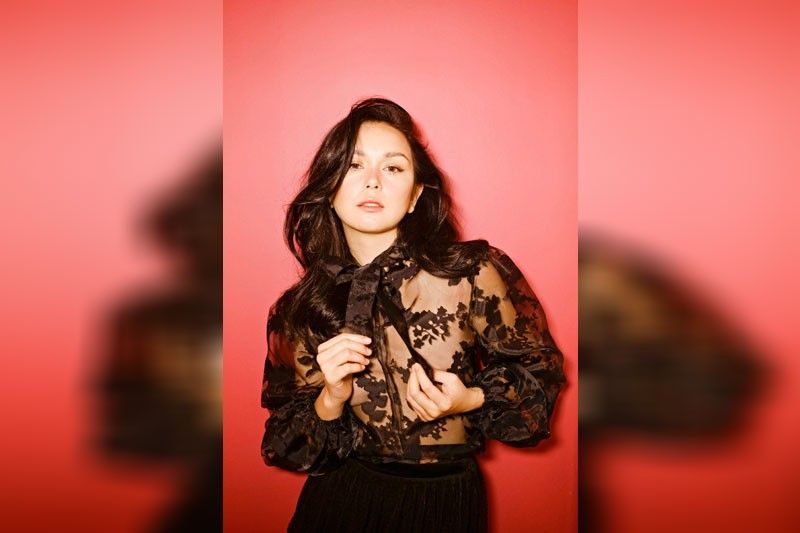 Beauty Gonzalez admits that her name comes with immense pressure. ''I don't always feel beautiful. It's actually rare that I feel beautiful," she says.
Photo by Regine David Makeup by Mac Igarta Hair by Mong Amado Produced by David Milan
The Beauty and the damned
Gabbie Tatad
(The Philippine Star) - November 23, 2019 - 12:00am
The biggest mistake one can make when it comes to Beauty Gonzalez is to take her as a foregone conclusion. Sure, she's a Pinoy Big Brother winner turned actress. Undeniably, she's got a great face and a killer body, and she stars on one of the most meme-able soaps this side of television. And yes, that's definitely her in the ads for a sardine brand wherein she strikes hard poses inside their warehouse.
She is as camp as she seems, full of incredible anecdotes that should one day be compiled and recorded. Ask her a simple question — for instance, how she came to be named Beauty — and while the answer is always a cracking good time, it can also easily take a turn into a refreshing sort of depth.
Born A Beauty
Born in Dumaguete, the 28-year-old exited the womb already full of surprises. "They thought they were having a boy, so when I was born, they turned me over and realized I was actually a girl," laughs Gonzalez. Her father exclaimed, "She's a bilati," using the Visayan term for a female's nether regions. Her mother was quick to shush him, saying, "No, she's a beauty!"
Gonzalez admits that her name comes with immense pressure. "I don't always feel beautiful. It's actually rare that I feel beautiful," she says. She recounts her time in the Big Brother house, where she says she gained the most weight she ever had, and did so right in the public eye. It's a perception that's stuck with a lot of viewers, in spite of all she's accomplished. "I've become so numb to it that I don't spend too much time thinking about that. When I feel a little low, I call my husband, because his opinion of me matters more than those of people I don't really know, and he always thinks I'm beautiful." She pauses to think. "I try to do something with that energy instead, otherwise I'll have silly thoughts. I work out, but I also like to deal with it using art."
The art of the matter
We're sitting in her apartment south of Quezon City, one she keeps for when filming runs far too long, and is logistically unable to head further south to the home she shares with her husband and daughter. The structure of the complex is quite unassuming, and in an area where we were warned by those in the neighborhood not to leave vehicles unattended for too long.
But as you make your way up the steps and into Gonzalez's world, it's unlike anything you might have expected from the façade. It's like stepping into Narnia, where one crosses the threshold from a modest exterior into a dreamland where Gonzalez has surrounded herself in beauty.
To say that the art catches your eye immediately is an understatement, because it is what exists in this space apart from Gonzalez herself. Massive canvases hang on walls painted complementary, rich jewel tones, work by immediately recognizable artists like Patty Eustaquio and Dex Fernandez. Alongside 300-year-old bishop chairs from Bohol that flank the hallway, a towering print of the very first kiss in Philippine cinema leans against a mulberry-colored wall. A sizable working jukebox whose facade was made to look like a jeep sits in the corner, topped by a silhouette of a woman lying on her side entirely drawn out in neon lights. There are age-old intricate embroideries housed in frames salvaged from old churches, and looking closely, one will see a strong touch of religious influence flowing through many pieces in the space.
"When I was little, I loved santos. I loved Our Lady of Dolorosa especially, because she was beautifully in pain," Gonzalez says. This sparked an interest to look into other older forms of visual art, where she says she found a visual reflection of her emotions. She explains, "I'm not very good at explaining myself, I don't always have the words. For me art is something that you like, not something that you want to sell. I love every piece I have in this place, and I did it so that I would be surrounded by stuff that speaks to me."
Her husband, Norman Crisologo, is well-known in the art circuit, and their mutual love of all things art is a big part of what makes them perfect for each other. It was Crisologo who eventually encouraged Gonzalez to take up painting herself. While she initially hesitated, she said that by the time she gave in, she fully dove in with a wall-sized canvas. Her preferred subject is women, particularly in the nude, but as far as possible from the male gaze. "It's not bastos, or that idea of women saying, 'F*** me.'"
Gonzalez isn't one to capitalize on her own sexuality, even if it is a facet she very much enjoys. She sees it as part of her full picture as a functioning human being, rather than an asset to be used. She explains, "When I post sexy photos on my Instagram, that's what I go for. So in my art, it's women like me saying, 'You don't f*** me, I f*** you.'"
Nothing beats a family
Gonzalez has a three-year-old daughter named Olivia, who has as much personality as her mother. She recalls being asked for her email address at her daughter's school, which if you follow Gonzalez on her very public Instagram, is listed as spankmenorman@gmail.com.
The school administrators were taken aback, and asked her once again in disbelief what her email address was, to which she responded, "Spank. Me. Norman. At. Gmail. Dot. Com. Got it?" So imagine her own surprise, when picking up Olivia from school one day, she sees Olivia call out to her friends with a wave, saying "Later, bitches!" Gonzalez laughs, "The apple really doesn't fall far from the tree."
"At least she's not a wallflower. At least she has confidence, and that's a lot to be able to do on your own. I'm not confident like that," confesses Gonzalez, saying that the cursing isn't anything that particularly bothers her. It's surprising as her confidence is the first thing that steps to you whenever she enters the room, but Gonzalez considers that to be more her inclination for honesty and aversion to pretense.
Confidence, to her, is an entirely different concept. "When it comes to my daughter, I want to be fearless. I want to encourage her to be herself and not be worried about other people's opinions. I travel with her to Nepal and India and South America, to let her experience things and explore her interests. I sometimes wonder if she'll remember these places, then my husband will say, 'Maybe she'll remember the feeling.'" She smiles, quiet and hopeful, then says, "I think she will."