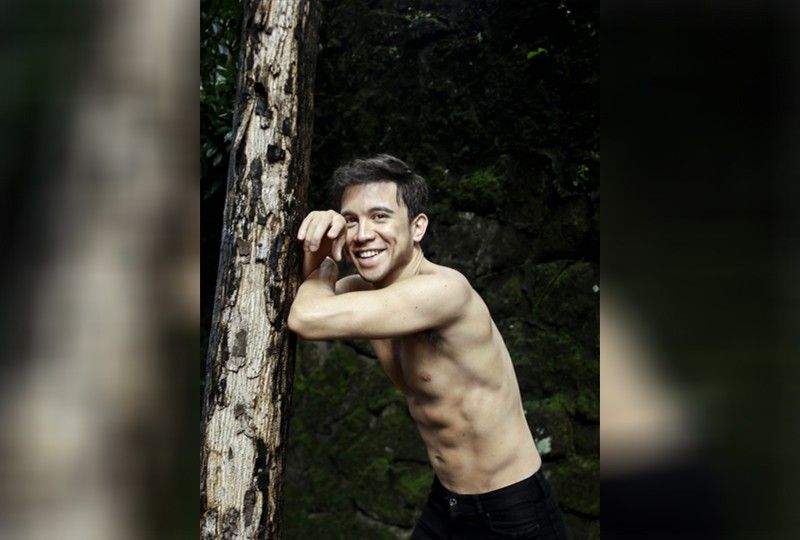 Arjo Atayde shares that while he's never wanted anything more than to be an actor, it almost didn't happen for him. He describes the experience, saying, "It's when my dream finally died that it happened for me."
Photo by: Regine David Grooming By: Ryan Panaligan
Gabbie Tatad
(The Philippine Star) - November 9, 2019 - 12:00am
I didn't know what a bagman was, I didn't even know the word existed," says Arjo Atayde with a laugh. He would discover that the term refers to the cashier at the end of the dirty money payroll. They're physical holders of the coin in a criminal hierarchy, receiving and doling out cash as the operation requires. And as Atayde took on the role of Benjo, the lead character in the iWant-exclusive series Bagman, he would get even more familiar.
What about the Bagman?
The first season of Bagman was released in early 2019, produced by Rein Entertainment under the writing and direction of Shugo Praico. It told the story of Benjo, an expectant father with a neighborhood barber shop. When his source of livelihood is endangered by local government efforts, he makes a deal with the proverbial devil to save his shop in exchange for a favor. His trial by fire involves an assassination, after which door after door to more and more money becomes available to Benjo. The audience follows a distinct journey of how a person can be corrupted without labeling its hero singularly good or bad, and how easily lines can be blurred given enough desperation and just the right spark of ambition.
To say that the initial reception of the series was positive is a glaring understatement. This was the kind of material that was rarely present in mainstream television, its unapologetic lens into the world of politics wildly fascinating. Audiences came in hordes, breaking streaming records for the platform. Clamor for a second season was resounding, and as of the 8th of November, Bagman officially returns for its second season.
This time we see the likes of Carlo Aquino, Irma Adlawan, Mon Confiado, and Romnick Sarmienta—just to name a few—getting caught in the escalating chaos. "There are more characters coming in, surprising characters that are going to be really interesting to discover. The second season really explores how a bagman in position runs his money and runs a city. Coming from a guy who was just asking for help to save his shop and his family, suddenly he's in power," Atayde says. "He's so cunning, and I'm surprised by how smart this guy is. He's adapting to his environment, he's much more confident, and he's making strategic decisions and turning tables. It's super intense and very bloody, and it's going to be exciting."
On getting lost
Atayde shares that while he's never wanted anything more than to be an actor, it almost didn't happen for him. He describes the experience saying, "It's when my dream finally died that it happened for me." He auditioned for Star Magic as many as seven times and was always passed over. Ready to throw in the towel, he was finally approached at an actors' workshop and asked to audition for a show in development called E-Boy. "First scene, eighteen takes. I wanted to walk out of the set. I was crying, I couldn't take it. I told my mom I wanted to quit the first day. First day, I almost gave up. Imagine that." He smiles softy and adds,"Eight years later, I'm still here."
While Atayde looks much more comfortable in his skin and has definitely proven his chops as an actor, he says that he can only pick out a very small handful of performances where he feels he did alright. He acknowledges that he is critical of himself but also says that striving to be better is what propels him forward. He says his vision for his career isn't what others might expect, that the roles he's on the lookout for are those which take him outside of himself. He references films like Split, Joker, American Psycho, The Revenant, and Inception. "There are stories that I want to tell, and if I were to choose, they'd be crazy and colorful and out of the norm. Actors are fakers, and we pretend to be in situations that don't exist. It's the best part about the job: getting lost in a situation you yourself wouldn't have been in," Atayde muses. "You won't understand until you do it. I cannot explain, but sometimes there are two or three characters inside of me that I take home. It's like bungee jumping; how the hell would you know how that feels unless you jump off the cliff?"
Of Benjo, he says that the only way was to believe. "I have to become the character. I don't know any other way. I have to believe that the things that are happening in the scene are actually happening, so I'm not acting; I'm just responding like that person would." He says that while nothing about the bagman was familiar to him personally, that it was an utter joy to discover the character. "I love everything about him, despite everything he's done or bound to do. Imagine, you have to shoot someone, you have to steal money, you have to do all these illegal things just to save your family. It's all survival instinct because there are lives on the line. But you can't just call him bad. What if you were in that position? Would you do it differently? It leaves you with a lot of questions."
Meant for art
Celebrity, on the other hand, is not something that comes naturally to Atayde. He explains that he is strangely shy when standing in his own skin, without the armor of his created characters. He shares a moment during a mall show where the nerves made him literally sick to his stomach, trapped in a bathroom stall at a fast food chain as they called out his name onstage.
Atayde says he understands that as his work is admired by more people, that more attention to his person inevitable. He's attempting to push past his shyness and be better with fans, as he does appreciate their support and hates that he might come off more aloof than he is. "I want to entertain people, but I'm too shy to go onstage and to do guestings where I'm just myself. I feel like sometimes I'm just not meant for fame."
He leans forward and crinkles his forehead, then says resolutely, "My mark as an actor is the red button. Once that starts, I take a deep breath. I never miss that. I exhale, and that's it. I'm me. I'm someone else but I'm me."