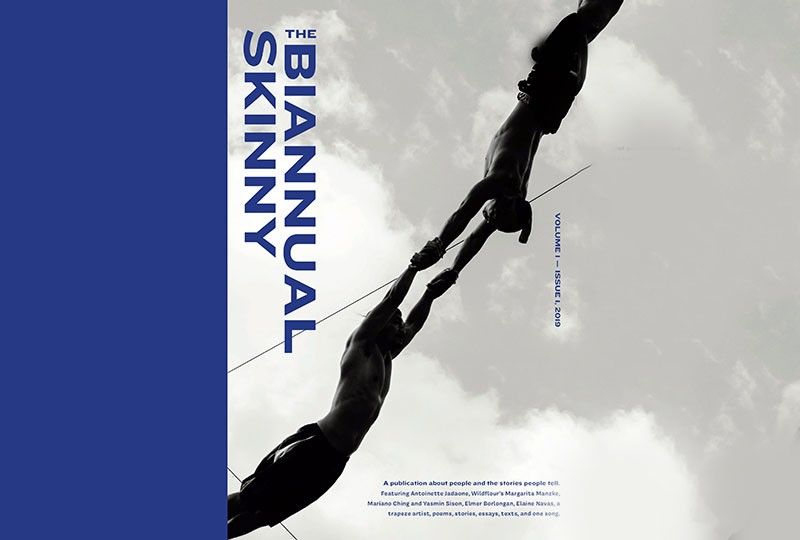 The Biannual Skinny opened its initial call for submissions in 2015 and finally launched this year with a cover designed by Carina Santos.
The slow but steady pace of 'The Biannual Skinny'
MANILA, Philippines — Last week, after four years of Development Hell, The Biannual Skinny was finally launched.
Founded by Gian Lao, Raymond Ang and Carina Santos in 2015, the literary and art folio is described as an effort to connect, a mixtape sent out into the world. Part of the rationale was to account for what Gian calls "the problem of more": "When we have too few of something, it heightens the pressure on singular cultural products to cover and pay respect to an almost impossibly wide range of aspects," he explains. "Why is Crazy Rich Asians, for example, focusing on rich Asians and not middle-class Asians? The closest we've come to a satisfying way forward is: Why don't we have 10 movies per year about Asians?
"So the goal (of it) isn't to be the first of anything," he continues. "It's to be one of many places to publish intriguing work, and to shine a spotlight on works 'that dazzle, that baffle, that disgust, that stir thought and stimulate talk about things that are important to our being human.'"
"With the Biannual Skinny," says Raymond, "we're really asking ourselves two questions: 'Where can we publish creative work?' and also, 'Whatever happened to us?'
"Part of it was about trying to recapture a younger version of ourselves — the 20-year-olds who created in order to create, who understood how life-changing a good poem can be, who were young enough to be idealistic," he adds. "Most of us had found ourselves in jobs and functions that paid okay but had trained us to create for deadlines, for clients, for commissions. It was a way of getting back to the headspace of creating in order to create."
"A lot of us were busy in our late 20s, and we just kept pushing it back," says Gian of the gap between the folio's conception and the publication of its first issue. Through this long process, however, he notes he's enjoyed exploring the vocabulary other creators use to talk about their craft. "Poetry might be a lonely profession, but learning the vocabulary of other creators awakens a sense of kinship," he explains. "Ang galing. It's kind of like discovering similar words in different language. Like how Japanese and Filipino both use the word 'katol.'"
The first issue includes a profile of director Antoinette Jadaone by Don Jaucian, an interview with Margarita Lorenzana-Manzke of Wildfour by Paolo Lorenzana, and a feature on the studio habits of artists Yasmin Sison and Mariano Ching by Carina. The remaining list of contributors is no less impressive: Carlos Afable, Zeus Bascon, Allan Balisi, Elmer Borlongan, Lena Cobangbang, Mikael de Lara Co, Patrick Diokno, JL Javier, Mookie Katigbak-Lacuesta, Marie La Viña, Tanya T. Lara, Andrea Lopez, Jason Moss, Elaine Navas, Mike Orlino, Elijah Pascual, Wilfredo Pascual, Roysan Reyes, Ali Sangalang, Denise Santos, Isabel Santos, Luis Antonio Santos, Gerardo Tan, and Joel Toledo.
In future issues, for which Gian says there will be a more predictable timeline, they hope to widen the circle and work with people they don't necessarily know personally who just want a space for what they've made.
"It's very important," Gian says, when asked about setting aside time for passion projects and collaborating with friends. "In a sense, it shows me where the people in my life are, in terms of art, work, and general perspective in life."
He adds: "When you utilize your artistic skill to make money, it's very important to find time — if you have the privilege — to take on some art projects that won't necessarily make money. It helps you compartmentalize. It helps stave off that bothersome feeling that you might be losing a part of yourself."
"Working on The Biannual Skinny with people I've known for a long time and love and admire as people and creatives is a true pleasure," says Raymond. "But beyond that, the true thrill is working on something that feels pure. There are truly no intentions here beyond creating another space, another outlet for creative work."
"I've always felt that independent publishing creates spaces for certain things that don't necessarily fit in monetized or for-profit places," Carina agrees. "Independent publishing fills certain gaps in the story. I'm lucky and privileged that we are at a particular point that we are able to do something like this. Hopefully it becomes encouragement for others to do the same, too."
Gian sums it up best: "The works we feature are definitely unique, but as for our publication, the goal is the opposite — it's to be one of many."
* * *
Look for The Biannual Skinny at Artbooks.ph, Purveyr, Artesania, and West Gallery. For more information, follow @BiannualSkinny on Instagram and Facebook.