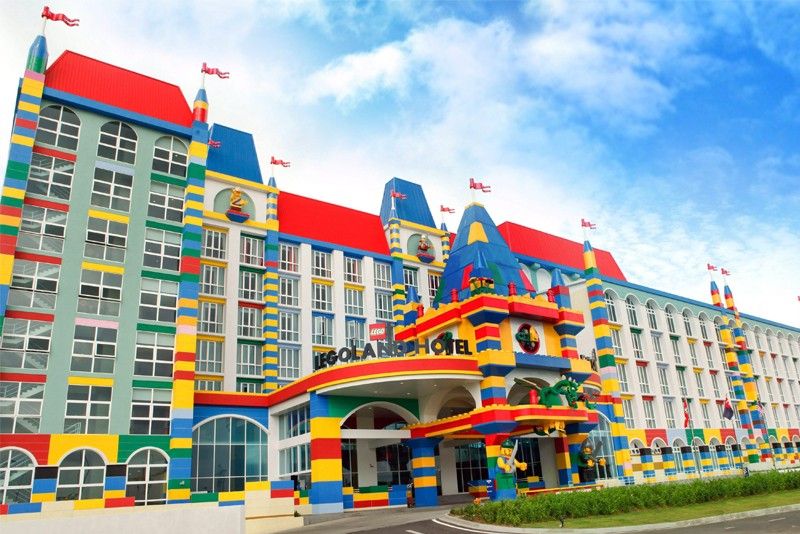 The Legoland Hotel at Legoland Malaysia Resort holds over 200 rooms with themes ranging from Pirate, Adventure, Kingdom, and Ninjago.
Fiel Estrella
(The Philippine Star) - September 28, 2019 - 12:00am
Legoland Malaysia Resort's wondrous attractions and amenities make for the perfect holiday hideaway with family and fun-loving friends.
MANILA, Philippines — All of us, girls and boys alike, grew up with playing with building blocks — Legos, specifically. You could make anything as long as your imagination willed it: castles ruled by kings and queens, racecars, even your dream house. It was a combination of dreaming, creating, and doing, and that's what made it feel larger-than-life.
Stepping into the lobby of Legoland Malaysia Resort's Legoland Hotel in Johor Bahru, Malaysia, I was instantly brought back to that feeling, that experience of something big with limitless possibilities. The whole structure itself looks like a giant Lego creation, from mismatched "blocks" on the roof to endless flags to a playful primary color scheme, not to mention Ollie the Dragon looking to welcome guests in the entry archway. You're immediately transported into what seems like a giant toy chest thanks to a pirate ship to one side and a castle on the other — even as an adult, I felt the urge to run around and go crazy.
The elevator has a disco ball on the ceiling and immediately plays songs like Everything is Awesome by Tegan and Sara (featuring The Lonely Island, from The Lego Movie!) as you wait to get to your floor. I was delighted to find that I would be staying in the Ninjago suite, one of four possible themed rooms which includes Pirate, Kingdom, and Adventure. Each room has a king-size bed for grown-ups and a bunk bed that can hold up to three children, and is elaborately decorated with fun wallpaper and Lego sculptures. If you answer a bunch of questions and get the right code, you can even open a vault with goodies you can take home.
If the play areas in the lobby aren't enough, there's another playzone with 100,000 Lego bricks, plus soft Legos bigger than the palm of your hand if you're truly ambitious. Safety and protection are always first, which is why the floors of the entire hotel are carpeted, and there are automatic hand sanitizer dispensers everywhere. There's no shortage of great food, either, whether it's from the Bricks Family Restaurant and Coffee@Bricks, Kai's Sushi Bar, or the fancy Di Mattoni.
All attractions in the resort are within walking distance from the hotel. There is, of course, the Legoland Theme Park, which is home to The Great Lego Race, the first and only VR rollercoaster in Malaysia, and the Asia Miniland, which is home to tiny structures and city scenes from over a dozen countries and cities, all constructed out of Lego. Filipino guests can enjoy a miniature version of Bolinao, Pangasinan alongside the Taj Mahal and Angkor Wat.
Star Wars fans are in for a treat at the Star Wars Miniland, which features over a thousand models depicting seven scenes from the first six Star Wars movies and The Clone Wars series — including a Millennium Falcon that actually rises off the ground. (Just be sure to catch it before it closes in 2020!)
Other attractions include live shows featuring favorite Lego characters, Lego Ninjago: The Ride, the Lego Studios 4D movie theater, The Dragon and The Dragon's Apprentice coasters, the Dino Island flume ride, the Legoland Express Train, and Build and Test, where you can create your own Lego vehicles and have them compete in a race.
My personal favorites were the Observation Tower, which offers guests a 360-degree aerial view of the whole resort from 41 meters high, and Lego Mindstorms, where I got to adopt a tiny robot and programmed it to conduct tasks and experiments. I also bought a Lego brick keychain, which visitors can have engraved with any word they want using a nifty machine.
The hotel has its own pool, but there's literally buckets more fun to be had at the Legoland Water Park. At the Build-A-Raft, you can customize your own pool float with soft giant Lego bricks and ride it all along the river. Chill at a private cabana, build your own Lego boat and race it, or go on one of the slides with a raft that can fit up to four people. (That can be your whole family or barkada!)
The true experience, however, has to be the Joker Soaker: an interactive play structure and wave pool where swimmers can shoot each other with water cannons and get doused in 350 gallons of water from a huge bucket.
The latest attraction is Sea Life Malaysia, which is the only Sea Life in the world that's Lego-themed. I've always loved the ocean and marine life, so this experience was probably my favorite part of the trip — the aquarium houses 120 species in 11 different habitat zones across two floors, amounting to 13,000 individual marine life.
I got to explore a simulated Malaysian Rainforest and was awestruck by the Ocean Tunnel that offers a 180-degree view of the water and its inhabitants. There's also the Ocean Cave, which allows visitors to watch marine life closely through a concave glass, with an atmospheric pretend shipwreck scene to boot, complete with intricate wares on a beautifully decaying dining table.
Sea Life is all about learning, which means interactive displays, mini-games, and a Behind-the-Scenes Tour which takes guests on a journey through animal healthcare and how food is prepared and given to the sea creatures in the aquarium. You can even touch shrimp and starfish at the Rock Pool, and meet stingrays, sharks, seahorses, and jellyfish. Before you leave, make sure to sit with a tablet to color in a sea creature of your choice and send it out into the world — or the virtual aquarium that spans along one wall. (It's actually really cool.)
Legoland Malaysia Resort made for a great place to turn off my worries for a little while and turn my imagination all the way back up, appealing to and awakening the little kid in me again. It's a place to play, to have fun, to get creative, to go on an adventure, and to educate yourself on all sorts of things. It may have been designed for kids with genuine love and ingenuity, but it's guaranteed wonder for the whole family. And, for that matter, anyone else you might want to take along for the ride.
* * *
Book your Legoland Malaysia Resort adventure at legoland.com.my.