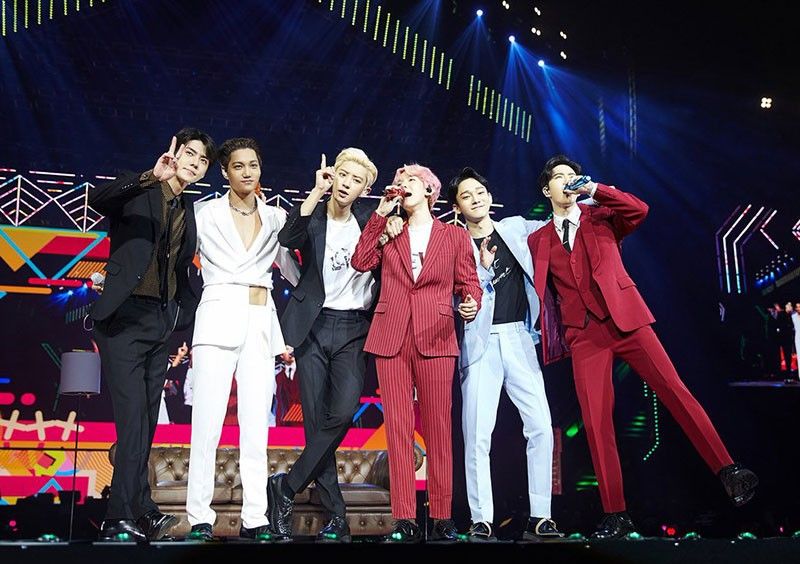 MANILA, Philippines — Standing in line for the Exo concert on Saturday, the person next to me observed, "You seem calm."
He had come alone, like me, and for the better part of an hour, we'd been exchanging pleasant small talk — mostly about the reason we were there. There were the compulsory questions: Who's your bias? What's your favorite song? How many times have you seen them live?
"Baekhyun," I said. "Although any one of them could be my bias-wrecker. I'm pretty fond of Don't Go." After a pause, I continued with a wry grin, "And this is the first time I'll be seeing them. Or any K-Pop group, for that matter."
"You have no idea what you're in for," my queue buddy told me, and it's laced with both teasing anticipation, like They're going to knock your socks off, and playful trepidation, like K-Pop concerts are a whole other world and you're not ready. "But," he added, "I bet you'll be screaming along later, just as loud as the rest of us."
When I hit my 20s, I considered myself "retired" from the whole concert thing. I'd spent my teen years living out my own less cinematic version of Almost Famous, getting detained for selling fake merch at a mall show — remember when everybody wore those tacky rubber wristbands? — and sneaking with my friends into the lower box area from general admission. (No, I won't reveal my ways.) But by the time this particular concert rolled around, I hadn't really cared about live music for years.
So when this person I'd only met told me that I seemed calm moments before getting to see this group on their EXO Planet #5 — EXplOration Tour, I found it funny. I was out of practice, sure, and I was more "chill" as a fan (total lie, I'm a Scorpio, I will never be chill), but I knew the score. I had experience. Most of all, I actually cared about Exo and adored them, and I was excited in a way that I hadn't felt like in a long time.
I'll admit that I'm quite a recent Exo convert, despite years of pop culture osmosis through friends who've loved them from the beginning. But when the lights came down and the intro VCR began, my queue buddy was proven right: I lost my cool and cheered just as hard as anyone around me. "See!" He pointed at me, watching my reaction. "I told you!"
A futuristic-looking box rose onstage, slowly opening to reveal the members. No longer just on a screen, no longer just in my headphones; they were real, and they were right there. The current six-member line-up of Exo — Suho, Baekhyun, Chen, Chanyeol, Kai, and Sehun — launched into their hit Tempo, their moves fluid and precise and their singing, as always, on point.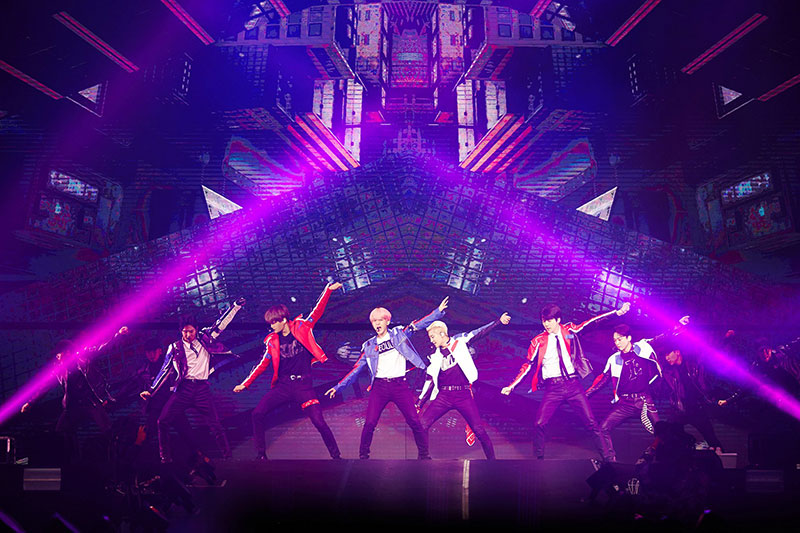 After the bright and dynamic intro set came Baekhyun's stage, performing his solo debut single (and instant R&B classic) UN Village. I'd made sure to memorize the fanchant the night before: "Baekhyunie! City Lights! UN Village!"
They performed more B-sides (such as 24/7 and Oasis) and crowd-favorite singles (Monster and their latest title track, the sensual smash Love Shot) before Suho took the stage for his solo Been Through, wearing his flowy Prince Eric-esque shirt which broke the internet because he, well, eventually sheds it. Chen's solo Lights Out is a soulful ballad that takes the energy down a few notches, but is no less spectacular thanks to the brilliant show of lights hovering overhead as he sings.
Freshly debuted subunit EXO-SC, with Sehun and Chanyeol, performed their summery singles What a Life and Close to You, before all members returned with swoon-worthy renditions of Falling for You and Wait. (It is at this point, somewhere, that Chanyeol's eyes passed over me as he sang, and we shared brief eye contact, and it was everything.)
Kai pretty much literally brought the fire with his solo Confession, and Sehun's dance break during Damage made a mess of everyone. We were nearing the end, and they were bringing things to a close with a trio of classics: Growl, Overdose, and Call Me Baby.
Then came the part I'd been waiting for all night: Unfair, with its playful, flirty lyrics and upbeat melody, which everyone from Exo always seems to enjoy performing. It made me wistful, wishing members Xiumin and D.O., who are currently fulfilling their military enlistment duties, could also have been there. Still, hearing one of my favorite songs live — with a pretty great view, I might add — was more than enough.
Each member's ending ment was so full-hearted and sincere, and you could tell they had a great time during their two days in Manila. It felt incredible and surreal to be able to see Chanyeol and Baekhyun being their silly, extra selves right when we're in the same place at the same time. Fans chanted "Iiyak na yan" as leader Suho, who does have a pretty low threshold when it comes to tears, was about to finish his speech, and when it was translated for him, he laughed and sang Baby Don't Cry (which is from their first album!) unprompted.
The set list ended with Smile On My Face. Everyone's battle cry was, "Walang uuwi," and when they were told what it meant, Sehun never stopped repeating it back to us. He said it, over and over, even when it was time for them to leave the stage.
EXplOration reminded me of everything I never realized I'd missed having been away from concerts for so long: the feeling of belonging in a crowd, the dreamlike certainty of an artist's tangible presence, that surging energy pulsing on the floor and under my skin. Even the screaming and the way I'd lose my voice after. How such a huge venue could hold thousands of people and still feel intimate.
Like a line from that one song of theirs: In that place, while we were looking at each other, we were smiling.