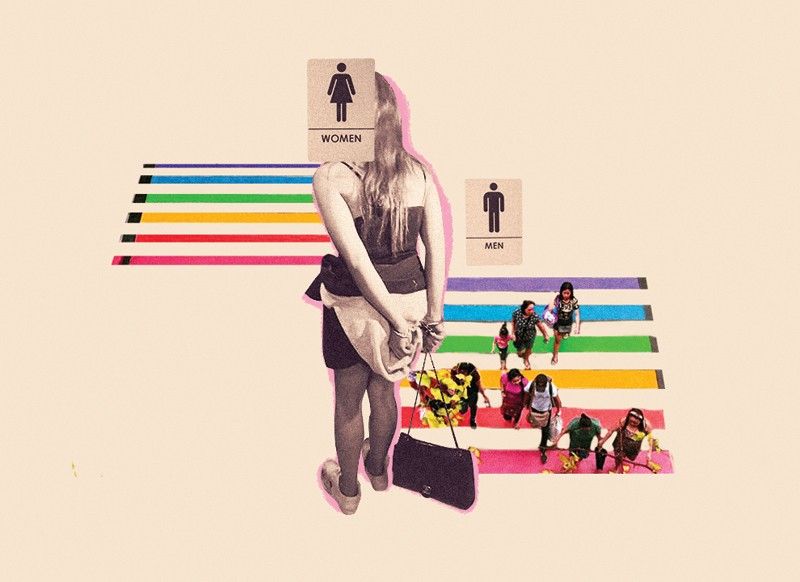 Transwoman Gretchen Custodio-Diez was illegally detained and eventually arrested at a local mall for using the women's restroom — revealing a need not only for safe spaces to combat discrimination and cruelty, but also proper education and understanding.
Just Let Us Use The Bathroom in Peace
Matt Alea
(The Philippine Star) - August 17, 2019 - 12:00am
MANILA, Philippines — Another day, another story about transphobia. It gets exhausting after a while to hear about the everyday injustices towards trans people. It happens so often that each new instance becomes less emotionally taxing that the last. So when I woke up to the public uproar for Gretchen Custodio-Diez, I must admit that I was surprised.
Gretchen Custodio-Diez is a trans woman who was illegally detained and eventually arrested in Farmers Plaza Cubao for using the women's restroom. She was dragged away into a staff office in the basement of the mall and held there with no explanation as to why. For her own safety and to ensure that her story would not be twisted, she started a Facebook livestream on her phone and revealed everything that was happening to the reaches of her social media, and eventually, the world.
Watching that 45 minute livestream was heartbreaking. No one, especially not a trans person, deserves the treatment that she was given. Repeatedly harassed, lied to, and insulted for her appearance by those mall staff members. It is worth mentioning that their remarks were charged by transphobia.
It is true that these things happen everyday. These are the experiences that every trans person goes through. Some people submit to using the bathroom that matches their biological sex. Others try everyday to use the appropriate bathroom anyway despite the fear of being targeted the same way Gretchen Custodio-Diez was. Then there are those who quit using public bathrooms altogether. Even I myself have been kicked out from public bathrooms. To be yelled at for simply needing to use the toilet is a harrowing experience.
Gretchen Custodio-Diez may not be the first trans person to be kicked out of a public bathroom but she may be one of the first to stand her ground and fight against that discrimination. Despite the fear that was probably consuming her, she powered through because of the people who support her. When giving statements about her experience to the media, she always makes sure to thank the LGBTQ+ community for always sending her supportive messages because it reminds her that she is not fighting this on her own.
The amount of violent mistreatment that Gretchen Custodio-Diez experienced at Farmers Plaza Cubao and was not only fueled by transphobia but anger towards how she fought back. These staff members were angry at her because they knew that she was right and they were in the wrong. She was brave enough to defend her rights as a transgender woman because those rights are supposedly protected by Quezon City's anti-discrimination ordinance. Despite being the victim, Custodio-Diez was the one arrested. She was the one publicly shamed. She was the one called names. The police who were supposed to be protecting her chose their prejudices over the law and treated her like a criminal.
This begs the question, whose fault is this? Quezon City is supposed to be one of the safer spaces for queer people because of their anti-discrimination ordinance. Even Farmers Plaza Cubao itself, proudly dons a rainbow pedestrian lane to show solidarity with the LGBTQ+ community. Why then, did this happen? Was it Farmers Plaza Cubao's fault for not properly orienting their staff on how to treat their LGBTQ+ patrons? Was it the police's fault for not caring to understand the situation because it's easier to want to arrest a queer person? Was it the government's fault for not properly implementing the ordinance that they passed?
The truth is, the fault lies in the broken system that has consistently failed to protect the LGBTQ+ community, the poor, and the disenfranchised. Despite the fact that this system is supposed to be protecting us, we live our lives feeling like we're always fighting to live freely. Gretchen Custodio-Diez is making a powerful statement by doing what she's doing. She is proving that we can fight for our rights. It's possible to do more than just hang our heads low and tolerate the hate that society gives us so often. We can fight back because we are fighting together.
Thankfully, aside from the LGBTQ+ community on her side, there have also been government officials that have offered their support. Sen. Hontiveros has gone as far as lending her own lawyer and Mayor Belmonte has denounced Farmers Plaza Cubao's actions. This only shows that this fight is an uphill battle but it is a battle that will be won. The rainbows on the streets of Quezon City will only mean something when we are free.