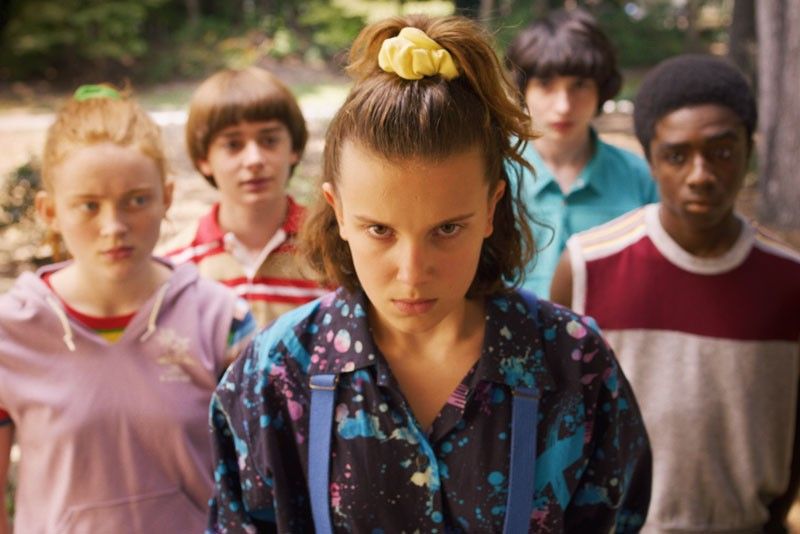 Sadie Sink, Noah Schnapp, Millie Bobby Brown, Finn Wolfhard, and Caleb McLaughlin are back in Stranger Things 3, which takes place in the summer of 1985.
The times, they are a-changin'
When it landed on Netflix in October 2017, Stranger Things 2 was the perfect Halloween treat, all autumn leaves and Ghostbusters costumes and things that go bump in the night. Released almost two years later, its follow-up season (also billed under a sequential title, cementing the series' blockbuster-for-television status) catches us in the summer — and things onscreen very much look like it.
With a year having passed since Eleven banished the Mind Flayer, Hawkins seems to have reached a new normal. Mike and El are happily, almost grossly in love, Nancy and Jonathan have channeled their newfound love for exposing the truth into the local newspaper, school is out and the gang's all here. (Save for Dustin, who's off at camp.) As the season opens, though, the town is under threat of being turned upside-down and inside-out again, but not for the reasons we might think. The '80s are halfway over, and it's about time the small-town charm of these Indiana suburbs made way for something bigger and more neon-lit: the Starcourt Mall, which isn't good at all for the local mom 'n' pop shops around, but is a delight if only for Steve Harrington serving up ice cream scoops in a sailor uniform.
Sure, the fruit magnets won't stick to the fridge at the Byers' and rats all around town are acting strange, but that doesn't necessarily mean anything bad, right? But the gang and those closest to them are too savvy and have been through too much, and it isn't long before they begin to uncover yet another monster — both human and not at all — that's putting the town in dire, horrifying danger.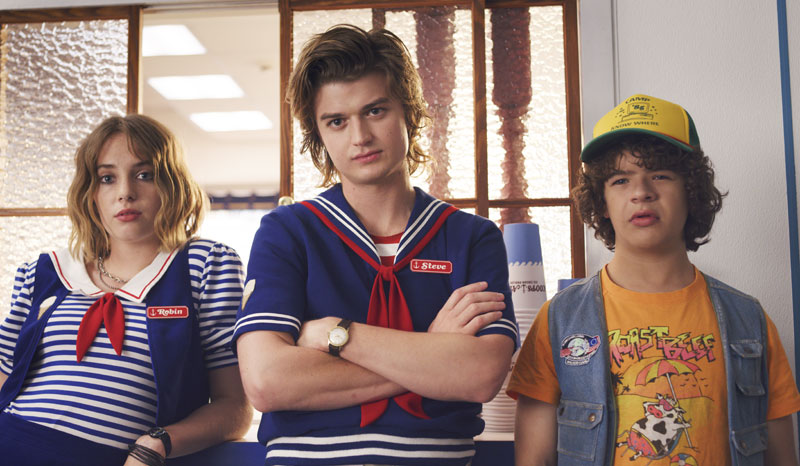 Maya Hawke joins the cast as Robin, who works with Steve (Joe Keery) at the mall's ice cream parlor and strikes up a friendship with Dustin (Gaten Matarazzo).
The Duffer brothers have mastered the art of dividing the cast into teams that are sometimes unlikely, but always spark with chemistry and plenty of tension and humor — allowing them to navigate separate plotlines occurring at the same time that are bound to come together into one grand conclusion. Jonathan and Nancy, as well as Joyce and Hopper, are each paired off into super-sleuthing duos hell-bent on uncovering whatever conspiracy is at play, discovering new things about one another along the way. There's also a lot to be said about the way sexism and the class divide are tackled through Nancy and Jonathan.
Mike and El have moved beyond being each other's star-crossed first loves, but now they have to work around all the learning curves of their "first relationship." (Lucas isn't faring any better.) Eleven and Max finally become the epitome of best friendship, getting their own shopping montage, complaining to each other about their clueless boyfriends, and kicking ass together. Will, who has missed so much, is just trying to find his place. And then there's the ragtag crew of Steve and Dustin — still the duo we never knew we needed — joined by Lucas' breakout little sister Erica and snarky-cool new girl Robin, who probably would've been played by Winona Ryder in her time.
The show has always been able to balance pastiche and something new and unprecedented. It has steadily found its footing and established its own universe, while also giving us the familiarity of things we know and love. There are spectacular set pieces making for great daylight horror, from the community pool to the town fair to the mall scenes, which were filmed at a real, still-operational mall. This time around, there's definitely more gore and the creepy creatures take on different forms, but the show's also not afraid to explore its own roots and lore so everything hits where it hurts. Mentioning some of the references would be spoiling the plot, but its critique of consumerism and capitalism recalls the criminally underrated horror satire The Stuff, which coincidentally came out in the year Stranger Things 3 is set.
Still, if there's one thing this season is really about, it might be change. It's still a coming-of-age story, even if one of the kids has been possessed and the other can move things with her mind. It's about Will trying to come to terms with the fact that the party no longer wants to play Dungeons & Dragons, and Mike's too busy to hang out with him, and everything's different and he can barely keep up. It's about Hopper's troubles trying to raise a telekinetic daughter who only wants to make out with her boyfriend. It's about Steve's existential crisis and Dustin's girlfriend of questionable existence. It's about new faces, new dynamics, new forms of representation.
By shaking things up and finding new ways for them to fit together, Stranger Things 3 reminds us why we fell in love with it in the first place. What is summer if not the season of growth and experimentation and starting over?