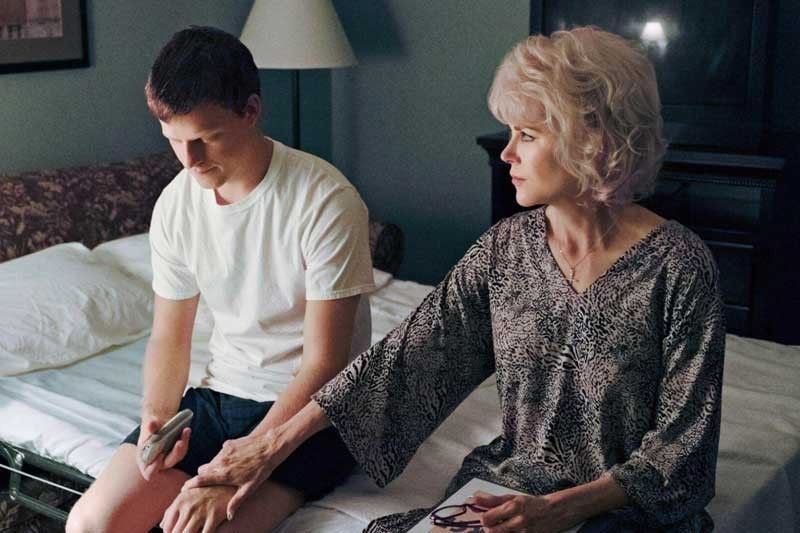 Conversion therapy unfortunately remains a common practice in religious and conservative communities, which can be seen depicted in the 2018 drama film Boy Erased.
Taking the gay out of the congregation
Growing up gay in a Christian community, a man reflects on spirituality and sexual orientation — and how he was able to let them coexist.
MANILA, Philippines — There were very few things that helped me survive Mass as a gay kid growing up. Aside from that one cute teenage altar boy at my local parish and my major fashion envy for the Sto. Niño's red and gold brocade cape, what kept me alive during all those Sunday mornings was the thought of rushing to the altar during the homily to entertain the brethren with my prepared lip sync performance to Madonna's Like a Prayer.
Despite all the beautifully ostentatious displays of ceremonial grandeur, I found the Catholic Church to be highly impersonal — all pageantry and solemnity but lacking of heart. My allegiance to it was, alas, short-lived and in 1998, the year the Queen of Pop released her magnum opus "Ray of Light," I also experienced my own spiritual renewal: I became a born-again Christian, and joined one of the Protestant mega-churches in downtown Manila (active membership: 8,000 disciples).
The Vatican, in its "Catechism of the Catholic Church," clearly states that "homosexual acts are intrinsically disordered. They are contrary to the natural law. They close the sexual act to the gift of life. They do not proceed from a genuine affective and sexual complementarity. Under no circumstances can they be approved." The Protestant movement strongly shares similar views. Conservative churches tend to interpret biblical verses (basically the whole Book of Leviticus) on homosexual acts to mean that the heterosexual family was created by God to be the bedrock of civilization and that same-sex relationships contradict God's design for marriage and violate his will.
My church was no different; simply put, it believes that homosexuality and its corresponding lifestyle is a sin. So when my youth pastor asked me if I wanted to repent from immorality and ask for God's forgiveness, I, of course, replied "Yaasss, kween!" (FACT: I simply said "Yes.")
Repentance entailed that I go through a process called "restoration." These are scheduled one-on-one prayer and counseling therapy sessions with your pastor where he helps usher you out of a life of sin (of any kind), and shepherd you into one that fits the traditional Christian mold. (FACT: During my restoration sessions, I wore a lot of Dockers, aka butch lesbian eleganza extravaganza.) Truth be told, my restoration sessions were very cathartic to willingly discuss my gay fears with a good man who genuinely wanted to help me become a, biblically speaking, "better" person.
I knew of two other church friends who underwent restoration for being part of the LGBTQ spectrum: Jerome (not his real name), a restaurateur, and Jacs (totally his real name), a content editor for an online news site.
To describe Jerome's admission of homosexuality as very hazy and abstract would be generous. (JEROME: "There was this one time when I was very… confused. And there was this other time, I was dancing in a gay club in New York with my gal pals and I got an erection when I saw a hot black dude.") We became very close and intimate without becoming physical. What Jerome and I shared was a pseudo-relationship masked as a bromance until his older brother politely confronted me. I was asked to stay away from Jerome because there were… rumors. Jerome underwent restoration for reasons that were foreign to me. We parted ways when his parents sent him to Europe to study.
Jacs (again, totally his real name), on the other hand, is what Jessica Zafra would be like if she were a gay man. In a no-holds-barred chat via Facebook Messenger, he shared with me that he, too, underwent restoration. "When I was a teenager I tried (restoration) but I eventually started questioning the need to disassociate myself from something that I have come to realize did not need to be separated. I have accepted that this is who I really am." Can I get a "Yaasss, kween!" from the assembly?
Once a zealous member of our church choir, Jacs has since become inactive because "I did not want to explain myself to others. There was bound to be unnecessary drama —and maybe a psychosis or two. I still go to church, though. Believe it or not, it still fulfills me in ways that others do not or could not. Hey, I still believe in God. I just don't think He hates me as much as some people claim He does."
At present, Jerome is happily married to a woman with whom he has fathered three lovely boys. Jerome was not able to comment for this article because I never reached out to him. I did not want to disrupt his domestic bliss of a life to ask him if he was really successful in "praying the gay away" while he decorates profiteroles with his family. I did not want to confront him and demand to know if he was fully "restored." He has chosen to live a life centered on Jesus Christ. I sincerely wish him and his beautiful family nothing but the best.
So where has restoration taken me? I eventually stopped going to my prayer and counseling sessions with my youth pastor because I do not want to pray the gay away. I believe that my sexual orientation should not be a deterrent for me to practice my spirituality. A majority of Christians in the US also think it shouldn't. In a 2015 US Religious Landscape Survey conducted by the Pew Research Center, 56 percent said "homosexuality is a way of life that should be accepted by society." Unfortunately, many people in my congregation think otherwise. I have stopped going to church since 2009. (I guess I am a non-practicing born-again Christian, as it were.)
Back when I was active in church, I would share the Gospel in campuses with my youth group, attend Bible studies, lead prayer circles and testify about how awesome and wonderful God is. Since I left, I have hosted gay dance parties and RuPaul's Drag Race viewing nights, created and produced multimedia content for a local independent gay magazine, and have spread the Gospel of Effeminism. The only thing that was restored in me was my crown as a rightful kween. While I still find myself often on my knees, I use them to pray more often.
There are very few things that help me survive in today's fragile society as a gay man. One of which is my firm belief that I can reconcile my gayness with my spirituality. (They could just co-exist until they spontaneously combust.) I, too, still believe in God. I just don't think He hates me as much as some people claim He does.