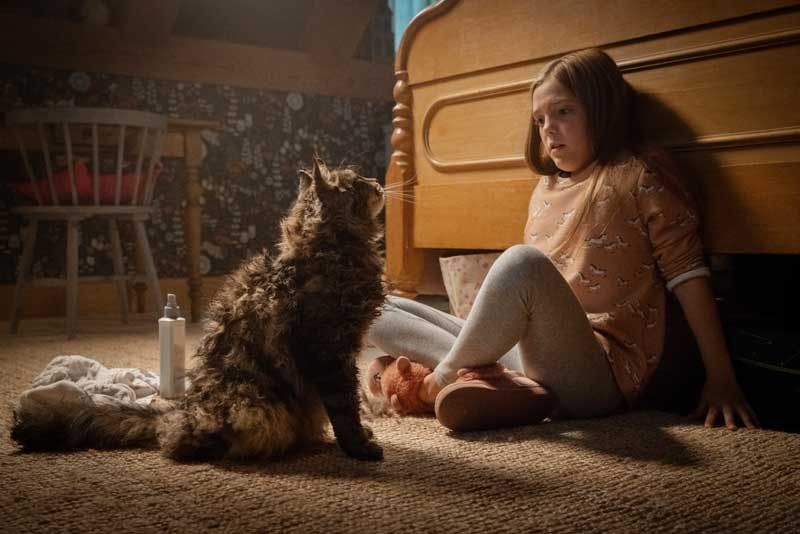 Jeté Laurence plays Ellie Creed, whose cat Church is hit and killed by a truck and buried in the eerie pet cemetery in the woods.
The second film adaptation of 'Pet Sematary' makes a case for back-tobasics horror while offering a fresh take on the source material.
MANILA, Philippines — From an atmospheric and surprisingly heartfelt new spin on It, to a Mike Flanagan-helmed Netflix production of Gerald's Game, to an entire sequence paying homage to The Shining in Ready Player One, this decade has undoubtedly introduced Stephen King to an all-new generation of horror fans while also appeasing the longtime devotees who've stuck around.
The latest in a long and mostly well-received line of King adaptations is Pet Sematary, a second take on the novel of the same name, which comes out 30 years after the 1989 original. Directed by Kevin Kölsch and Dennis Widmyer and starring Jason Clarke, Amy Seimetz and John Lithgow, it once again finds the Creed family — parents Louis and Rachel, children Ellie and Gage, and their cat Church — moving to a quaint house in rural Maine, where they soon learn that part of the land they've come to own holds an eerie, crudely constructed community pet cemetery.
Trouble begins for the Creeds when Church is hit by a truck and killed, and their elderly neighbor helps Louis bury it not in the pet cemetery, but deeper in the woods. But when Louis returns home, he finds that Church, too, has gone back to the house — and something is not quite right with the cat.
Pet Sematary alternates between gory discretion and tight, irreverent shots that linger right where the audience is most comfortable. It has its fair share of jump scares, but they build off of the tension and dread that makes the reveal feel earned and truly shocking instead of jarring. Technically speaking, it's solid, gutsy horror, a fitting interpretation of a story that Stephen King himself has gone on record to declare his darkest and most terrifying.
Contrary to the first adaptation, which was more faithful with a script written by King himself, this new version benefits from a more straightforward, back-to-basics plot and doesn't concern itself with too much backstory regarding the mysterious burial ground. The lack of in-depth explanation, with just enough history and lore, serves to heighten the sense of bleakness that grows larger and becomes more difficult to contain as the story progresses.
This time around, it is the older child Ellie, instead of Gage like in the novel, who dies getting run over by a truck, prompting her desperate father to do whatever it takes to get her back. Young actress Jeté Laurence is both a joy and a terror to watch, completely disappearing into the creepy-child demeanor and vacant stares of the resurrected Ellie, now more menacing, more mean-spirited. When her father tells her that she's back, she only asks, deadpan, "From where?" And the delivery makes it clear that it's not childlike innocence, but a taunt. The viewer could infer from those two chilling words that she may have been to hell and back.
The most unnerving thing about Pet Sematary is its exploration of the different characters' relationships with grief and trauma, death and existence — it stays with you. It begins with an overhead shot, the first of multiple signs and warnings of the nightmares to come. It's another look into small-town paranoia, subverting ideas and notions of safety and security. It's tragedy you can see coming, over and over, from a mile away, yet it doesn't occur to the people on the screen until it's too late.