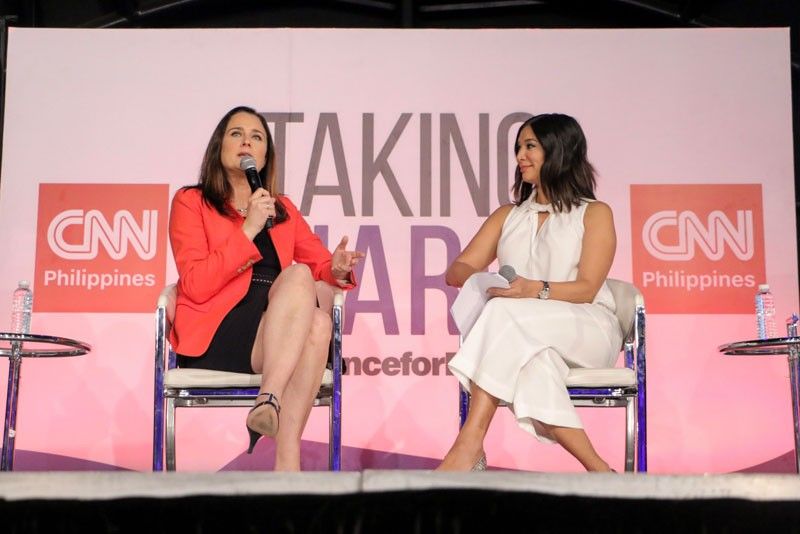 CNN international correspondent Paula Hancocks and CNN Philippines' Pinky Webb sit down for a discussion following Hancocks' keynote speech on working in journalism and gender balance in the workplace.
The second CNN Philippines Women's Summit opens up discussions on women empowerment, gender balance in the workplace, and raising strong, free-thinking children.
MANILA, Philippines — On March 23, for the second year in a row, CNN Philippines held a summit in honor of Women's History Month. Bearing the title "Taking Charge," the program took place in SM Aura's Samsung Hall and addressed ways to empower women and achieve equality for a better world through speakers from diverse backgrounds and industries.
Keynote speaker and Department of Tourism secretary Bernadette Romulo-Puyat spoke about tackling gender and other social concerns in the tourism industry, including developing projects that address these issues and provide concrete solutions.
She cited the importance of purposeful effort on the job and doing one's best, and recounted stories of connecting with women through her work and travels, particularly because of shared experiences such as motherhood. The power of women, she added, is in their ability to exhibit empathy and compassion — giving them, in turn, the possibility of changing the lives of other women, to protect them and empower them.
In a panel discussion between female leaders in the workplace, Dentsu Jayme-Syfu chairman and chief creative officer Merlee Jayme mentioned that fields such as advertising require much of a woman's time and dedication, along with other aspects like home, leisure and family, calling for a practically superhuman skill to balance it all.
"We have to recognize that work at home is also work, unpaid work," said Cecile Dominguez-Yujuico, founder and CEO of Evident. She added that women experience many barriers to success, including class and privilege, but they should "go for it" when it comes to pursuing their dreams, and never listen when told that it's "a man's job."
Pauline Suaco-Juan, executive director of the Center for International Trade Expositions and Missions, advised women to find what they're good at and what they do best, and work hard at it. In the workplace, women should be true to their identities while challenging norms and breaking the myth of what "perfect" is supposed to be. More importantly, they should support and build each other up, rather than the opposite.
Another panel focused on ways to bring up strong women. Grrrl Gang Manila co-founder Marla Darwin, on helping children avoid developing gender biases, recommended eschewing traditional stereotypes and spoke about the importance of diversity and representation in media, especially strong female figures. Psychologist and author Michelle Alignay also suggested caution when labeling experiences according to gender, such as dolls being "for girls" and trucks being "for boys." Without a playbook, said Darwin, kids are free to pave their own path.
AHA Learning Center executive director Jaton Zulueta posited that the best way to raise free-thinking children is to give them an opportunity to lead. Parents and guardians should treat the children under their care with empathy and respect — listening to them, for instance, and acknowledging their capability to make some of their own decisions, like picking out their own clothes.
Finally, CNN international correspondent Paula Hancocks gave a speech on finding one's voice and giving others a voice, especially through fostering a gender-balanced community. "Gender balance is essential for economies and communities to thrive," she said. Relating a story about her mother, who had been the lone woman in a newsroom in the 1960s, she praised the trailblazers — the women who paved the way for equality and agency in the labor force. Through Hancocks' own efforts, along with those of others, companies like CNN have begun to hire more women in order to address gender imbalances in the workplace.
She added that education is necessary to allow women to rise up, and that it's important to be assertive and stand up for yourself, and never to accept unfair treatment.
Asked what the best thing is about being a woman journalist, Hancocks was met with applause when she said, simply, "I don't see myself as a female journalist. I see myself as a journalist."