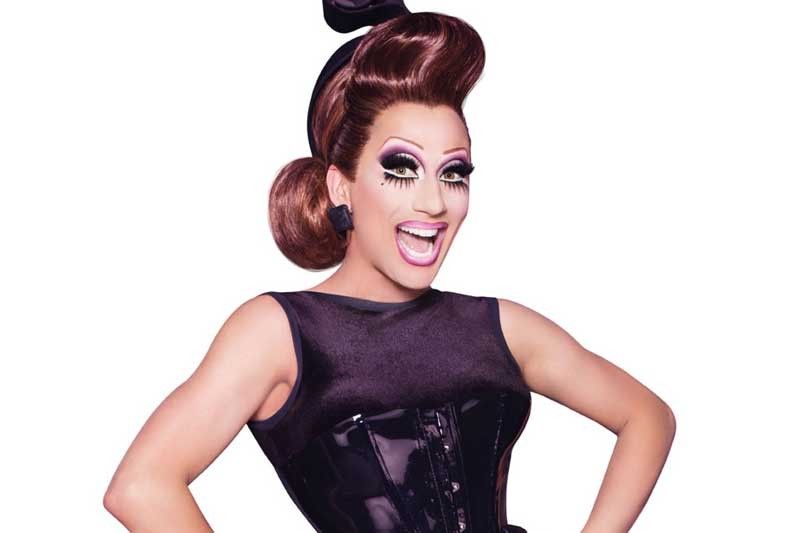 Bianca del Rio, who came to prominence thanks to RuPaul's Drag Race and her unapologetic approach to humor, graces the stage in Manila.
Bianca del Rio is sorry, not sorry
Ahead of her two-day visit to Manila, drag royalty and insult queen Bianca del Rio gets real about the importance of honesty in humor.
MANILA, Philippines — What makes you laugh? For comedian Bianca del Rio, anything goes. The insult comic and Season 6 winner of RuPaul's Drag Race, whose off-stage name is Roy Haylock, has been known for her hilarious zingers — and she's unapologetic about how far she's willing to take her humor, regardless of how her audience might react.
"I don't feel bad when I do something, and this is what I do for a living. I make jokes. You may not like them, and that's okay. I don't get wrapped up in that kind of mindset. Someone's going to get offended by everything if you allow it," Del Rio says over the phone. "That's just how the world is. I'm offended by things all day! But that doesn't mean I jump to social media and complain about it."
That no-f**ks-given mindset is what set Del Rio apart during her stint on Drag Race, notorious for making a couple of fellow contestants tear up. (See: LaGanja Estranja, aka that death drop GIF you always use on Twitter.) But what may have turned Del Rio into a certifiable fan favorite — well beyond her success on the show — was a nice side, a stark contrast from her sharp humor. There were a number of moments in the show where she volunteered to help other queens with their garments, even lending Adore Delano a long-desired waist cincher.
Now, years after her stint on Drag Race (a show, by the way, that she enjoyed doing but has no interest in returning to), Bianca del Rio is just as strong a comedian as she was when she started telling jokes in all-too-empty nightclubs. Apart from her years working as a costume designer ("Even though I wear the same thing, just in different colors," she says), Bianca's work has spanned movies Netflix Original Hurricane Bianca and sequel Hurricane Bianca: From Russia with Hate, but her current tour It's Jester Joke has been her fourth one since 2014. And now for the first time ever, she's bringing her tour to Manila, which sold out so quickly that they added a second show.
At the risk of getting insulted for 15 minutes, I called up Bianca del Rio before the Manila leg of her tour to find out just what makes her laugh, and the importance of being true to one's jokes — in a time where everyone has a say about, well, everything.
SUPREME: Is there anything you've learned about other people's sense of humor, given the variety of your audiences?
BIANCA DEL RIO: Well, there really is a difference between an audience in Australia and audience in America. I say it's three drinks — three drinks for them, three drinks for me, and we're all laughing at the same sh*t. It is kind of interesting how globally things work out, but I try to keep it as fun as possible and to things that people can relate to. There's always something to talk about, like the trip from the airport to the hotel. There's always a story. So as that happens through the day, I just keep documenting it, and if it works well for the show, we try. If not, we throw it back out.
How do you keep your jokes and insults fresh? Is there a formula to it?
I think the majority of it is no filter. I'm not afraid to say something and I'm not afraid to put on a line, and anything I say, I stand by it. I don't feel the need to apologize for it — you either like my sense of humor, or you don't. We live in a world now, with social media, where everyone feels the need to tell you what they think and what you should be doing and how it should work. And I have to laugh at that, because I don't need to listen, and I don't need career advice from a 13-year-old girl — on Twitter — if she is a 13-year-old girl 'cause you never know anymore, or from some phantom tweeting account. I can't let that stuff bother me, and so in the end you go, look, it is what it is. You go out, you do it, and you trust it, and you own it. There's always something to laugh at, but I'm not good with boundaries. I think boundaries are ridiculous. I mean I'm a joke. I'm a man in a wig, hello. I definitely don't take life too seriously. If you do take life too seriously, then I'm not the person for you.
So are you saying there shouldn't be a line when you're making jokes?
No. I don't think anyone should. What's funny is funny. It may not be funny to you, and that's okay. You can dislike something, you can dislike someone. But I don't think it's fair to say, "Where do we draw a line?" You say, "I think this is offensive to this. This is offensive to people that read. This is offensive to people that are offended by offensive things." You know, you can't do that! I'm not your president. I'm not your elected official. I'm not your parents, so you don't have to deal with me. If you don't like it, you can move on.
You mentioned earlier that doing Drag Race again doesn't quite interest you, but you're going back on TV soon. Can you tell us about the new Hurricane Bianca?
Yeah, yeah. We're working on the third movie. Right now we're just figuring out now scheduling, but the script is written through (writer) Derek Hartley and (director) Matt Kugelman. I'm traveling with this show all through the year, 'til December, so life's a bit hectic.
Is there anything about the movie you can share?
I can't yet, but it's fun. We end up in Africa, I know. I know I can say that, but I can only say that much.
So I'm curious — have you actually met anyone who you think is funnier than you?
Oh my God, tons of people. I don't think of myself as funny, just observations that I'm always fascinated with, how people's minds work… or people's minds that don't work. It's always great to be in the company of people that are fun, but it's also great to be around people that are stupid. That's great too. 'Cause stupid people don't usually think they're stupid, which is a lot more fun. But yes, you're only as good as the company you keep, and luckily I have a great group of friends who keep me on my toes, which is great.
* * *
Bianca Del Rio's It's Jester Joke will be coming to Manila on March 12 and 13 at Samsung Hall, SM Aura Premier. For tickets, visit smtickets.com.