School Of Thought
October 20, 2018 | 12:00am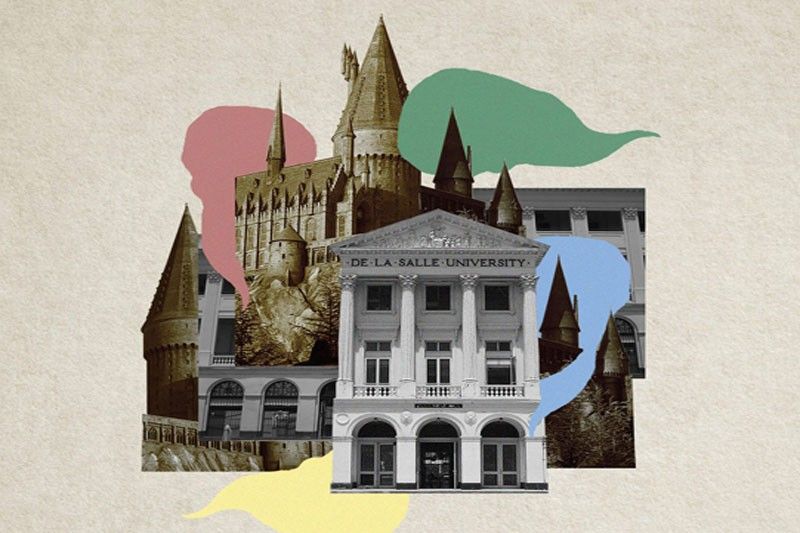 MANILA, Philippines — Once there was a woman who dreamt of slaying dragons. Every day, she would read tales of these adventures, reading so many stories that it felt like it was her reality. So much so that 13 years ago, Prof. Anne Frances Sangil opened the doors of Hogwarts DLSU, the first-ever course in DLSU that teaches the literature of J.K Rowling.
She enchanted students with stories of magic and chaos, preaching about the Boy Who Lived, wizards and the Dark Lord. She talked about Apotheosis, the Belly of the Whale and Monomyth. But above that, she opened minds about destiny and free will, feminism, and labor. She provoked thoughts on time, Kant's Categorical Imperative and Literary Alchemy. These might seem too much for the fledgling mind, but for this brilliant professor, it fueled an unwavering passion for the course, "That look in your eyes — that sort of, 'Ahhh! Now I understand!' — I live for those moments," she says with a laugh.
No one receives their acceptance letters to Hogwarts DLSU via owl delivery — instead, they have to fight for it. Some students hustle their way onto the dean's list in order to secure slots, some wait for semesters, others push their way to take special classes, yet only the chosen ones get to grab their robes and start their magical adventure. For many years, Hogwarts DLSU remained at the nexus of compelling stories, beginnings and changes.
One of the attendees was this "rare specimen," a boy who had never touched a Harry Potter book. Although clueless in the ways of the wizarding world, he remained undeterred in having his questions answered, even if it meant enduring perpetual passionate debates — and sometimes, spoilers — for months. He now mutters magic spells unprovoked and says he can watch the last movie sequel for 24 hours straight. "Hogwarts DLSU opened my eyes, not just for loving the Harry Potter series, but also for being a man for others. The lessons I got from it transcend our four-wall classroom. It didn't feel like a literature elective, it was more of a home that welcomed and taught us to be better individuals," he said. Some students didn't even plan to be in the elective class, hated it, but eventually had a complete turnaround, driven by curiosity and compulsion.
Another girl who got ousted from leading a school organization, forgot how to find joy in life; worse, more than once, she even attempted to end it. Then she chanced upon Prof. Sangil and found herself unconsciously = back to art, literature and life. She unexpectedly built friendships in Hogwarts DLSU. She found new friends, people who saw her in a different light, and now the girl hopes to spread that passion to other troubled souls, just the way she was once saved.
For Hogwarts DLSU, what started as lessons in fantasy slowly turned into a reality. Social consciousness became a regular topic. "It is a testament to the text that the students can read it differently depending on the needs of the generation," says this professor. These narratives, she says, mirror our times. "Either you continue sleeping or you become aware. Either you will be left behind or be part of the narrative."
At the core of it is this: no one leaves the school of witchcraft and wizardry the same as when they entered. For those who wonder what really happens in Hogwarts DLSU, I can only express a small fraction of what there is to know, but one of the best feelings of being there is the certainty that it's a different learning experience. To the Muggles trying to detect what it's about, try going through 13 batches, hundreds of students that will live to tell the tale, and thousands of parchments — because that's where Hogwarts DLSU really dwells, and that's way more than seven horcruxes that no one can ever put an end to.
Some call Prof. Sangil the Goddess of Humanities and Art, but she'd rather be remembered as the professor who taught Harry Potter. "That's the title I will claim until I die," she says. "I can't remember the time I wasn't teaching this, and I can't imagine not doing this." Her students, including me, will agree: life without her as professor is unthinkable.
Nothing beats being bewitched by the passion and relentlessness of a teacher who has invested so much into a course. From time to time, she even had to calm herself down from an intense discussion — one that sometimes left us with our jaws agape, or some students in fits of ugly crying on the last lecture day.
To paraphrase J.K Rowling, Hogwarts DLSU "may not be much, but it's home." A home that taught us to slay our own dragons with the magic of our principles and virtues.